April Jones trial: 'Skull fragments and DNA from blood matching the five-year-old girl' found in murder suspect Mark Bridger's home
Prosecution alleges abduction and killing was sexually motivated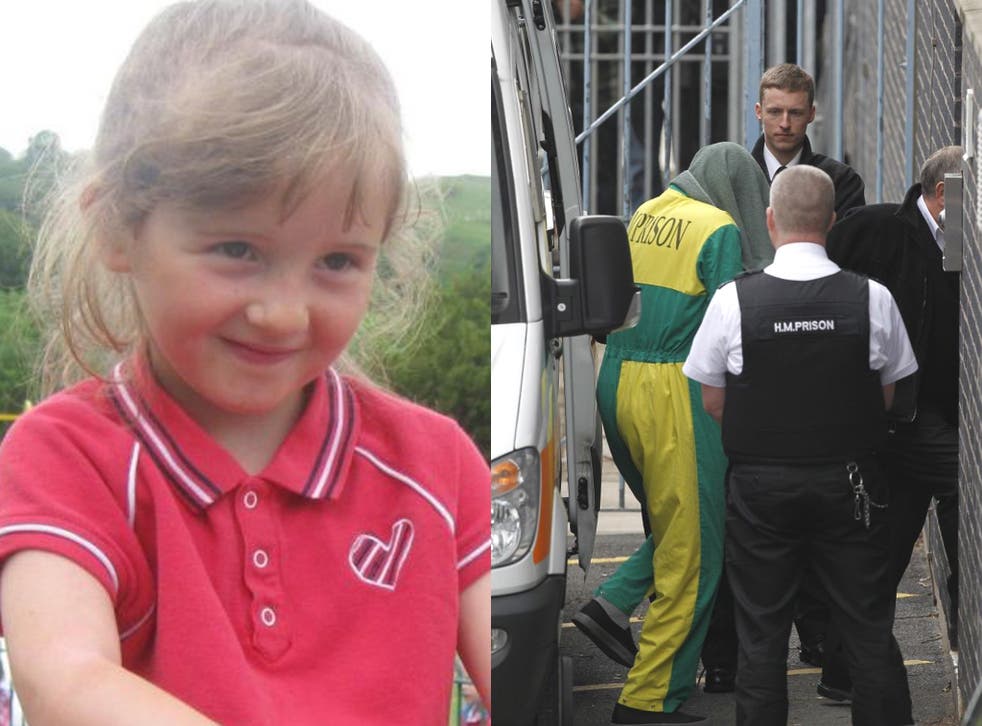 Skull fragments and DNA from blood matching that of April Jones were found at the home of the man accused of the "sexually motivated" murder of the "happy and smiling" five -year-old girl, a court heard.
A charred "boning knife" was also found at the cottage of Mark Bridger, 47, a former abattoir slaughterman, who is accused of snatching the child from outside her home in October last year, it was claimed.
The prosecution alleged that Bridger had a large collection of internet images of child abuse and pictures of April and her two teenage half-sisters which he took from Facebook and other social media sites.
The jury at Mold Crown Court heard that Bridger was fascinated by child murders and kept pictures from notorious cases from around the world. His collection included Soham victims Holly Wells and Jessica Chapman.
Bridger denies abducting and murdering April, whose disappearance in Machynlleth, Mid Wales, sparked the largest search in British police history. Neither her body nor her clothes have ever been found. Bridger claims he accidentally crushed the child to death under the wheels of his Land Rover on the estate where she lived near two of his own children. A combination of "alcohol, adrenaline and panic" meant he could not remember what he had done with her dead or dying body after loading it into the vehicle, however he did later claim to have put it somewhere "out of the rain", the court heard.
Opening the case for the prosecution, Elwen Evans QC said that on the day April went missing, Bridger had viewed cartoon images of a distressed child being restrained and raped.
A child witness described seeing April getting into the Land Rover before being driven off. But his vehicle did not head towards local hospitals, instead taking a back route out of the estate, it was claimed.
The court heard that Bridger told locals he had served with the SAS and the British military, but this was a "fantasy and a lie". He had however spent time participating in "survival and bushcraft" and knew the terrain around the Welsh town well.
Miss Evans said the evidence against him painted a "compelling and overwhelming" picture and that he went to "enormous lengths" to cover up her murder. The prosecution said his refusal to reveal the whereabouts of her body amounted to a "cruel game".
Blood stains allegedly matching April's DNA were found in the bathroom, living room and hallway of the remote cottage where he lived three miles from April's home. Bone fragments, believed to be from a child's skull along with the remnants of a burnt boning knife were also recovered from his wood-burning stove.
Bridger, who is over 6ft tall and told police he was "very strong", listened intently as the evidence was laid before the jury of nine women and three men appearing to wipe tears at one point.
Upstairs in the public gallery April's parents Coral and Paul Jones sought to contain their emotions as the 999 call made by Mrs Jones after her daughter's disappearance was played.
The trial continues on Wednesday.
Register for free to continue reading
Registration is a free and easy way to support our truly independent journalism
By registering, you will also enjoy limited access to Premium articles, exclusive newsletters, commenting, and virtual events with our leading journalists
Already have an account? sign in