Man who murdered Glasgow shopkeeper for 'disrespecting Islam' calls for beheadings in prison YouTube video
Exclusive: Audio messages circulate online as murderer given leave to appeal life sentence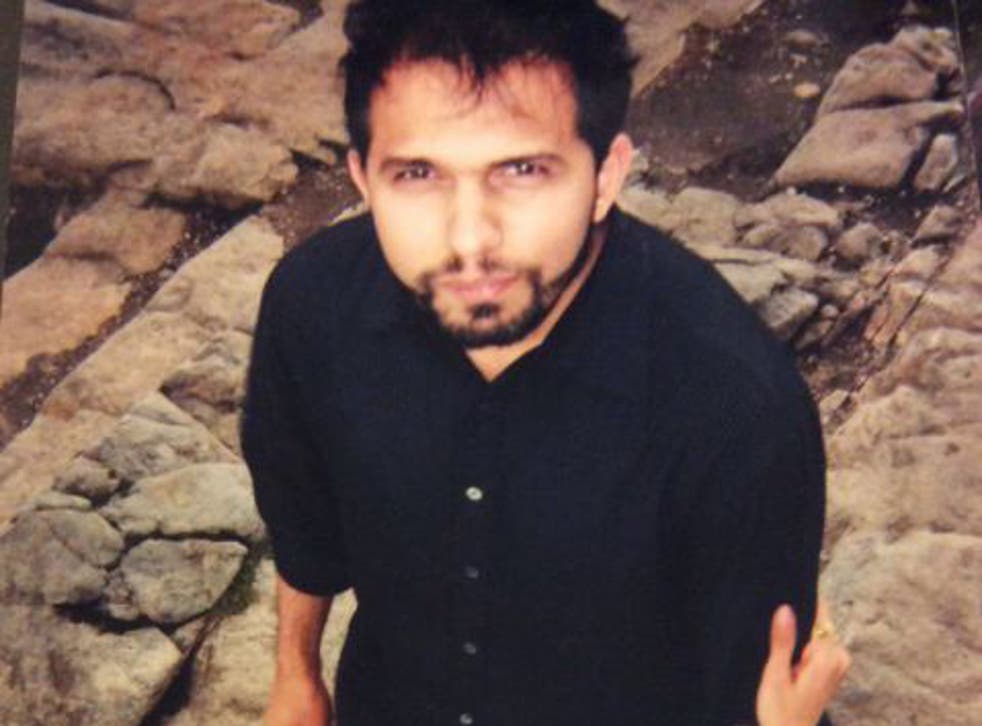 A man who murdered a Glasgow shopkeeper for "disrespecting Islam" has released messages from prison calling on supporters to behead other "insulters".
Tanveer Ahmed, 32, admitted stabbing Asad Shah to death in his shop because he felt his victim was "disrespecting the prophet Mohamed" with his beliefs as an Ahmadi Muslim.
Now, he is encouraging others to do the same in extremist audio messages that appear to have been recorded and released after he was jailed for life.
In Ahmed's most recent speech, uploaded to YouTube earlier this month, he celebrates sending Mr Shah "to hell with the help of Allah, the prophet, angels and saints".
Shopkeeper dies after being attacked outside his store
"I have the honour of sending him to the hell forever," he says in Urdu, giving the date as 7 September.
Ahmed goes on to call Ahmadi Muslims "frauds" for their beliefs, which hold the sect's founder as a prophet following Mohamed, and accused them of "contaminating the faithful".
"Whoever and wherever is listening my voice must make a resolve to protect the finality of prophethood," he says. "We will save the Lord's followers from going down to the hell – will protect their faith."
The message then calls on listeners to repeat a chant vowing to "offer their lives and souls", ending: "There's only one punishment for insulters: cut off their heads, cut off their heads, cut off their heads."
It was one of five messages, uploaded to the same YouTube account in May, June, August and most recently on 7 September. They are believed to have been recorded on a mobile phone, possibly during a call made by Ahmed from Barlinnie Prison.
Margaret Ferrier, the Scottish National Party MP for Rutherglen and Hamilton West, is demanding an investigation into how the "disturbing" messages were released. In a letter to Colin McConnell, chief executive of the Scottish Prison Service, she said officials must ensure that convicts are not able to broadcast "extremist rhetoric".
"It is worrying that the persecution the Ahmadi Muslim community face in Pakistan appears to now be manifesting itself in the UK," Ms Ferrier told The Independent. "The brutal murder of Asad Shah is the only reminder needed that this issue needs to be treated with the utmost seriousness.
"If we are sincere about tackling extremism, then we must ensure that hate speech like this is not given a platform. Freedom of speech gives nobody the right to incite hatred towards any faith group."
A spokesman for the Scottish Prison Service said he could not comment on individual cases. "We work closely with Police Scotland to detect and prevent crime," he added. "We make overt recordings of phone calls made in prison."
Police Scotland have also launched an investigation into Ahmed's audio messages, which could constitute hate speech or incitement. "We have been made aware of the communications and are currently assessing the matter," a spokesperson said.
The videos have generated fresh alarm in the UK's Ahmadi Muslim community, following a Facebook page praising the murder of Mr Shah and leaflets calling for Ahmadis to convert or be killed distributed in London.
Farooq Aftab, from the Ahmadiyya Muslim Community group, told The Independent: "Under no circumstances can hate speech ever be justified. We hope that the authorities clamp down all forms of extremism, hatred and hate speech."
Mr Shah and his family were granted asylum in Scotland in the 1990s after fleeing persecution in Pakistan, where Ahmadis have been declared non-Muslims by the government and are the victims of systematic discrimination and violent attacks.
Ahmed, who is also from Pakistan, is a Sunni Muslim and identifies with the Ahle Sunnat Wal Jama'at movement. He was jailed for life last month and ordered to serve a minimum term of 27 years, with judge Lady Rae condemning his "barbaric, premeditated and wholly unjustified killing of a much loved man who was a pillar of the local community".
"I note with considerable concern that you have expressed no remorse whatsoever for this appalling crime," she added.
Ahmed was unrepentant in court, releasing a statement through a lawyer accusing Mr Shah of "disrespecting the messenger of Islam, the prophet Mohamed", adding: "If I had not done this others would and there would have been more killing and violence in the world."
But he was given leave to appeal his minimum sentence on Thursday, with judges at a hearing in Edinburgh ruling that the murderer's lawyers can make a case for the term to be reduced.
UK news in pictures

Show all 50
Ahmed targeted Mr Shah after seeing the shopkeeper's own videos on YouTube, where he had claimed to be a prophet of Islam – regarded as blasphemy by some sects. The videos were only viewed a handful of times, among hundreds of others uploaded by Mr Shah calling for peace, love and unity across the world, but garnered angry comments and threats.
Ahmed, then a taxi driver in Bradford, was among those who heard of his messages. He drove to Glasgow to confront Mr Shah in his shop on 24 March.
The court heard Ahmed told him to renounce his statements, a demand that the 40-year-old man declined, while holding out his hand to shake as a gesture of goodwill. But Ahmed then produced a knife and launched a frenzied attack, chasing his victim outside the shop and continuing stabbing him until he fell to the ground.
He then walked to a bus stop to await the arrival of police, telling officers: "I have nothing against you so I am not going to hurt you."
The murder caused an outpouring of grief in Scotland and beyond, with local residents in Shawlands remembering Mr Shah as a kind and gentle man, whose last Facebook message posted just hours before his death wished a happy Easter "to my beloved Christian nation".