Ayesha Ali death: Mother and girlfriend jailed for 'wicked' killing of abused eight-year-old girl
Kiki Muddar used fictional characters to convince Polly Chowdhury to abuse her own daughter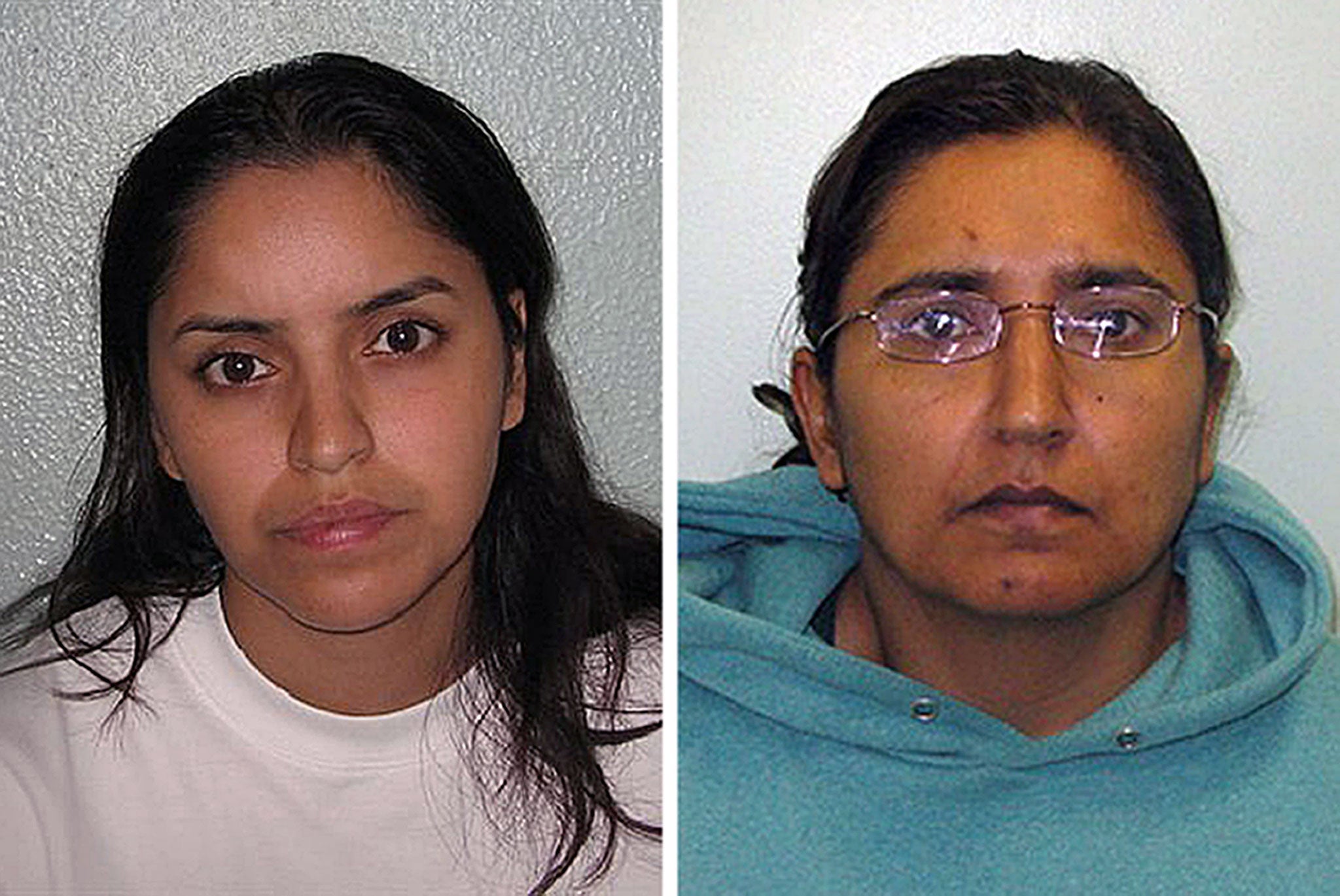 A mother who abused, tortured and killed her eight-year-old daughter while being controlled by fake online characters created by her sadistic girlfriend has been jailed.
Polly Chowdhury, 35, was sentenced to 13 years in prison at the Old Bailey today after being convicted of manslaughter for the death of Ayesha Ali.
Her girlfriend, 43-year-old Kiki Muddar, was given a heavier sentence of 18 years for manipulating the mother using a bizarre cyber fantasy world to poison her against the child.
Ayesha was found dead in her bedroom at their flat in Chadwell Heath, east London, in August 2013.
A blow to the head was ruled to be the cause of death but more than 50 injuries, including bruises, carpet burns and a bite mark, told of the extent of the abuse.
Their Old Bailey trial heard that Muddar created a fantasy world of alter egos on Facebook and text messages to seduce Chowdhury and turn her against her daughter because she saw her as a threat to their relationship.
Judge Christopher Moss QC said today that she bore most responsibility for Ayesha's death, describing her as a "manipulative, wicked woman".
Ayesha Ali death
Show all 10
He told Chowdhury she had "disgracefully failed" in her fundamental position of trust to keep her daughter from harm.
In mitigation, Chowdhury's lawyer Ali Bajwa said Muddar was the driving force in the events leading up to Ayesha's death during which she "skilfully and mercilessly" seized upon her weaknesses.
The mother was vulnerable when she met Muddar, through her belief system, childhood experiences, depression and her "excessively gullible and trusting character", he claimed.
Mr Bajwa added: "She was brainwashed entirely - brainwashed into thinking that treatment was necessary" when, before she met Muddar as a next-door neighbour, she had been a "model mother".
The pair were convicted of manslaughter on Wednesday after denying responsibility for Ayesha's death.
In the six months before she died, police said the girl was subjected to horrific levels of mental abuse, which escalated to become physical during the summer holidays.
Days before the killing, the couple, who were both horror film fans, terrorised Ayesha in the night by taking it in turns to wear a scary mask.
A neighbour heard the little girl screaming, sobbing and then pleading with her mother: "Amah, I don't want to be bad, Amah, Amah, I don't want to be bad."
Richard Whittam, speaking for the prosecution, told the court that the extent of the injuries inflicted by the couple could be likened to torture.
But the little girl seemed unaware she was being abused after months of being locked in her room, beaten and deprived of food because she was "bad".
A hand-written diary entry said she "hated getting punishments"but was trying to be good.
"I'm letting my family and Kiki down," Ayesha wrote. "If I be rude then nobody will like me…I don't like hurting other people's feelings!"
A list dated four months before she died included "eating my jam sandwich on time" on the "good" side and "not putting my shoes in the right place" and "making a fuss" as "bad".
Ayesha was popular with teachers and classmates at school and a neighbour described her as a "lovely" and polite little girl who was "happy and skippy".
But her mother believed a Muslim spirit guide called "Skyman" instructed them to abuse her daughter via text message and Muddar also created a fake online boyfriend called Jimmy Chowdhry.
Through his character, she fabricated an online relationship with Chowdhury that escalated to the point where she wanted to marry him.
Muddar pretended she was channelling "Jimmy" when the couple had sex, feeding on her girlfriend's religious belief in ghosts and messages from beyond the grave.
She convinced the mother that Ayesha's supposedly cold demeanour towards her would impact on her and Jimmy's health while 'Skyman' would send messages telling Chowdhury to punish her daughter for acts deemed as bad behaviour.
The court had heard how Muddar brainwashed the woman into believing that Ayesha was possessed, "evil" and had "bad blood".
Muddar bombarded Chowdhury with more than 40,000 texts which said: "You have no right to ever love or like your evil daughter".
The court was played a recording of a telephone call to a friend where Muddar vowed to kill Ayesha, calling her a "witch", adding: "I'll f***ing drown her in the bath."
Warning: This video contains very strong and distressing language
When paramedics found the child dead, the court heard that Muddar told them: "Ayesha is always naughty. She was a naughty child and her mum thought she was possessed by the devil."
Detective Inspector Donna Convery, from the Metropolitan Police, said Ayesha was "an innocent child who was caught up in the most bizarre set of events, manipulated by two adults who were intent on causing her harm".
She added: "Ayesha should have been protected by the one woman she thought she could trust but her mother, Polly Chowdhury, allowed herself to be influenced by Muddar so that sustained mental and finally physical abuse could be inflicted on her daughter."
The women lived together from February 2013, after Muddar manipulated Chowdhury into leaving her husband, who had previously tried to move his family away to escape her influence.
Afsar Ali, Ayesha's father, attended every day of brutal evidence against his former wife at the Old Bailey trial.
"This has been the hardest and most difficult thing that I have ever had to do in my life. It is impossible for me to sum up what has happened in the last couple of years," he said.
"It is impossible to find the words to describe my feelings.
"On Thursday, 29 August 2013 our world fell apart. Everything that had happened over the past few years collapsed in a blink of an eye. Our world crumbled right in front of us…for moments in my life I block the world out completely and I try to only think about Ayesha, my princess, her smile, her presence, her words and her kisses.
"In my heart our princess Ayesha shall forever remain."
Additional reporting by PA