Aylesbury child sex abuse case: Six men found guilty of child abuse on a 'massive scale' at Old Bailey
Six men were found guilty, four were cleared, and the jury was unable to decide on one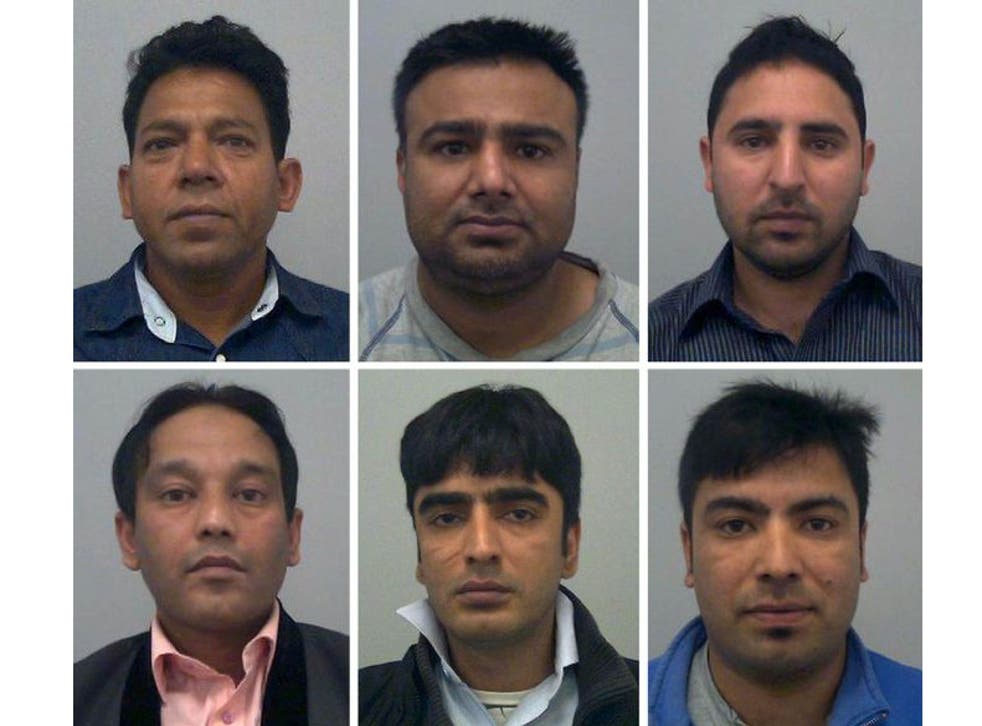 Six men have been found guilty of abusing two schoolgirls on a "massive scale" in a child sex ring which mostly operated in Aylesbury.
Vikram Singh, Akbari Khan, Asif Hussain, Mohammed Imran, Taimoor Khan and Arshad Jani were all found guilty at the Old Bailey.
The court heard how the abuse had gone on for years, and had involved rape, child prostitution and the use of drugs to "stupefy" a girl in order to engage in sexual activity.
The offences, which were denied by all the defendants, took place in vehicles, flats, and sometimes in the girls' homes in Aylesbury.
A total of 11 men went on trial for 51 offences, committed between 2006 and 2012, which included the multiple rape of a child under 13.
Six defendants were found guilty, four were cleared, and the jury was unable to decide on one of them. The sentencing of the six guilty men will take place on September 12.
Some of the men used the services of Urdu, Hindi, Pashto and Punjabi interpreters, and gave no reaction as the guilty verdicts were delivered.
Both victims came from troubled backgrounds, and were befriended by the guilty men, who groomed them and gave them gifts, which included alcohol and occasionally drugs.
When she was 12 or 13, one of the girls was passed between 60 mainly Asian men for sex, having been conditioned to think it was normal.
Most of the charges related to this girl, identified only as A, while three charges related to the other, known as B.
Many of the defendants were friends from the Aylesbury area. Some worked in the local market, and a few worked as taxi drivers. Some were even married, and had children.
Prosecutor Oliver Saxby QC told the jury the youngsters were "easy prey for a group of men wanting casual sexual gratification that was easy, regular and readily available".
He said the girls' ideas of what was right had been "completely distorted", and that they thought what was happening was "normal" and "natural".
Speaking outside the Old Bailey, David Johnson, head of Buckinghamshire Council's Child Services, issued an apology.
He said: "We want thank the police and comment the women for their bravery for speaking to the police and relive their experiences through this trial.
"I want to thank each of them, but also to apologise to each of them for any opportunities the authority missed whilst they were going through this very troubled period in their lives and the offences that were committed against them."
"We want to also say that we now know a great deal more about child sexual exploitation and that we want to make sure that other young people and victims come forward and talk to about anything they are worried about, whether it is themselves or anybody else."
"We will listen to you, we will look into any concerns that you raise and we will jointly work with other agencies, especially the police, investigating these matters."
A serious case review has been launched into the women's cases, and others stretching over a 15 year period, has now been launched by Buckinghamshire's safeguarding board.
It is expected to return its findings "within months".
The list of verdicts read:
Vikram Singh, 45, of Cannock Road, Aylesbury, was found guilty of four counts of rape and administering a substance with intent.
Asif Hussain, 33, of Hodge Lea, Milton Keynes, was convicted of three counts of rape.
Arshad Jani, 33, of Cousins Drive, Aylesbury, was found guilty of rape and conspiracy to rape.
Mohammed Imran, 38, of Springcliffe Street, Bradford, was convicted of three counts of rape, one count of conspiracy to rape and one count of child prostitution.
Akbari Khan, 36, of Mandeville Road, Aylesbury, was found guilty of two counts of rape, administering a substance with intent, conspiracy to rape.
Taimoor Khan, 29, of Highbridge Road, Aylesbury, was convicted of one count of sexual activity with a child.
Sohail Qamar, 41, of St Anne's Road, Aylesbury, was cleared of two counts of rape, and assault occasioning actual bodily harm.
Sajad Ali, 34, of Brockhurst Road, Chesham, was found not guilty of sexual activity with a child.
Faisal Iqbal, 32, of Pixie Road, Aylesbury, was cleared of rape and sexual activity with a child.
Harmohan Nangpal, 41, of Langdale Drive, Hayes, was cleared of rape and sexual activity with a child.
The jury could not decide on charges against Jerome Joe, 35, of Pightle Crescent, Buckingham. He denies one count of rape and a single count of sexual activity with a child. The Crown announced that it will seek a retrial for him.
Additional reporting by the Press Association
Register for free to continue reading
Registration is a free and easy way to support our truly independent journalism
By registering, you will also enjoy limited access to Premium articles, exclusive newsletters, commenting, and virtual events with our leading journalists
Already have an account? sign in
Register for free to continue reading
Registration is a free and easy way to support our truly independent journalism
By registering, you will also enjoy limited access to Premium articles, exclusive newsletters, commenting, and virtual events with our leading journalists
Already have an account? sign in