Banker Jasvir Ginday killed wife and burnt body to stop her revealing his sexuality
Ginday has been sentenced to 21 years for murdering 24-year-old Varkha Rani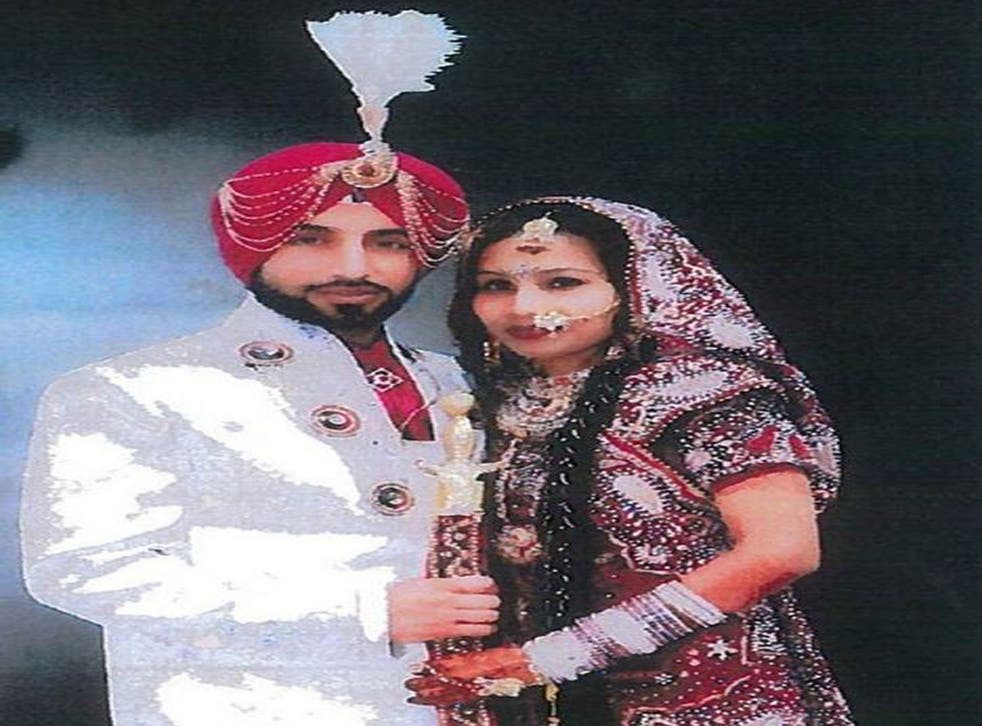 A judge jailed an "unbelievably callous" bank worker for life for murdering his new Indian wife to prevent her revealing that he was gay, and burning her body.
Jasvir Ginday, 29, is thought to have strangled his young bride with a vacuum cleaner pipe before disposing of her body in a patio incinerator. He told neighbours that he was disposing of general rubbish.
Ginday was described as a meticulous planner who was caught on camera filling a plastic bottle with fuel at a local petrol station on the day that he killed his wife, Varkah Rani. The murder came just a month after she had come to Britain to live with his family.
Judge John Warner told Ginday that he had behaved "with a complete lack of any humanity".
"I am satisfied that you intended to kill – you are a devious, controlling man and a meticulous planner in a number of aspects of your life," the judge told Ginday as he sentenced him to a minimum of 21 years.
"Killing her was a dreadful enough thing to have done, but what followed was horrible almost beyond imagining. You behaved in an unbelievably casual and callous way, with a complete lack of any humanity.
"No one who was in court to hear that evidence will easily put out of their minds the image of her body being poked and prodded by you down into that incinerator."
Ginday, 29, from Walsall, worked for the Royal Bank of Scotland and was planning to take up a job with the Financial Ombudsman Service. He married his wife in March last year in a lavish ceremony with 700 guests in India.
Varkah Rani, 24, came to Britain to live with Ginday at his parents' home five months later, but was a vulnerable woman living thousands of miles from home, who had been deceived by her husband.
"It was a very cruel situation in which you put her," said the judge. "You have told lie after lie about a number of matters such that it is impossible to rely on anything you say."
The killer had claimed that his wife had attacked him, taken £500 and then walked out of their home. But the scratches on his face when he was arrested were attributed to the victim's desperate attempts to save her own life.
Officers discovered the body burned beyond recognition after confronting Ginday about fires in the incinerator over two days. They also discovered a fire-damaged mattress in parkland behind the couple's home.
Speaking after the case, Detective Chief Inspector Sarbjit Johal, the senior investigating officer, said: "Ginday got married as a matter of convenience – he tricked a poor, innocent girl into marriage but was living a lie."
Ms Rani's cousin, Sunil Kumar, said in a statement: "No words can truly express the sadness and hurt my family and I are experiencing at the loss of Varkha.
"She was loved dearly by all, she had a great passion for life and doted on her family. Unfortunately she fell prey to Ginday, who had ulterior motives which Varkha would not have appreciated."