Former beauty queen jailed for sending £35 to Islamist fighters in Syria
Amaani Noor had 'married' a fighter online and planned to join him in the warzone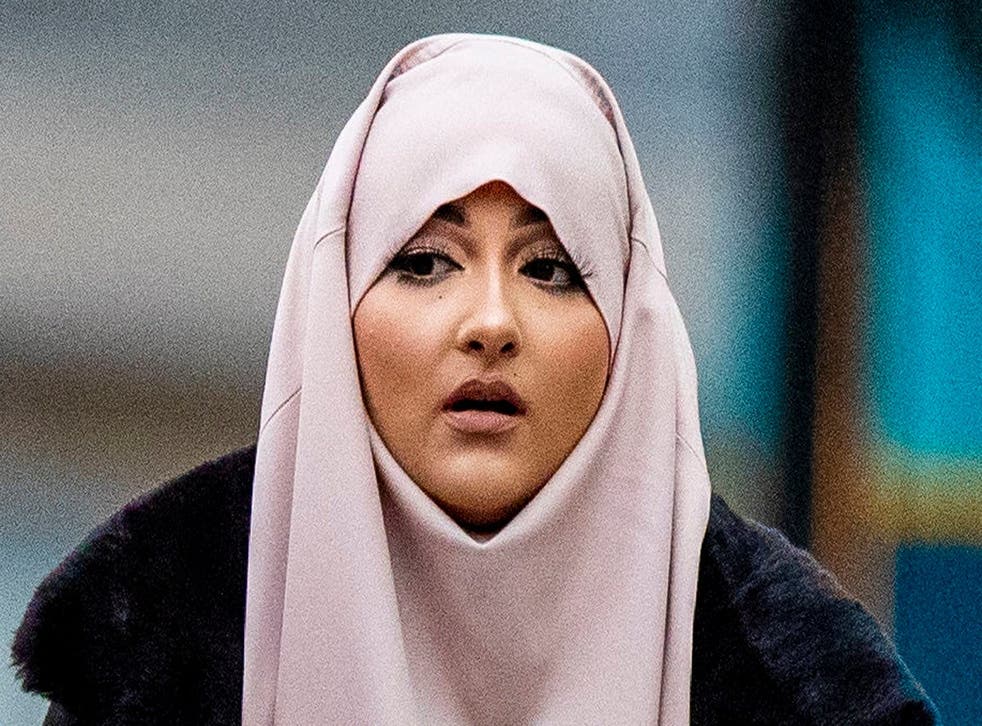 A former beauty queen has been jailed for sending £35 to Islamist fighters in Syria.
Amaani Noor "married" a man she had never met over the internet and was planning to join him when she was arrested.
The 21-year-old was found guilty of funding terrorism after a court heard she supported violent jihad and sharia law.
Noor was jailed for 18 months on Friday, while co-defendant Victoria Webster was sentenced to 17 months for encouraging her and funding terrorism.
Greater Manchester Police said both women held extremist views and had expressed support for Isis and Islamist group Hayat Tahrir al-Sham.
Timeline of the Isis caliphate

Show all 19
Noor, a former performing arts student, previously entered beauty competitions and became a finalist in the Miss Teen Great Britain pageant in 2014.
She told Liverpool Crown Court she had become increasingly religious after her relationship with a Premier League footballer in the "public eye" ended when she was 18.
She initially underwent a religious wedding ceremony with a Muslim preacher at her home in Wavertree, and they planned to move to Saudi Arabia before the marriage failed.
The court heard that Noor then started discussing extremist organisations with people she met on the internet, including 28-year-old Webster, a mother-of two.
Webster gave Noor the details of an organisation called The Merciful Hands, claiming that a fighter in Syria was struggling with debt during Ramadan and needed money for food and supplies.
Noor made a $45 (£35) donation using the name Margaret Allen to the group via Paypal, in May 2018.
Webster made two payments totalling $60 (£46) between April and August 2018.
She pleaded guilty to two counts of providing money for purposes of terrorism and one count of inviting Noor to do the same.
Greater Manchester Police said although The Merciful Hands claimed to be an aid organisation, "evidence indicates is supporting the proscribed organisation Isis".
Police found footage of Isis fighters torturing and executing prisoners on both Noor and Webster's phones.
Noor claimed she gave the money believing it would be used to buy food for women and children in Syria, but prosecutors said she knew it may be used for terrorist purposes.
Noor accepted that some of the views she expressed in them appeared "harder" than views of Isis, but claimed she wanted to find out about the organisations to decide whether to support them.
The court heard she "married" her new husband, who communicated with her on the Telegram app using the name Hakim My Love, in a video-link ceremony on her 20th birthday.
Telegram, an encrypted messaging platform, became one of the main hubs for international communications by Isis and other jihadi groups in the Syrian civil war.
In one message to Hakim, Noor wrote: "It's been my dream to marry a fighter for a long time and my dream to be a fighter myself even longer lol."
Hakim told Noor that he knew the person behind The Merciful Hands account and he was a good friend.
Webster, of Nelson in Lancashire, described the group Noor's husband fought for as Isis in one message.
But Noor claimed he described himself as an "independent" fighter in Syria and she believed he was fighting for Islam and sharia law.
She had planned to join him and on the day police searched her house she had a ticket booked to Turkey.
David Gottlieb, defending, suggested Noor's failed relationships may have led to the offences and "sent her spinning out of the solar system".
He said she was in a new relationship and her fiancé was in court, along with her brother and mother.
Hossein Zahir, defending Webster, said she was "on a path to reform" and added: "The ideology she thought she believed in has left her life in ruins."
Noor, who ran an online jewellery business, had never met Webster or her "husband" in person but communicated them with on Telegram.
When she was convicted, judge Andrew Menary QC told the jury: "It's a sad case. You have had an insight now into this very murky and challenging world that some people occupy online where people speak casually about some pretty awful things that are going on.
"A moment's glance online will tell you Miss Noor was in a relationship with someone in the public eye.
"That person was a professional footballer so her life undoubtedly at some point changed dramatically."
Detective Superintendent Will Chatterton, of Counter Terror Policing North West, said online messaging by The Merciful Hands "made clear their intent to send weapons and equipment to terrorists fighting in Syria".
"The abhorrent footage and messages found upon both Noor's and Webster's phones clearly showed both to be sympathetic to terrorist organisations," he added.
"While the amounts of money sent were relatively small, the intent of Noor and Webster was clear – to support and further the aims of terrorists fighting in Syria.
"I hope the sentences send a clear message that we gather evidence and pursue prosecutions against anyone who seeks to engage with and support any form of terrorism."
Additional reporting by PA