Becky Watts: Killer reveals 'five-minute plan' to kidnap teenager
Nathan Matthews, 28, is accused of murdering the 16-year-old at her home in Crown Hill 
Agency
Thursday 29 October 2015 15:14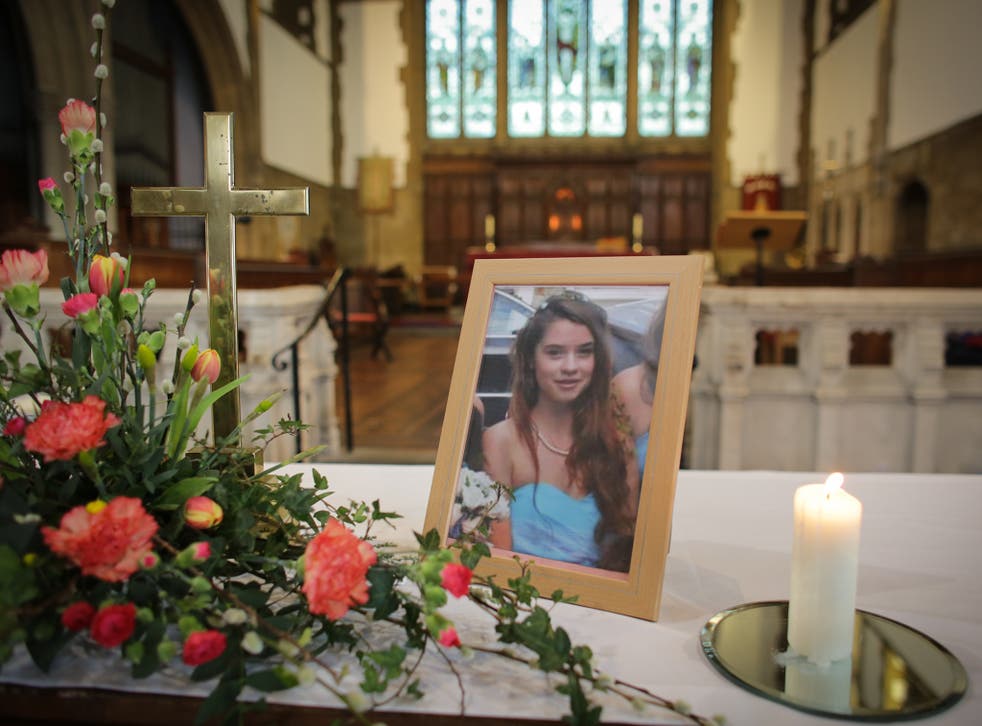 The stepbrother of Becky Watts believed it would take a "maximum" of five minutes to kidnap her from her Bristol home, place her in a suitcase and bundle her into the boot of his car, he told a court.
Nathan Matthews, 28, is accused of murdering the 16-year-old at her home in Crown Hill on February 19 with his girlfriend Shauna Hoare, 21.
Bristol Crown Court previously heard the pair, who share an interest in petite teenage girls, targeted 5ft 1in Becky in a sexually motivated kidnap plot.
They allegedly suffocated Becky in her bedroom before placing her body in the boot of their car, driving it home and dismembering it in their bath with a circular saw.
Becky's remains were discovered in a garden shed in Barton Court - 80 metres from their home in Cotton Mill Lane - in the early hours of 3 March.
Matthews claims he acted alone when he accidentally killed Becky after a plan to kidnap her to "teach her a lesson" for being rude to his mother went wrong.
In his third day of giving evidence, Matthews insisted Hoare was smoking a cigarette in the garden when he fetched his "kidnapping kit" from his Vauxhall Zafira.
He claimed she took "usually 15 minutes" to smoke one cigarette and was still doing so when he killed Becky and carried her body into the boot of his car in a suitcase.
When asked how long he thought it would take to kidnap Becky, Matthews replied: "Maximum of five minutes.
"I thought I would have been really quick... obviously it was really quick. Like I said, fear and shock."
Matthews claimed he brought a red suitcase containing handcuffs, tape, a stun gun and a mask in from the car when Hoare went to smoke.
He said he was wearing a beanie-style hat that he had worn in the past and placed a mask on his face to hide his identity.
Prosecuting, William Mousley QC asked: "So Becky would have seen you numerous times wearing a beanie hat, not much of a disguise that?"
Matthews replied: "It was the mask. It was just white, like the ones you get from the pound shop that you can paint."
Mr Mousley asked: "Isn't it the truth that you are lying about the fact that you had a mask on? That's something you made up to try to help your suggestion that this was just a little prank that went wrong?"
Matthews said: "I definitely had a mask. Because then there would have been a massive struggle. The whole point was to shock and scare her, not to know it was me.
"I didn't want to kill her."
He told the jury he threw the mask and beanie hat in a bin near a bus stop in Southmead, Bristol.
Items used to kill Becky and dispose of her body, along with her body parts, were discovered in suitcases, a rucksack and a blue box in the shed at Barton Court.
Matthews claimed he could not remember what he said to Becky when he knocked on her bedroom door, using a deep voice as a disguise.
"I have said I can't remember all of the wording, I only remember pieces," he added.
"It is like a dream. It is all in slow motion when I remember it."
Jurors were shown the red suitcase Matthews claimed he placed Becky in, carried her downstairs and placed her into the boot of his car.
When asked to look at the item, Matthews said: "I don't want to."
Matthews, of Hazelbury Drive, Warmley, South Gloucestershire, denies murder and conspiracy to kidnap.
He admits killing Becky, perverting the course of justice, preventing the burial of a corpse and possessing a prohibited weapon.
Hoare, of Cotton Mill Lane, Bristol, denies murder, conspiracy to kidnap, perverting the course of justice, preventing burial of a corpse and possessing a prohibited weapon.
The residents of the Barton Court property, Karl Demetrius, 30, and his partner Jaydene Parsons, 23, admit assisting an offender.
Donovan Demetrius - Karl's twin brother - of Marsh Lane, Bristol, and James Ireland, 23, of Richmond Villas, Avonmouth - a work colleague of Karl's - deny the charge.
Matthews told the court that getting his stepsister, who weighed 56kg, into the suitcase was "not that easy".
He refuted the suggestion he had sexually touched Becky before or after killing her.
The court heard Becky sustained multiple injuries, suggesting she fought violently for her life.
Matthews claimed he had strangled Becky with both hands in a trick he had learned at school to make someone pass out.
"Was she fighting for her life? Not for her life, no, because I wasn't going to... you know," he added.
"She was kicking her legs trying to move but that was it."
Mr Mousley asked: "Can you give an explanation why there were so many bruises on different parts of her body?"
Matthews said: "No because I don't know."
He told the court he had two options after realising Becky had died and "picked the one I thought was protecting everyone else".
He added: "I just could not believe what actually happened."
Matthews said he had not attempted to contact Becky's family following her death to show remorse for what happened.
"You only feel sorry for yourself because you got caught," Mr Mousley told him.
The case continues.
PA
Register for free to continue reading
Registration is a free and easy way to support our truly independent journalism
By registering, you will also enjoy limited access to Premium articles, exclusive newsletters, commenting, and virtual events with our leading journalists
Already have an account? sign in