Becky Watts murder trial: Judge cries as Nathan Matthews is sentenced to life in prison
Tributes paid to victim's family as Nathan Matthews told he must serve at least 33 years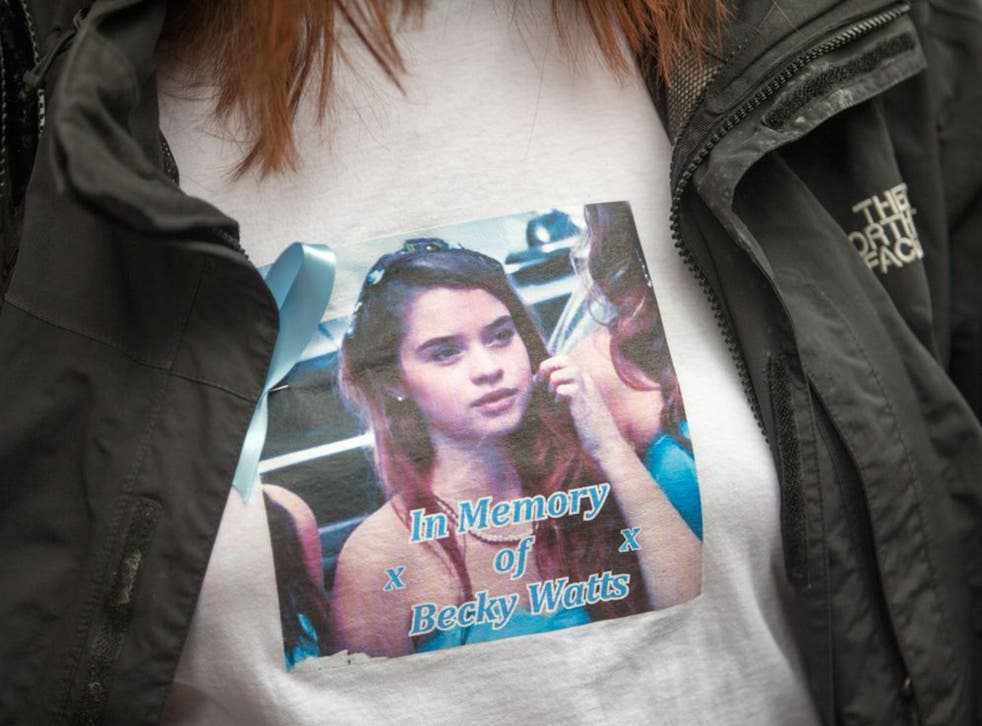 The judge in the Becky Watts murder trial was reduced to tears over her family's anguish, after he told the teenage girl's stepbrother and killer that he may spend the rest of his life in jail.
Mr Justice Dingemans told Nathan Matthews that he will serve a mandatory life sentence of at least 33 years for the murder, which the 16-years-old's father described in court as a "despicable act of evil".
The judge said his decision "means that Mr Matthews, as a 28-year-old man, will be 61 before he might be considered for release and the reality is that he might never be released," he said.
Mr Matthews' girlfriend, Shauna Hoare, was given 17 years' imprisonment for manslaughter in the sentencing at Bristol Crown Court. The pair had been found guilty on 11 November.
The judge struggled to hold back his emotions when paying tribute to the family of Ms Watts, who died of strangulation in her bedroom at home in Bristol in February while suffering more than 40 injuries in a sexually motivated kidnap plot.
Her stepbrother and Ms Hoare – who shared a dislike of Becky but had an interest in petite teenage girls, according to detectives – went on to dismember her body in actions that "defy any reasonable explanation," said Mr Justice Dingemans.
"Mr Matthews and Miss Hoare lied to the family and to the police, pretending not to know anything about Becky's whereabouts, at a time when they were in the process of dismembering her," he said.
"Everyone who saw them both, including the first police officers to investigate, were taken in by the apparently concerned couple.
"Their deceit of the family was particularly cruel and unusual and the family's sense of betrayal by Nathan Matthews and Shauna Hoare is both understandable and justified.
"At the same time they were deceiving the family, Matthews and Hoare were watching a parody of a song from Frozen, using the words 'Do you want to hide a body?'
"It is apparent that neither Nathan Matthews or Shauna Hoare have truthfully said what happened at 18 Crown Hill to Becky and I understand the family's sense of frustration about that fact."
During his remarks about the family's situation the tragedy of the events became too much for the judge.
"I should like to pay public tribute to the family of Becky for the dignified way in which they have conducted themselves," he said, before welling up and pausing.
With his voice appearing to break, he added: "Hearing the evidence during the trial has been difficult for anyone but it is plain that it has been an immense burden for the family."
Dale West, a cousin of Becky, said outside the court: "For the judge, to see his emotions at the end, you could see he feels how we felt. He was hurting as much as we were hurting. I was very surprised to see that, I didn't think I would see it. It is something I will never forget."
Earlier, in a victim impact statement read to the court Becky's father, Darren Galsworthy, said: "We will never understand why this happened but we now believe we were just disposable pawns in a plot borne out of hatred, jealousy and greed.
"The heartless, cold and calculating perpetrators of this despicable act of evil can never be forgotten or forgiven. This act of violence sent shock waves through not only our family but the whole country and further afield.
"The betrayal we feel is insurmountable. It would have been much kinder to have killed us all, than to have to cope with the aftermath of this crime."
Becky's family walked out of the public gallery when Andrew Langdon QC began mitigation for Shauna Hoare by suggesting she was "one of Nathan Matthews's victims".
Becky's grandfather John Galsworthy said: "Our focus now will be on our family, to hopefully strengthen and support each other with a view that the strong family bond that Becky valued so much can once again be established."