Becky Watts murder trial: Step-brother Nathan Matthews sentenced to life in prison for her murder
'Every day has been a living nightmare. And for some reason that I will never understand, after my daughter was murdered, she was mutilated'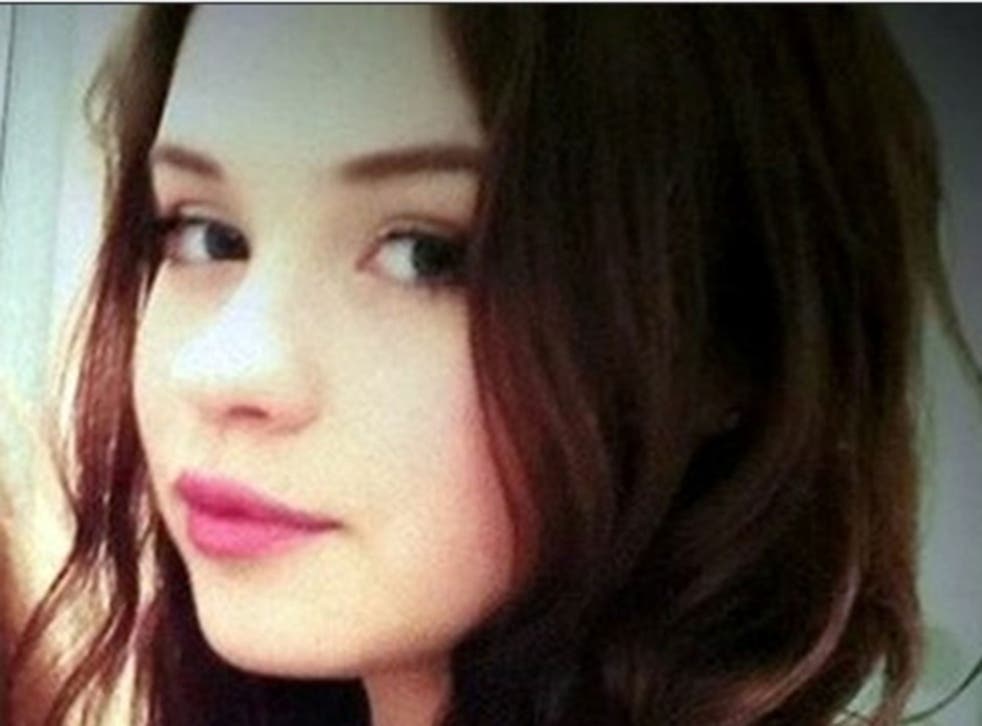 Becky Watts' stepbrother Nathan Matthews has been sentenced to life in prison with a minimum term of 33 years for murdering the 16-year-old schoolgirl.
Judge Mr Justice Dingemans said evidence proves Matthews, 28, had a fixation with having sex with petite teenage girls and "that the planned kidnap of Becky was for a sexual purpose".
He said the case was of a "particularly high" seriousness "because of the planning of the abduction for a sexual purpose, the taking of the implements described and a weapon (albeit non lethal) and the murder of Becky".
He added: "In my judgment the behaviour of both Nathan Matthews and Shauna Hoare in feigning concern with the family, as the family desperately searched for Becky, is a further, and serious, aggravating feature.
"In my judgement the appropriate sentence for Mr Matthews is a mandatory life sentence, with a minimum term of 33 years.
"This means that Mr Matthews, as a 28-year-old man, will be 61 before he might be considered for release, and the reality is that he might never be released."
The judge became emotional as he paid tribute to Ms Watts' family at the end of his sentencing remarks.
Matthews' girlfriend, Shauna Hoare, 21, was given a sentence of 17 years in prison for manslaughter.
Mr Justice Dingemans told her she had been convicted of manslaughter on the basis of participating in a kidnap where any "sober and reasonable person" would have known some harm would come to Ms Watts.
He added: "Nathan Matthews used pornography on a very regular basis. He said in evidence that he looked at pornography at least once every two days and sometimes every day.
"Mr Matthews had become very interested in threesomes and had persuaded Shauna Hoare and another person known to them to take part in a threesome.
"He had started exchanging text messages with Shauna Hoare in which they discussed kidnapping pretty teenage schoolgirls for sex.
"It was when Shauna Hoare was confronted by these texts that she lied and pretended that she had nothing to do with them.
"The false suggestion given by both of them during the trial, namely that these texts were just banter or pandering to tastes, shows how much their understanding of where proper boundaries of conduct began and ended had become corrupted and warped."
Matthews suffocated his stepsister during a failed attempt to kidnap her, Bristol Crown Court heard.
After killing her, Matthews dragged her body from her home in Crown Hill, Bristol, and dismembered her with a circular saw in a bath at the home he shared with Hoare.
Matthews had admitted killing Ms Watts, as well as perverting the course of justice, preventing the burial of a corpse and possessing a prohibited weapon, but denied her murder.
Hoare was cleared of murder but found guilty of manslaughter, as well as perverting the course of justice, possessing prohibited weapons and preventing Ms Watts' lawful burial. She revealed she was pregnant at the time of the crime.
At the time of her disappearance on 19 February, Ms Watts' disappearance sparked a frantic search, including a social media campaign which went around the world.
The hunt to find her involved 350 Avon and Somerset Police officers and the assistance of nearly 200 others from seven neighbouring forces.
Her remains, packed into suitcases and a plastic storage box, were discovered in a garden shed 80 metres away from Matthews and Hoare's home on Cotton Mill Lane, Bristol, on 3 March.
In pictures: Becky Watts murder trial

Show all 16
A post-mortem examination found bruising to 40 separate areas of Becky's body and recorded 19 knife wounds, including slashes to her torso and shoulders, inflicted after her death.
Hours after the killing, Matthews and Hoare ordered takeaways, joked over text messages and watched an online parody video entitled "Do you want to hide a body?"
In the following days, Matthews was captured on CCTV buying items including black bags, rubble sacks, rubber gloves and three rolls of clingfilm.
Becky Watts Trial Explainer
Prosecutor William Mousley QC told the jury at the beginning of the trial that Matthews and Hoare spent three days completing "the lengthy process of cutting up and carefully packaging each individual parcel".
During police interviews, Matthews told police he had planned to kidnap Ms Watts to "scare her and teach her a lesson because she was selfish and treated his mother badly", Mr Mousley said.
Anjie Galsworthy, Matthews' mother and Becky's stepmother, said she still loved her son and would try to find answers by visiting him in prison.
Additional reporting by agencies