Becky Watts: Murdered teen's boyfriend reveals the last text she sent him before being killed
'She sent me a text but then she stopped replying, which was unusual because she normally texted back straight away'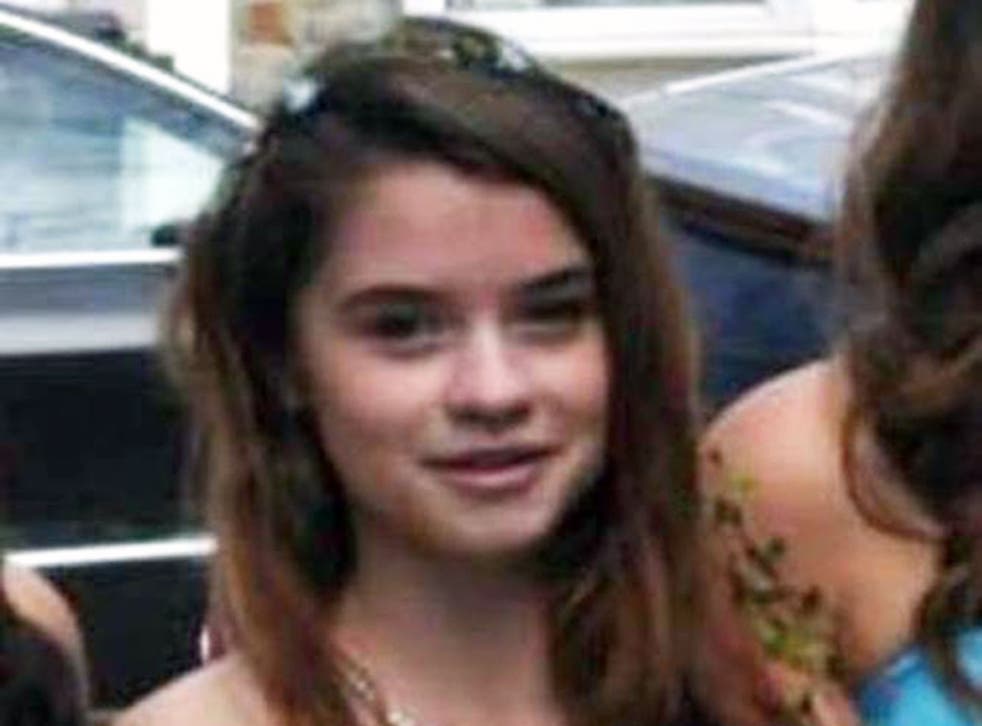 The boyfriend of murdered Becky Watts has revealed the last text message she sent him shortly before she was killed by her stepbrother.
The 16-year-old sent boyfriend Luke Oberhansli a series of messages saying how much she was looking forward to seeing him later that day.
She texted "GOODIE XXXX" before adding "Jamming me", which means listening to music, before she stopped responding.
Her final messages were illustrated with love heart emojis and a face blowing kisses.
When Becky did not respond to further messages and calls, Mr Oberhansli, 18, went to her home at Crown Hill, St George, Bristol on the afternoon of February 19.
Little did he know that that she had been murdered and her body was in the boot of the car parked just feet away on the driveway.
Mr Oberhansli spoke to Anjie Galsworthy - Becky's stepmother and Nathan Matthews' mother - and saw his girlfriend Shauna Hoare, who he described as "acting normally".
On Friday, Matthews, 28, and Hoare, 21, were both jailed for their parts in killing Becky in their sexually-motivated kidnap plot.
Matthews was told he would spend at the least the next 33 years in prison for murder while Hoare received a 17-year sentence for manslaughter.
Detectives say the truth about what actually happened to Becky when she was smothered to death may never be known.
Mr Oberhansli told The Sun On Sunday that he believes Matthews would have murdered him too had he been there.
"I'd been to the dentist and texted Becky afterwards saying I'd come round," he told the newspaper.
"She sent me a text but then she stopped replying, which was unusual because she normally texted back straight away.
"I texted her a few times saying 'Oi' and tried to call her, but her phone went straight to the answering machine.
"I nearly went round but I thought she must be asleep or something. I wish I had because maybe I could have saved her.
"But if Nathan was all fired up after killing Becky he would have probably killed me too.
"I'd have knocked on the door and not expected any trouble, and he'd have just taken me by surprise and killed me too. I hate him for what he's done."
Becky suffered more than 40 injuries to her body as she bravely fought for life against her porn-obsessed stepbrother.
Former TA soldier Matthews, along with Hoare, dismembered Becky with an £80 circular saw in the bathroom of their squalid home in Cotton Mill Lane, Barton Hill.
Mr Oberhansli is reminded daily of what happened to Becky because he lives opposite Matthews and Hoare's old home.
"The first thing I see every morning when I open the curtains is that house. And the first thing I think about is Becky and what he did to her," he said.
"It's like the Fred West house of horrors and it's horrible to see it every day. I want Becky to be remembered for the beautiful girl that she was and not for what happened to her."
He said he was consumed with rage for what Matthews has done.
"When we found out he'd done it, I wanted to kill him. Even now when I think about it too much all the anger and hate builds up," he said.
"He's got 33 years but that's not enough. He should be in prison until he dies. The death sentence should be brought back for people like him. He's scum."
PA
Register for free to continue reading
Registration is a free and easy way to support our truly independent journalism
By registering, you will also enjoy limited access to Premium articles, exclusive newsletters, commenting, and virtual events with our leading journalists
Already have an account? sign in