Obsessive gambler gets life for killing friend, dumping headless corpse in a suitcase, and stealing victim's identity
Ming Jiang murdered Yang Liu, put his dismembered torso in a Samsonite case, and plundered the wealthy investor's bank accounts to fund a casino high roller lifestyle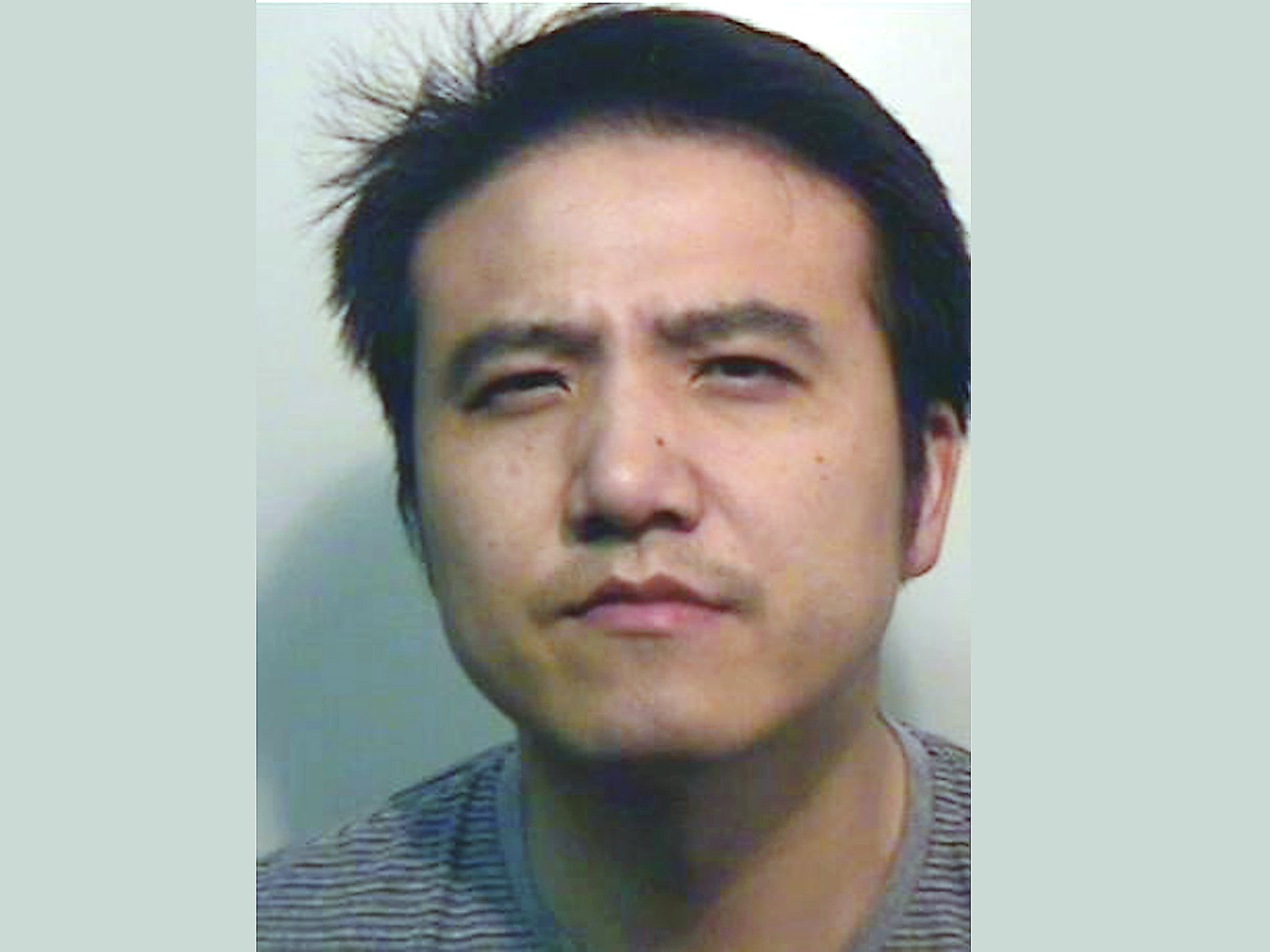 A "cruel and ruthless" killer may spend the rest of his life behind bars after murdering his friend, cutting up his body, stuffing it in a suitcase, and then adopting the richer man's identity to fund a life as a high-rolling gambler.
After putting the headless torso of Yang Liu inside a Samsonite suitcase and dumping it in a layby, Ming Jiang assumed the successful financial investor's identity to such an extent he even texted his friend's unsuspecting mother in China, pretending to be her son and saying all was well.
In fact by that stage Jiang had already used Mr Liu's credit card to buy the petrol which he poured over the suitcase and set alight in the hope of burning the body so badly it would be unidentifiable.
Thinking he had made it look as if Mr Liu had simply disappeared, the obsessive gambler drew large sums from his victim's bank account and also took steps to sell the 36-year-old's £185,000 flat in order to pay off massive casino debts and continue his life as a high-roller.
The Chinese national denied murder but a jury at Manchester's Minshull Street Crown Court took little more than four hours to unanimously find him guilty.
In an unusual development, Jiang, 43, then refused to come to court for sentencing, but Judge John Potter went ahead in his absence and condemned him to life with a minimum of 33 years in jail.
Addressing his remarks directly to the killer despite Jiang's absence, the judge told him: "Your actions ended the life of a gentle and kind young man.
"They demonstrate that you are a highly dangerous, cunning and ruthless killer prepared to stop at nothing to fulfil your own selfish desire to feed your gambling habit."
The judge told Jiang, who despite his "VIP persona" lived in a one-bedroom flat in the Beswick area of Manchester: "Your high spending, high rolling behaviour was in fact a selfish and self-centred veneer behind which you hid a life of increasing dependency on debt which was rapidly spinning out of control.
"The estimated losses you accumulated ran into hundreds of thousands of pounds."
To clear his gambling debts, the judge said, Jiang resolved to kill Mr Liu, a successful, popular Leeds University graduate who moved in the same casino-visiting circles.
"The plan was chilling but straight forward," said Judge Potter. "You would commit a murder for personal gain.
"The clear motive was so that you could adopt his identity and gain access to his considerable financial assets."
In October 2016 Jiang invited Mr Liu to his flat and killed him there, by methods which remain unclear to police and prosecutors.
"You then treated his body in the most disrespectful and appalling way," said the judge. "In order to adopt his identity you decided to dispose of his body so that no trace of him could be found.
"You decided to dismember him by removing from his body his head, hands and feet. You did this over a period of time, again in your flat, either in the living room using a set of ladders to lay him flat, or in your bathroom, in the bath.
"You used sharp metal objects, probably knives, to conduct this grotesque activity."
It is believed Jiang dumped the severed body parts in the communal bins which served his block of flats. They were then incinerated before anyone realised Jiang was the killer, the judge said.
"Discovery of what had happened," said Judge Potter, "Started to occur after you disposed of the remaining torso from your victim's body. You did this by placing the torso in a suitcase and taking it to a lay-by some distance from Manchester on the main road to Sheffield."
The court heard that after Jiang set the suitcase alight, the charred remains were discovered by walkers the next morning, October 10.
The judge said Jiang used his "considerable experience of identity theft" - which he had amassed despite having no previous convictions – to effectively become Mr Liu in the perception of many unsuspecting people, including the dead man's mother.
He gained access to his victim's bank accounts and took "significant sums" from them, and also began the process of selling Mr Liu's flat near the BBC's headquarters in Media City, Salford, the judge said.
"You spent liberally on his credit and debit cards, even buying the petrol you were to use to burn his torso.
"You took control of Mr Liu's mobile phone, and more than once pretended to be him when speaking to lending institutions or estate agents either remotely or in person."
"On one occasion," the judge added, "You callously sent a text to Mr Liu's mother in China pretending to be her son and re-assuring her as to her son's well-being."
To cover his tracks, Jiang cleaned up his own flat, repainting walls and ceilings and moving furniture to hide the bloodstains he couldn't remove. And he continued to gamble thousands of pounds, for even higher stakes than he had risked before he killed Mr Liu.
But police used number plate recognition to place his car in the lay-by on the night the suitcase containing the torso was set alight.
When the police tracked down Jiang, they found Mr Liu's DNA in the boot of the killer's car.
Jiang, however, lied to detectives and tried to convince them that he and Mr Liu – who was divorced with an ex-wife - were gay lovers about to enter into a civil partnership. As a "smokescreen", the judge said, he claimed Mr Liu had been involved in a gambling dispute with a man who may in fact have been a figment of Jiang's imagination.
Aggravating features of Jiang's crime, the judge said, included his "complete lack of remorse" and his attempt, even at trial, to portray Mr Liu as a male escort "without producing a shred of evidence".
Imposing a minimum of 33 years on his life sentence, the judge told Jiang he would not even be considered for parole until 2050 – a date which ensured he would be at least 76 years old before he left prison.
The judge said: "You, Ming Jiang, may spend the entirety of the rest of your life in prison.
"Given the nature of this murder, I anticipate the [parole] authorities at the appropriate time, should it ever be reached, will have to consider with very great care the danger you present to the public."