Bradford City stadium fire: Police identify man who 'dropped the cigarette that started the fire'
Australian Eric Bennett, who has now died, was visiting the stadium with his nephew at the time of the blaze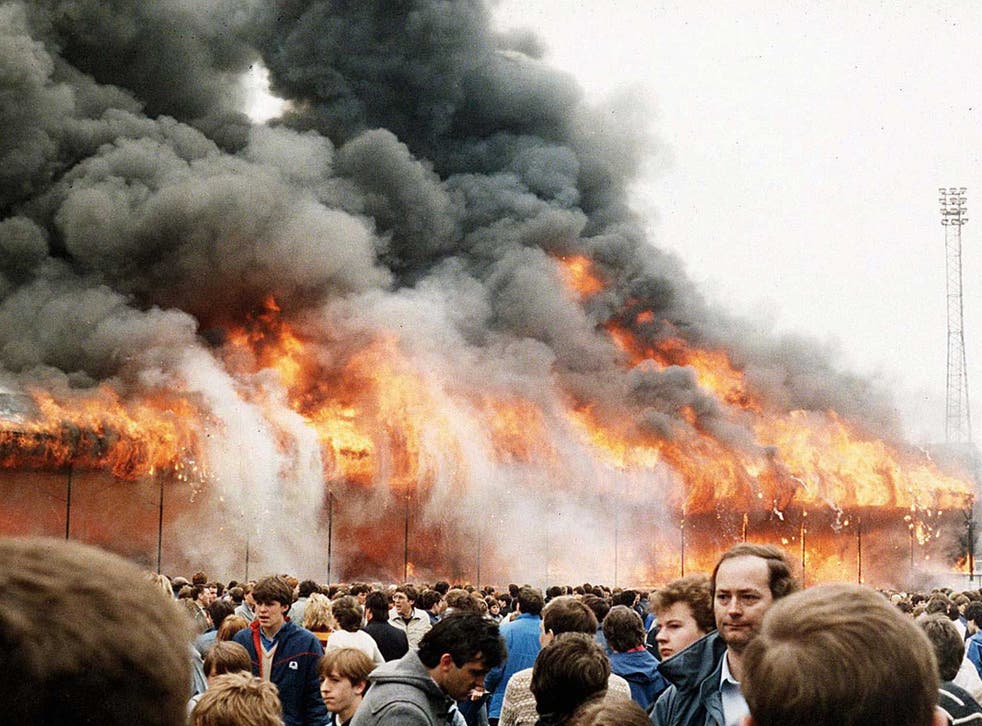 Police investigating the deadly Bradford City fire identified the man who accidentally started the blaze which killed 56 football fans after he dropped a cigarette 30 years ago – but did not release his name until now.
Officers discovered that Australian Eric Bennett had accidentally started the fire after dropping his cigarette butt but detectives decided against releasing his name, a BBC documentary has revealed.
On 11 May 1985 a blaze ripped through Bradford City stadium's wooden structure in minutes as the club played Lincoln City in an end of season match.
Retired detective inspector Raymond Falconer told a BBC documentary, Missed Warnings: The Bradford City Fire, that he had interviewed Mr Bennett following the fire.
"He said he'd been at the match, he'd been sat in the stand, right where we knew the seat of the fire had taken place," Mr Falconer said. Photographs taken by an on-duty policeman later corroborated Mr Bennett's account.
"He said he smoked a cigarette, dropped the cigarette onto the floor in front of him, went to put his foot on it, but it had unfortunately dropped through, he said, a knot hole."
Mr Bennett, who has now died, was visiting the UK with his nephew when the blaze started and attempted to put out the fire, before rushing to inform officers who started evacuating the stadium.
"The truth is, that he dropped a cigarette and he was quite unequivocal about it. He'd dropped the cigarette that started the fire."
"He was obviously troubled. And I felt extremely sorry for him. And this would be weighing on his mind for the rest of his life," Mr Falconer added.
Relatives of Mr Falconer confirmed many of the details found by the BBC, but added that he had never spoken of the dropped cigarette.
The revelations come following the 30th anniversary of the tragedy, with relatives gathering yesterday to remember those lost in the fire.
But Sir Oliver Popplewell, who chaired the original inquiry into the fire, quashed claims for a new investigation.
Additional reporting by Press Association
Register for free to continue reading
Registration is a free and easy way to support our truly independent journalism
By registering, you will also enjoy limited access to Premium articles, exclusive newsletters, commenting, and virtual events with our leading journalists
Already have an account? sign in
Register for free to continue reading
Registration is a free and easy way to support our truly independent journalism
By registering, you will also enjoy limited access to Premium articles, exclusive newsletters, commenting, and virtual events with our leading journalists
Already have an account? sign in