Brexiteer jailed for threatening to kill MPs: 'We will cut your f***ing throat'
Robert Vidler left abusive messages claiming he knew where MPs and their families lived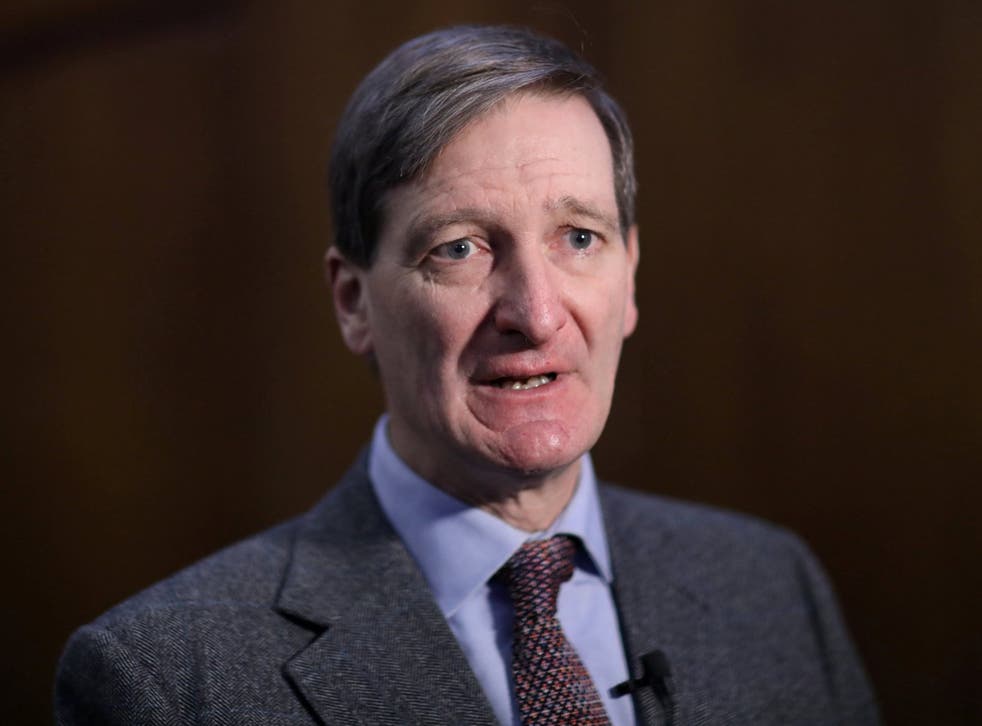 A Brexiteer has been jailed for threatening to kill MPs because he felt they were trying to "delay or stop the UK's exit from the European Union".
Less than three years after Labour MP Jo Cox was murdered by a white supremacist shouting "Britain first", Robert Vidler targeted six MPs with a barrage of voicemails and abusive calls.
City of London Magistrates' Court heard that one message, left in January for the then-Conservative and now independent MP for Grantham and Stamford Nick Boles, said: "If you f*** up Brexit we will cut your f***** throat. We know where you live and we know your f***ing timetable and we ain't joking."
Another voicemail targeting Dominic Grieve, the Conservative MP for Beaconsfield, said: "Hello, Mr Grieve. We know your f***ing timetable and we know where you f***ing live, ok?"
Vidler, 64, called again to repeat his threat the following day, warning: "You're dead, Grieve, we know where you and your f***ing family live."
Opposing protesters flock to parliament on would be date of Brexit

Show all 30
A voicemail for Labour MP Barry Gardiner days later called for a no-deal Brexit and added: "We are leaving in March, when will you understand that? The only thing that is likely to be extended is your neck."
A parliamentary assistant to the shadow Brexit secretary Sir Keir Starmer answered a call where Vidler told her: "Keir Starmer is a walking f***ing dead man. He is a traitor and I am going to cut his neck."
The 19 messages were intercepted by members of staff working for six MPs in total, including Nicky Morgan, the former Conservative education secretary, and Labour MP Jenny Chapman.
Vidler was convicted of three counts of sending menacing or obscene messages and five counts of harassment, and jailed for 18 weeks on Friday.
The father-of -three, from west Harrow in London, had denied all charges but could not explain how the calls were made from his mobile phone.
Giving evidence, Vidler said he had "no idea" how the calls came to be made from his pay-as-you-go mobile phone.
"I support Brexit, yes, I admit that, but not to the extent that I would phone up people. I wouldn't waste my time and money doing that," he added.
Analysis of his phone revealed Google searches for the MPs and text messages to Vidler's daughter in which he shared his pro-Brexit views.
He had labelled politicians "absolute scumbags" and said the "Brexit fiddle" was making him angry, the court was told.
Deputy chief magistrate Tan Ikram found Vidler guilty of all the charges after hearing what he described as "overwhelming" evidence.
Anna Soubry says 'it's not safe for me to go home'
Mr Ikram said: "The nature of these calls included, effectively, death threats, but they had a common theme that they were all motivated by a desire to leave the European Union in very forthright and aggressive terms."
"You contacted members of parliament and threatened them physically, you attempted to stifle their legitimate political views," he told Vidler.
The magistrate said the impact on Vidler's victims would have been "profound", adding that the offences undermined "the free democratic society in which we live".
Sarah Jennings, from the Crown Prosecution Service, said: "His actions went far beyond than just expressing his opinion.
"Staff felt alarmed by what he said and took his comments as threats against the MPs."
The case came amid mounting concern over "unprecedented" threats to MPs over Brexit, following abusive protests outside parliament by the UK "yellow vests".
The court heard that Vidler, who admitted to having a "drink problem", had 18 previous convictions dating back to 2002, including for causing criminal damage, being drunk and disorderly, and assaulting a police constable.
He was sentenced to 18 weeks for each of the eight offences, all to be served concurrently, and ordered to pay £300 costs and a £115 victim surcharge.
He was also made subject to a criminal behaviour order which prevents him from contacting any MP except his own representative.
Additional reporting by PA
Register for free to continue reading
Registration is a free and easy way to support our truly independent journalism
By registering, you will also enjoy limited access to Premium articles, exclusive newsletters, commenting, and virtual events with our leading journalists
Already have an account? sign in
Register for free to continue reading
Registration is a free and easy way to support our truly independent journalism
By registering, you will also enjoy limited access to Premium articles, exclusive newsletters, commenting, and virtual events with our leading journalists
Already have an account? sign in