Brexit: Surge in anti-immigrant hate crime in areas that voted to leave EU
Police statistics show hate crimes to have tripled in some of the most Eurosceptic parts of Britain
Jon Stone
Political Correspondent
Monday 01 August 2016 12:10 BST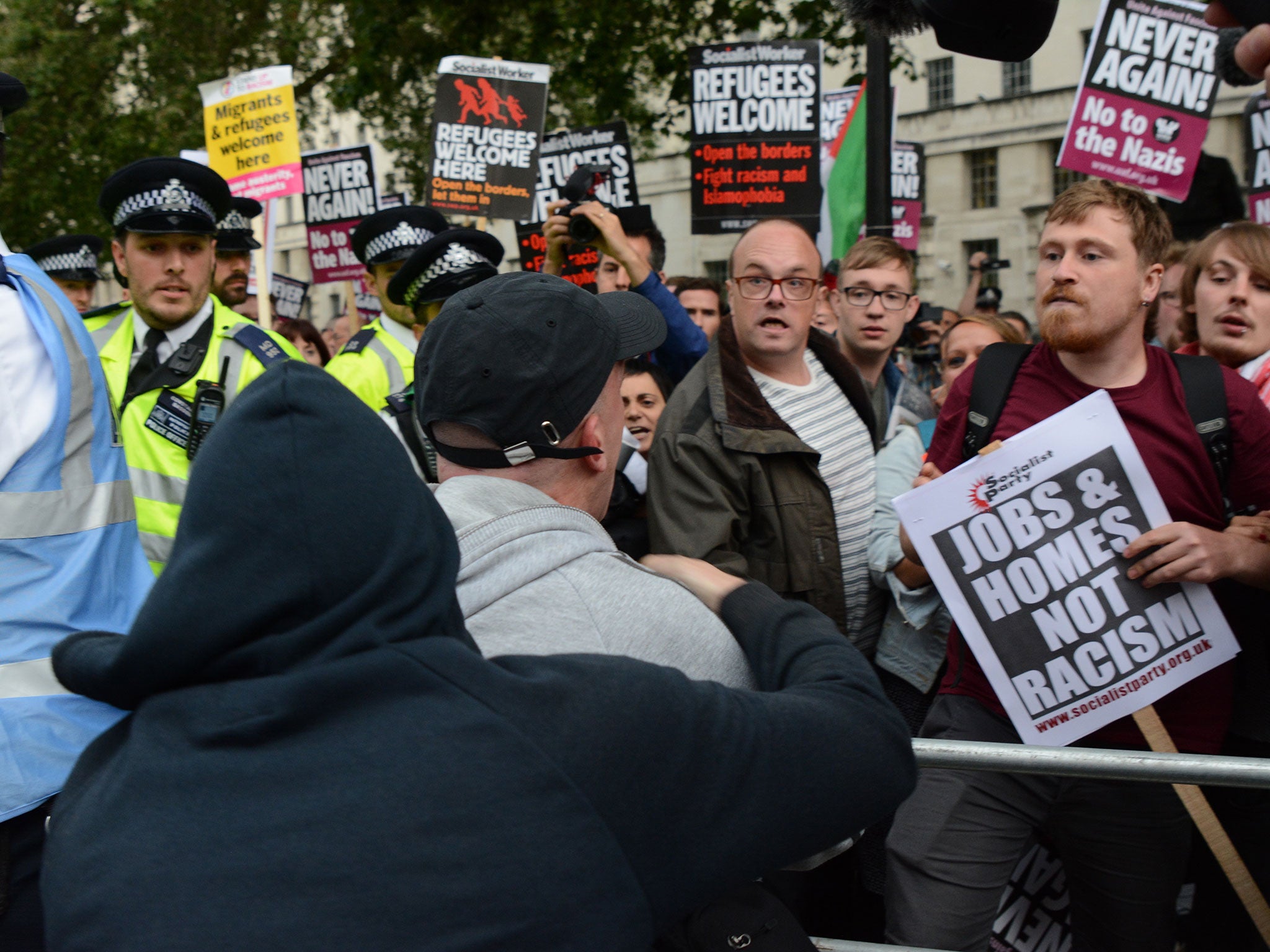 The surge in anti-immigrant hate crimes seen after the EU referendum was particularly intense in areas of the country that strongly voted Leave, an investigation by The Independent has found.
Disturbing new figures drawn directly from local police forces' databases show consistent doubling and tripling of relevant hate crimes in the most Eurosceptic parts of Britain. They go even further than the average 57 per cent nationwide increase in hate crimes reported by the National Police Chiefs' Council (NPCC) in the aftermath of the referendum.
The statistics, obtained under freedom of information rules, come as the Home Secretary Amber Rudd announces that Her Majesty's Inspectorate of Constabulary (HMIC) will look at how officers respond to reports of such crimes.
Lincolnshire was the site of the UK's highest Leave vote, with 75 per cent of voters in Boston voting Out. Other areas in the county such as South Holland and East Lindsey also both posted Leave figures of more than 70 per cent. Police data shows Lincolnshire saw a 191 per cent rise in hate crimes compared to last year. Its police force recorded 22 ethnic and religiously motivated hate crimes in the week corresponding to the EU referendum in 2015, but this year the number surged to 42 such crimes in the week of the EU referendum, and 64 crimes in the week after.
The pattern was repeated in other Brexit heartlands. Kent, which recorded a majority Leave vote of nearly 60 per cent, recorded 16 ethnic and religious hate crimes in the 2015 week corresponding to the referendum. This increased to 25 the week of the EU referendum and surged further to 39 the following week – up by 143 per cent.
In Derbyshire, where every council area also voted to leave, there was a recorded 121 per cent rise from 14 crimes to 31 the week after the EU referendum.
Nottinghamshire, another strong Leave area, was a statistical exception and showed only an 11 per cent overall increase. This was because of an unusually high reporting of criminal damage hate crimes in the comparable week in 2015. However, violent hate crimes in the county were up by 140 per cent in the first full week after the referendum result became known.
German woman didn't leave her house for 3 days after Brexit in fear of being abused
Crimes recorded across the surveyed police force areas were mostly public harassment, but also included dozens of racially or religiously motivated assaults – including actual bodily harm and beatings. Selected other crimes found on the databases included: arson; threats to kill, including threatening written letters; criminal damage; and possession of a bladed weapon.
Brexit racism and the fightback
Show all 9
The NPCC said that nationwide it had received more than 6,000 reports of hate crimes in the four weeks from 16 June. Mark Hamilton, head of the organisation, said earlier this month that he believed the referendum debate was responsible for the increased figures.
Announcing the HMIC review into how the crimes are dealt with earlier this week, the Home Secretary Ms Rudd said: "This Government is determined to build a Britain that works for everyone.
"Those who practice hatred send out a message that it's okay to abuse and attack others because of their nationality, ethnicity or religious background, that it's ok to disregard our shared values and promote the intolerance that causes enormous harm to communities and individuals.
"Well, I have a very clear message for them. We will not stand for it. Hatred has no place whatsoever in a 21st century Great Britain that works for everyone.
"We are Great Britain because we are united by values such as democracy, free speech, mutual respect and opportunity for all. We are the sum of all our parts – a proud, diverse society. Hatred does not get a seat at the table, and we will do everything we can to stamp it out."