Hate crimes surge by 42% in England and Wales since Brexit result
There were 289 incidents on 25 June alone - the day after the result was announced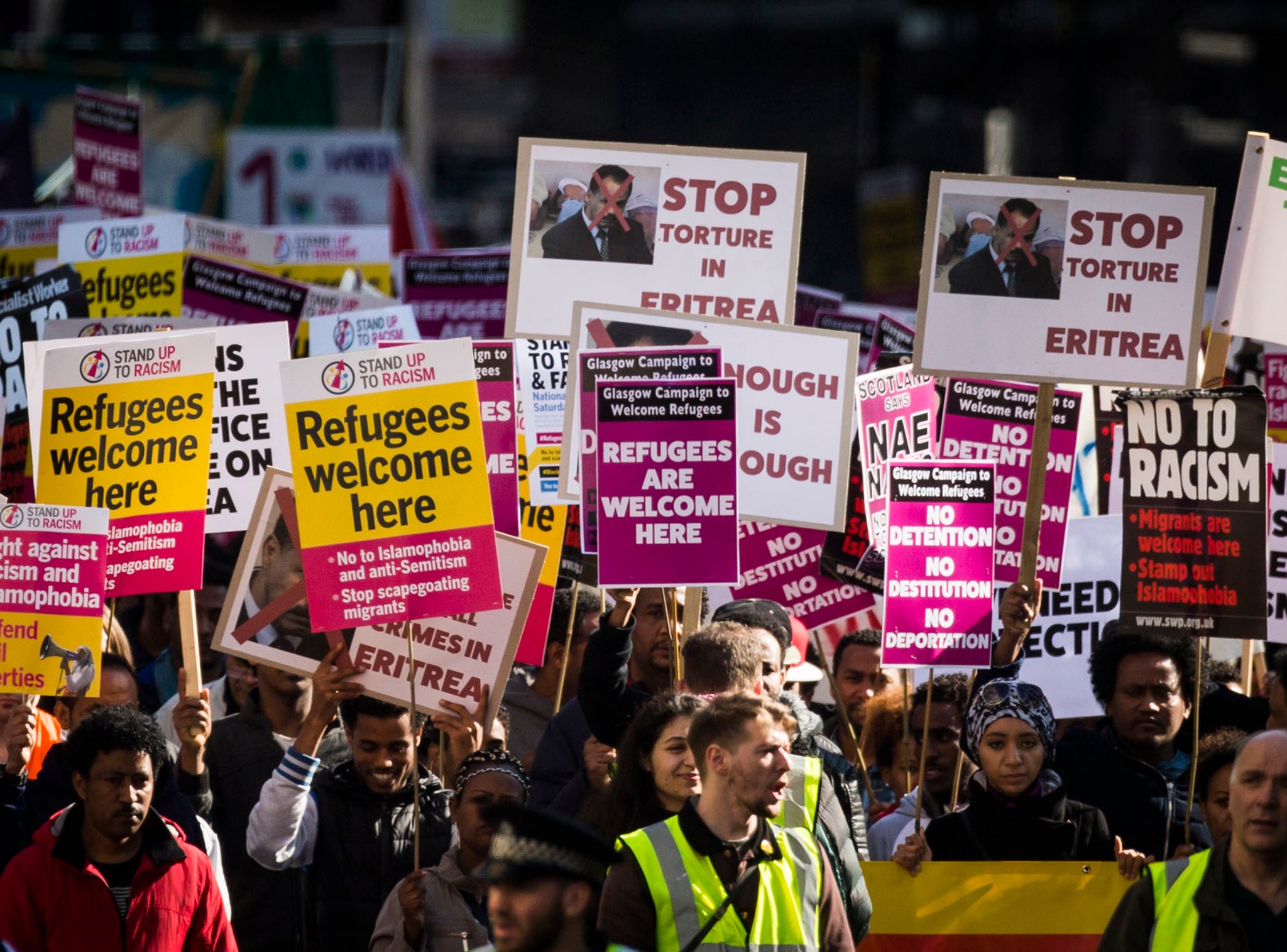 Police have said the number of hate crimes recorded for the last two weeks in June has spiked by 42 per cent on this time last year.
A total of 3,076 incidents were recorded across the country between 16 and 30 June – a dramatic increase on the 915 reports recorded over the same period in 2015.
The biggest number of recorded incidents came on 25 June – the day after the result of the EU referendum – when there were 289 hate crime related incidents.
Following the UK narrowly voting for Brexit, there have been numerous reports of ethnic minorities and immigrant families being targeted for racial abuse.
A Polish community centre in north London was daubed in racist graffiti in the weekend following the vote and a Facebook album called "Worrying Signs" has recorded the tweets of people witnessing – and being subjected to – harassment and even violence.
The National Police Chiefs' Council, which released the data, found the majority of offences seen during the two-week period were "primarily harassment, common assault and other violence".
It said it would continue to monitor the situation closely over the coming weeks.
The council's lead for hate crime, assistant chief constable Mark Hamilton said: "We now have a clear indication of the increases in the reporting of hate crime nationally and can see that there has been a sharp rise in recent weeks.
"This is unacceptable and it undermines the diversity and tolerance we should instead be celebrating".
Similar figures released by Scotland Yard show there were 599 incidents of race hate crime reported between 24 June and 2 July – an average of three an hour.
Fear and Loathing in Great Britain
London Mayor Sadiq Khan has called for Londoners to "stand together" against racism as he announced a new project with the police to encourage people to come forward when they witness hate crime on public transport.
It comes as a Polish family from Plymouth told the BBC's Victoria Derbyshire programme they fear for their safety after they were threatened and had their shed set alight on Wednesday evening.
Adam and Gabriella Abrahamovic said they received a note saying "go back to your f***ing country next time it will be your family" as their shed burnt.
The couple, who have lived in their home for 10 years, said they and their four children had been subjected to abuse before but nothing on this scale.
The couple's 14-year-old daughter found the letter on the doorstep after she went outside to see if the fire engines were coming.
Their eldest daughter, Ewa Banaszak, told the programme her sister "didn't know what to say. She was petrified".
"She was scared. When showed it to my mum, everyone was shocked that something like this could happen to people who have been living here for such a long time."
She said the family were going through "mix of emotions" and there was "something telling us it may happen again".
Ms Banaszak, 22, said the police, fire investigators and local schools were being very good in providing support to them so they feel "a little bit more secure" in their home since the incident.
Brexit reactions – in pictures
Show all 10
She said they had been given more alarms by police who have told the family they will continue to receive protection for the "foreseeable future".
"It is because we are from a different country. We are originally from Poland and we are very proud to be but we have been living here for such a long time we consider this to be our home.
"The people around us now who are showing us such support are showing that to us," she added.
She said receiving abuse was "not unusual" but it was always verbal.
Inspector Darren Green of Devon and Cornwall police said: "I am appalled by this crime and incidents of hate such as this are treated as a priority by my officers.
"Hate crime has no place in Plymouth and we will do everything possible to locate those responsible for the fire and the disgusting letter sent to the victims."