Britain's prison overcrowding crisis surges 'close to the brink'
Riots feared as 'irresponsible' Justice Secretary asks private sector to cram inmates into cells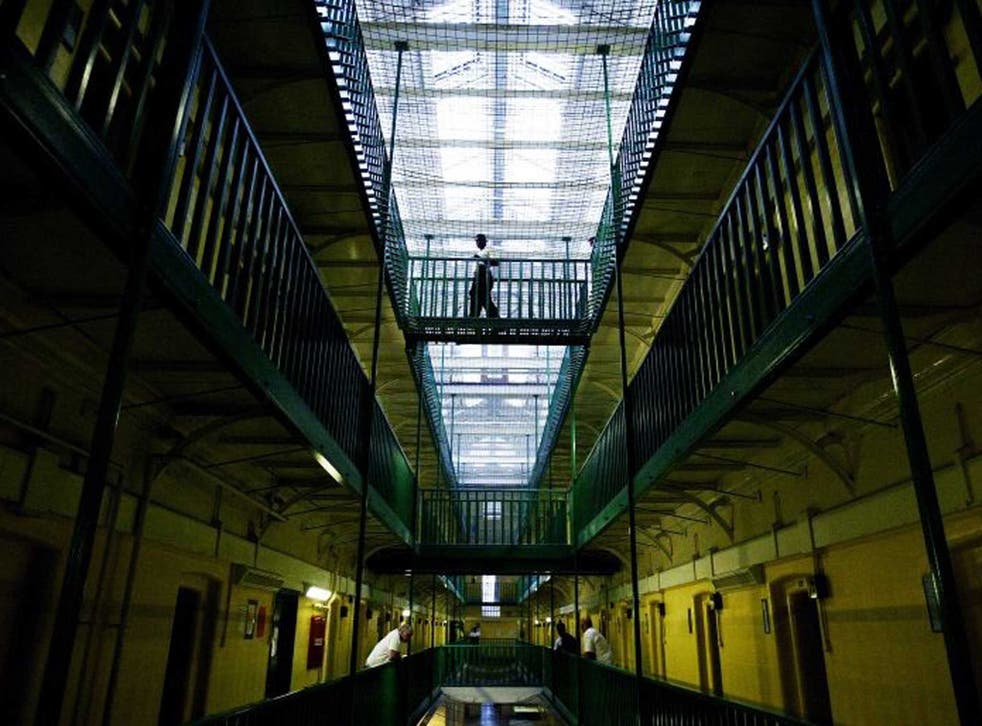 The country is on the verge of its worst prison overcrowding crisis since 2008, leaving the Justice Secretary, Chris Grayling, fighting for his political future.
Mr Grayling has quietly sanctioned emergency measures, after it emerged that there were only 265 free spaces left out of an 85,800 capacity across the England and Wales prison estate. This is the most crowded that prisons have been since the coalition took power nearly four years ago.
To avert the crisis, privately run prisons will be paid to cram more inmates into their cells. The managers of these 14 private sector prisons include Serco and G4S, the companies at the centre of a scandal last summer, when the Ministry of Justice was billed for the monitoring of non-existent electronic tags.
Mr Grayling was accused by prison experts last night of being "irresponsible", amid warnings that crowded prison conditions could lead to riots and hinder rehabilitation. The Labour Party claimed that Mr Grayling's future could be "short-lived": in 14 of the past 22 weeks, including the past seven consecutive weeks, prisons have come within 1 per cent of capacity.
However, Mr Grayling is refusing to invoke Operation Safeguard, which involves booking spare police and court cells at expensive rates, even though it is the convention to do so when prisons are near breaking point at 99 per cent capacity.
The Conservatives made political capital out of the last Labour government's need to use police cells and the introduction of an early release scheme in 2007 which only ended just before the last general election. Between November 2007 and September 2008, cells were booked under Safeguard for the equivalent of nearly 23,000 nights at £385 a night.
Mr Grayling has been accused of trying to protect his own party by avoiding a repeat of the embarrassing use of police and court cells, despite positioning himself as tough on crime. He recently announced that he intended to put a stop to the automatic release of child rapists and those convicted of serious terrorism offences once they had reached the halfway point of their sentences.
The prison population is also expected to soar by an additional 1,050 inmates when the Ministry of Justice's Criminal Justice and Courts Bill, which is currently going through Parliament, becomes law. At the end of 2012, there were more than 6,500 spare prison places, but Mr Grayling has overseen a prison closure programme that his critics warned would result in the current shortages – and his £250m Titan "super-prison" in North Wales will not be ready until 2017.
Paddy Scriven, general secretary at the Prison Governors Association, said that "there has to a very real question mark" over closing jails so quickly, and confirmed that Operation Safeguard was previously used when 99 per cent of inmate places were taken. She added that there was a suspicion that it was "politically unacceptable" to shut prisons closer to a general election, even though extra cells elsewhere were likely to have been built by then.
Andrew Neilson, campaigns director at The Howard League for Penal Reform, added that paying the private sector to "overcrowd" their cells was "not a measure that we have seen in recent years". He added: "The problem with Chris Grayling is that he is very irresponsible in the way he operates. He talks tough and does not countenance the idea that the prison population has to fall."
There was a marginal improvement in Friday's latest weekly figures, with 329 places available – but still 99.6 per cent full. By then, though, Mr Grayling is understood to have already agreed that more space should be found in privately run prisons, such as by accommodating two prisoners in cells designed for one, which is thought to be less costly than renting from the police.
Divisions of Serco and G4S run 11 of the 14 privately operated prisons in England and Wales. G4S only repaid the MoJ £108.9m last week for its part in the electronic tagging scandal, which emerged last summer, while it was recently forced to deny that a riot occurred at its Oakwood prison near Wolverhampton at the start of the year.
The Shadow Justice Secretary, Sadiq Khan, said: "Chris Grayling is clearly too embarrassed to admit prisons are in the danger zone. He is clearly clueless and working on the basis that he won't be around to pick up the pieces when things go wrong.
"Given all his reassurances that there's ample room to lock up criminals, if he runs out of space then it has to mean his future as Justice Secretary being short-lived. Grayling is presiding over a prison system as close to the brink as it has been in recent times."
The prisons minister Jeremy Wright said: "We have enough space within our prisons to accommodate all offenders without relying on police or court cells and will not be in a position where we can't imprison those sentenced by the courts. By 2015, the Government will have increased adult male prison accommodation so that we have more places than we inherited from the previous government."
Register for free to continue reading
Registration is a free and easy way to support our truly independent journalism
By registering, you will also enjoy limited access to Premium articles, exclusive newsletters, commenting, and virtual events with our leading journalists
Already have an account? sign in