Calls for action over attacks on guide dogs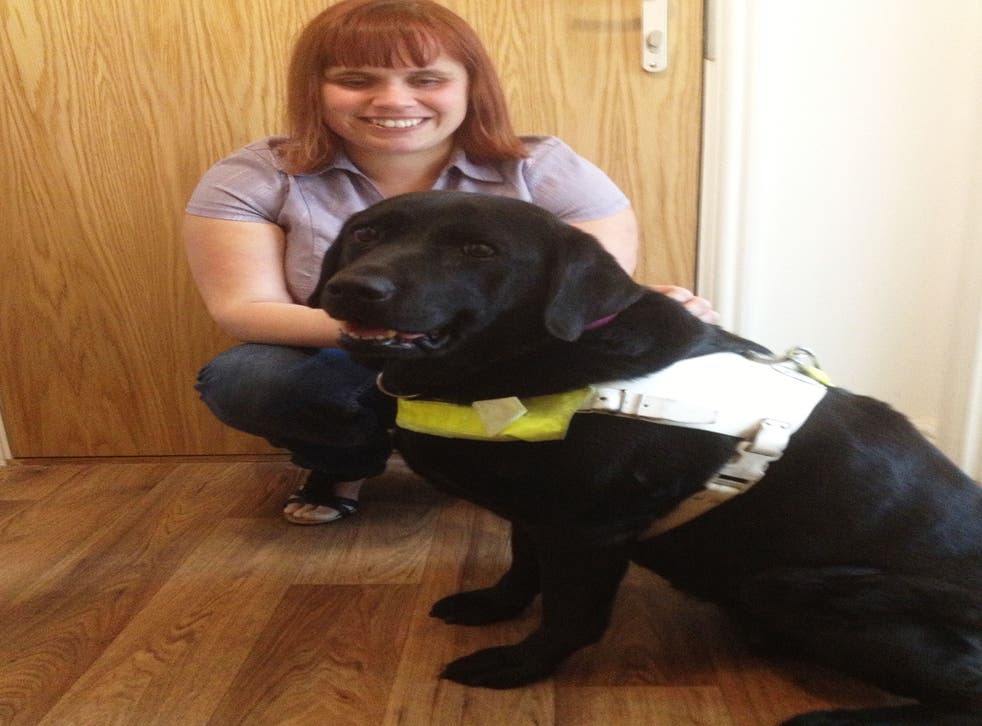 Attacks on guide dogs are rising, it was revealed today as MPs prepare to debate extra controls for dangerous animals.
Guide Dogs for the Blind urged the Government to offer greater protection to those with limited or no sight as it explained that 240 of the specially trained animals were attacked over the past two years, an all-time high of ten a month.
"They can't be treated the same way as other dogs. They are a lifeline," said Hayley Johnson, 27, whose labrador Una was mauled by a Staffordshire Bull Terrier.
"It was beyond terrifying. I was hysterical. I threw myself on top of them both to try and separate them. Una was yelping. The dog was clinging to her like a bone, ripping into her from leg. I had this moment of clarity when I realised that I physically couldn't get this dog off her. That's when I started screaming for help," said Ms Johnson, who explained that guide dogs are particularly helpless as they are trained to be passive.
A passer-by came to their aid but the police took no action against the female owner of the dog despite the fact that Una had a severely injured leg and Ms Johnson bites to her hand.
"It turned my life upside down. Una couldn't work for a month. I didn't dare leave the house for a long time and she was scared of other dogs. My heart was broken because she is so passive. Any sign of aggression in guide dogs and they don't make the grade," explained the civil servant.
While fully supportive of the police, she said she was stunned that their attitude seemed to be to simply dismiss it as a dog fight: "We have been a partnership for seven years. Una gave me a new lease of life. She is amazing. I would struggle without her."
A report by Guide Dogs revealed today that 240 dog attacks were reported between March 2011 and February 2013. Five of the animals had to be withdrawn from service. It added that the trauma of such attacks could result in a complete loss of confidence and some victims became fearful of leaving the house.
The Anti-Social Behaviour, Crime and Policing Bill, due to be debated by MPs today, will contain proposals to amend the Dangerous Dogs Act 1991. For the first time it will make an attack on an assistance dog an aggravated offence. It will also make it an offence for a dog to be dangerously out of control when there is 'reasonable concern' that it will injure an assistance dog such as a guide dog.
Guide Dogs' Chief Executive Richard Leaman said: "A change in the law can't come quickly enough for our guide dog owners, who too often have to bear the devastating consequences of these attacks. When a guide dog is attacked, someone with sight loss can completely lose their means of getting out and about independently. The impact on their life is huge and we are calling on the Government to do everything in its power to promote responsible dog ownership, deter these attacks, and ensure this deeply worrying trend does not continue."
Mr Leaman continued: "We have fought long and hard on this issue and while we are delighted these measures are being proposed, there is no time to lose. Only when irresponsible owners are held accountable for their dogs, and heavily punished for their aggression, do we believe the number of attacks on guide dogs will come down."
Register for free to continue reading
Registration is a free and easy way to support our truly independent journalism
By registering, you will also enjoy limited access to Premium articles, exclusive newsletters, commenting, and virtual events with our leading journalists
Already have an account? sign in