Cameron's law: PM planning crackdown on rioters
Police to have power to shut down social networks, remove hoodies and facial coverings, while looters could lose homes and benefits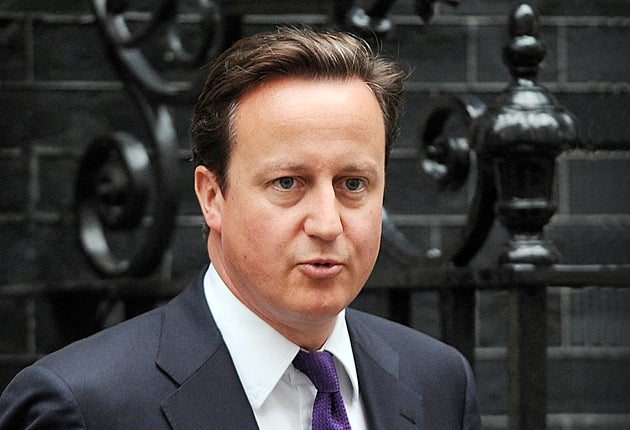 Ministers and the security services are planning draconian powers to shut down or disrupt mobile phone messaging services and social networks in times of civil disorder.
Downing Street sources said they were considering the "moral and technical" questions of how to grant new powers blocking all mobile communications to prevent rioters organising through websites such as Twitter and the BlackBerry Messenger service.
David Cameron said "nothing should be off the table" in efforts to prevent a repeat of this week's rioting in London and cities across England. He also spoke out about how "free flow of information... can also be used for ill".
The new powers prompted politicians, social media companies and civil liberties campaigners to warn against a "knee-jerk" response that could infringe the freedom of expression and business of law-abiding web users.
Privately, senior police officers also expressed doubt that the measure would have anything more than a "marginal effect" on preventing disorder and said the real issue was the numbers of officers on the streets. The president of the Association of Chief Police Officers, Sir Hugh Orde, has also warned in The Independent that "to suggest human rights get in the way of effective policing is simply wrong". But Mr Cameron, promising yesterday to do "whatever it takes" to restore order, outlined a series of new security measures, which included:
* Consider further powers of curfew.
* Investigate using the Army to free up police for "frontline" duties.
* Give individual police officers the power to force people to remove scarves, hoods or masks covering their faces or be arrested.
* Extend "gang injunctions" banning teenagers as well as adults from associating with each other or visiting designated areas. The Government will also consult former New York Police commissioner Bill Bratton on further measures to tackle gang culture.
Mr Cameron confirmed that a parliamentary debate would be held on whether convicted looters should lose their benefits after more than 100,000 people had signed an e-petition calling for it. He also backed several local authorities – among them Nottingham, Salford, Greenwich and Westminster – who have said they will seek to evict social tenants who are convicted of being involved in rioting. And he announced a package of financial help to firms, shops and homeowners hit by the rioting. A £20m fund will be set up to help high streets affected, while a £10m recovery scheme will go to councils to help clean up streets and improve safety.
However, significantly, Downing Street did not explicitly guarantee that all the costs of the policing operation and claims under the Riot Act would be met by the Treasury's contingency fund. It raises the prospect that some of the money could come out of existing Home Office budgets which already face a cut of more than £2bn over the next four years.
Mr Cameron's comments on censoring or shutting down social media sites and mobile networks are likely to prove controversial. "Free flow of information can be used for good, but it can also be used for ill," he said.
"We are working with the police, the intelligence services and industry to look at whether it would be right to stop people communicating via these websites and services when we know they are plotting violence, disorder and criminality."
Graham Cluley, a social media expert, said: "Although the Prime Minister's motivation might be sincere, he's not going to be able to stop people from communicating via the likes of Facebook and Twitter. There's plenty of unpleasant, hateful and illegal activity going on via these sites already. If we can't successfully police those effectively, then what chance do we have of stopping people messaging their friends saying that they should all meet outside the local branch of Currys at 10pm?"
A spokesman for the right-wing civil liberties group Big Brother Watch said: "The fact that this is even being considered should send a chill wind through the whole country." Jim Killock, executive director of the Open Rights Group, which defends freedom of expression on the internet, added: "How do people 'know' when someone is planning to riot? Who makes that judgement? The only realistic answer is the courts must judge. If court procedures are not used, then we will quickly see abuses by private companies and police."
Mr Cameron said: "To the law abiding people who play by the rules, and who are the overwhelming majority in our country, I say: the fightback has begun, we will protect you. If you've had your livelihood and property damaged, we will compensate you.
"And to the lawless minority, the criminals who have taken what they can get, I say this: we will track you down... we will punish you. You will pay for what you have done."
Mr Cameron said discussion about spending cuts was "tiresome". He added: "When there are deep moral failures, we should not hit them with a wall of money." But Ed Miliband called on the Government to reconsider police cuts in the wake of the riots. "The events of the last few days have been a stark reminder to us all that police on our streets make our communities safer and make the public feel safer," said the Labour leader. "Given the absolutely priority the public attaches to a visible and active police presence, does the Prime Minister understand why they would think it is not right that he goes ahead with the cuts to police numbers?"