Caroline Starmer: Woman who lied about Primark security guard 'snatching her baby' to stop breastfeeding escapes jail
Judge Simon Hammond handed the 28-year-old a suspended prison sentence, saying she escaped jail 'by a whisker'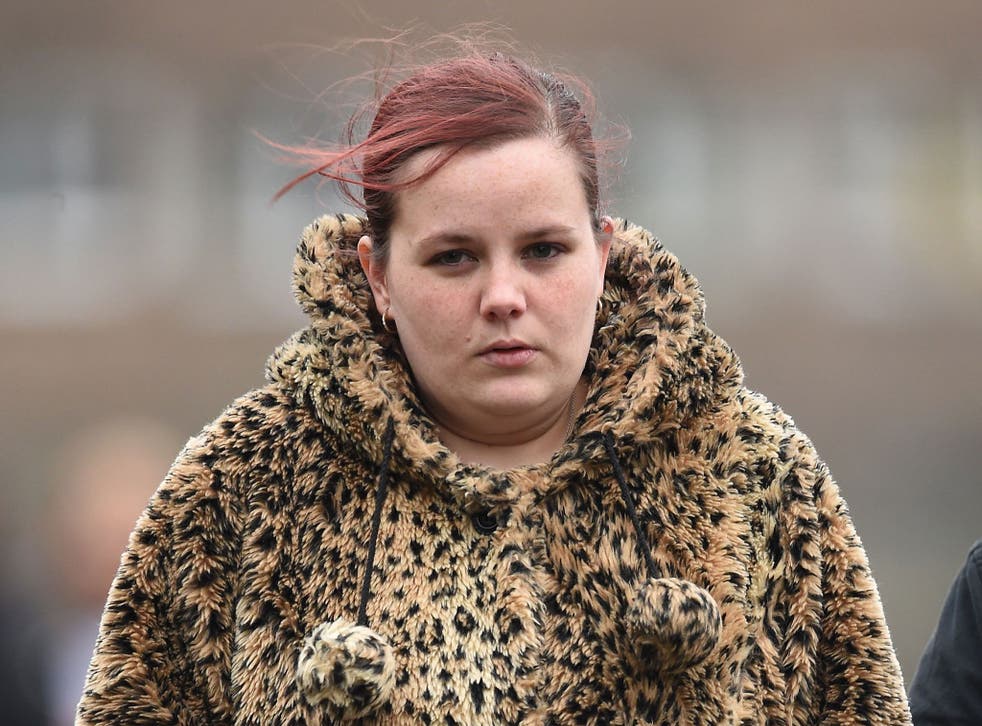 A woman who falsely accused a Primary security guard of snatching her baby as she attempted to breastfeed in a viral Facebook post has escaped jail.
Caroline Starmer, 28, was told that she avoided being imprisoned "by a whisker" as she was given an eight month suspended sentence, meaning that if she violates conditions in the next two years she will serve the time.
She was sentenced at Leicester Crown Court today after admitting intending to pervert the course of justice at a previous hearing, almost five months after she concocted her story on social media and made headlines around the world.
Writing a post on the Free to Feed Facebook page, Starmer had said: "My 9.5 month old daughter started crying, needing a feed and the queues were pretty long, so to save my daughter the upset, and the other customers too, I decided to find a quiet spot out the way of others and feed her discreetly.
"Within five minutes of doing so, I was approached by a security guard who asked me to vacate the premises to feed my daughter.
"I stood my ground and stated my rights, that I can legally feed where I want. Just for the security officer to physically remove my daughter from my breast and walk down the store with her, saying if I wanted my daughter, then I was to come and get her.
"My confidence is shot, and my poor daughter hasn't been herself all afternoon."
The false claims were shared more than 5,000 times on the social networking site and started making headlines as far away as New Zealand and Japan, Tina Dempster, a lawyer for the prosecution said.
Judge Simon Hammond said Starmer's lies were "carefully planned and orchestrated for financial gain".
Rejecting mitigating arguments that the stay-at-home mother "had no option" but to create the falsehood, the judge told the court: "She had several opportunities to bail out and abandon the enterprise, she had no need to put a false story on Facebook or...to sell her false story or to make a false statement to police.
"If she was put under pressure, she could have abandoned the scheme several times, but she did not do so and only admitted her wrongdoing when confronted with the CCTV evidence.
"She has done a gross disservice to the many mothers who are breastfeeding and rely on shops and other public facilities to allow them to breastfeed their babies in privacy and dignity."
Addressing Starmer, he said: "By a whisker, you have avoided going to prison today.
"This is a very serious case of perverting the course of justice. What the defendant did was carefully planned and orchestrated for financial gain."
The court heard that Starmer visited the branch of Primark in Humberstone Gate, Leicester, on 13 July with her nine-month-old twins.
She sat in the children's clothing section and started to breastfeed one baby, paid for her shopping and left the shop.
But later in the day, Starmer phoned her husband and claimed that a security guard had told her to stop feeding her child and forcibly took the baby from her.
She repeated the allegations in a police interview the following day, claiming the guard was "Asian", which led policy to identify him as Mahomad Ismial.
Primark issued a statement at the time saying CCTV footage showed no evidence that Starmer was approached but it was five days before Mr Ismial was cleared of any wrongdoing.
In a statement the security guard said the allegations had affected his whole family and he "felt they doubted" him.
Mass breastfeeding session
"Even on the bus I felt people were looking at me, and at work people walked past the security guard station and said, 'Baby snatcher'," he added.
Mr Ismial said his life "could have been torn apart" by the claims, recalling how his daughter contacted him at 1.30am after seeing the allegations spreading on Facebook.
Starmer, of Marshall Street, Leicester later told police she had been told to make up the story by a friend in a bid to sell the story and make money.
Ms Dempster said: "She had not been threatened by this person, but she wanted this person to be her friend.
"She did not realise it was a criminal offence to sign a false witness statement."
Ms Dempster added the money from selling the story would have gone to the friend and Starmer felt "ashamed and embarrassed" of her actions.
The defendant, who the court heard has had 17 miscarriages and suffers from mental health issues, was ordered to pay £900 criminal courts charge.
Additional reporting by PA
Register for free to continue reading
Registration is a free and easy way to support our truly independent journalism
By registering, you will also enjoy limited access to Premium articles, exclusive newsletters, commenting, and virtual events with our leading journalists
Already have an account? sign in