Charlie Elphicke: Former Tory MP may face jail after being found guilty of three sexual assaults
Ex-party whip's wife announces marriage is over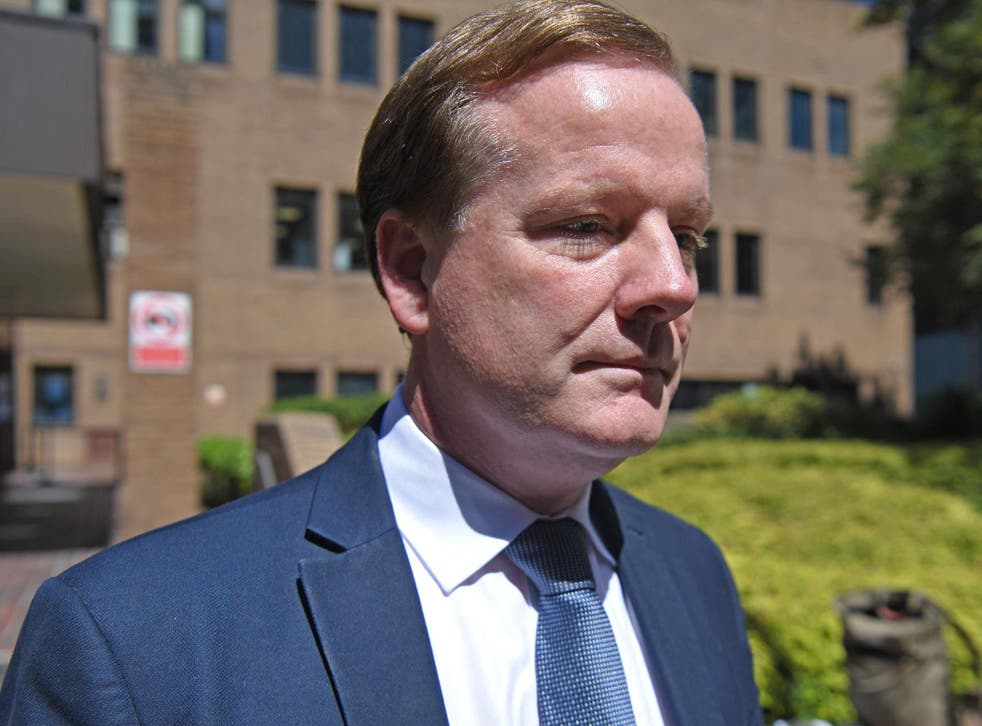 Former Conservative MP Charlie Elphicke has been told he could be jailed after being found guilty of three sexual assaults on two women.
His wife, Natalie, announced their marriage was over immediately after he was convicted.
Elphicke assaulted a woman in her early 30s at his London home in 2007, groping her while his wife was away, the court heard.
And in 2016 he twice assaulted a parliamentary worker in her early 20s, who also said she was groped. He admitted being "besotted" by her.
The former MP for Dover, who sighed as the unanimous verdicts were returned, was granted bail and is due to be sentenced on 15 September.
The judge, Ms Justice Whipple, said: "All options remain very much on the table, including the possibility of an immediate custodial sentence."
Neither of the women, who gave tearful evidence during the three-and-a-half-week trial, was sexually interested in him, the court heard.
The jury at at Southwark Crown Court spent two days considering its verdict.
Elphicke, a former lawyer, had admitted lying to police, his wife and party bosses when the allegations were first put to him.
Prosecutor Eloise Marshall QC told the court in her closing speech that he was an "accomplished liar" who deceived the police, his bosses in the Tory party, his wife and the jury.
She said witness testimonies from the complainants were "almost identical" to each other, despite being from two women who did not know each other.
The court previously heard that it was claimed Elphicke chanted "I'm a naughty Tory" while chasing the first complainant around his house, while he allegedly said "I'm so naughty sometimes" after the first alleged assault on the second woman in 2016.
Elphicke admitted to police in 2018 that he kissed the first complainant under a "misapprehension" but denied sexual assault.
She told jurors: "He tried to kiss me and I moved my head, he pushed me down by my shoulders, he had his knee between my legs and he was groping my breast.
"I was just shocked – really, really shocked."
The former Conservative Party whip also lied to party whips, feigning shock at the accusations made against him by the second complainant, the court heard.
He also told police he had a sexual relationship with a third woman – not a complainant in this trial – but distanced himself from her, later telling the jury that disclosing his feelings for her to police, and therefore his wife, would end his marriage.
After the verdicts, Ms Elphicke, who is now the Dover MP, tweeted that her marriage was now over, writing: "Today's verdict is one that brings profound sorrow. It ends my 25-year marriage to the only man I have ever loved. I would ask for some personal space and time to come to terms with the shocking events of the last 3 years. I will not be commenting further."
The prosecutor told jurors: "Charlie Elphicke knows full well that he sexually assaulted [the two women] and he has tried to lie to you about it.
"He has no more looked you in the eye and told you the truth than he looked his wife in the eye and told her about his relationships, looked the whips in the eye and denied the assaults, looked the police in the eye and lied to them."
Elphicke, Dover MP from 2010 until he stood down in 2019 when he was succeeded by his wife, denied all charges.
He became a government whip under David Cameron's premiership in 2015, but returned to the back benches when Theresa May came to power the following year.
He had the party whip suspended in 2017 when the allegations of sexual assault emerged, but it was controversially reinstated a year later for a crucial confidence vote.
The whip was withdrawn again in 2018 when the Crown Prosecution Service announced its decision to charge him.
Additional reporting by PA
Register for free to continue reading
Registration is a free and easy way to support our truly independent journalism
By registering, you will also enjoy limited access to Premium articles, exclusive newsletters, commenting, and virtual events with our leading journalists
Already have an account? sign in
Register for free to continue reading
Registration is a free and easy way to support our truly independent journalism
By registering, you will also enjoy limited access to Premium articles, exclusive newsletters, commenting, and virtual events with our leading journalists
Already have an account? sign in