Pensioner convicted of historic child murder almost 50 years after smashing toddler's head against fireplace
David Dearlove, 71, found guilty over death of 19-month-old Paul Booth in 1968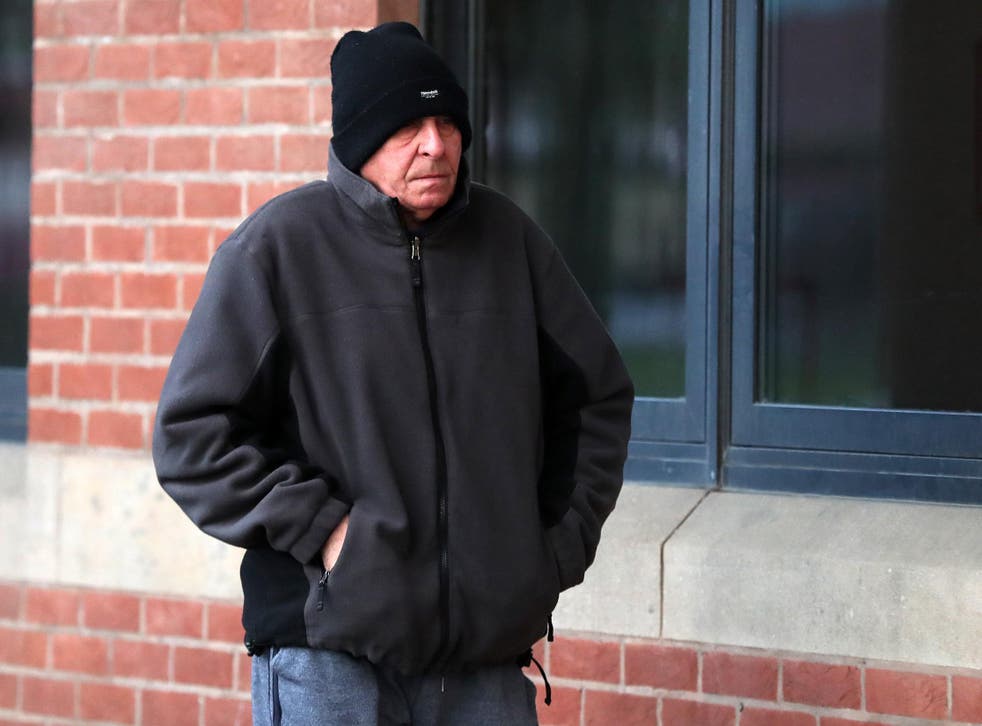 A stepfather who swung a toddler by the ankles and bashed his head against a fireplace, and then lied about it for almost 50 years, has been convicted of murder.
David Dearlove was seen attacking 19-month-old Paul Booth in 1968 by the little boy's brother Peter, then aged just three, when he crept downstairs for a drink.
The 71-year-old denied killing the toddler at the family home in Haverton Hill, Stockton, telling a jury at Teesside Crown Court that the boy had suffered the fatal head injury by falling out of bed.
There was no visible reaction from the defendant when the guilty verdict was delivered, but there were gasps from the public gallery where members of his family were sitting.
Richard Wright QC, prosecuting, told the court that a mandatory life sentence would follow, with a minimum jail term to be set.
He said aggravating factors were the vulnerability of the victim, the infliction of physical suffering and the fact the stepfather was in a position of trust.
Tim Roberts QC, defending, said the judge should sentence on the basis there was no intention to kill.
He said: "We do submit that 50 years of blameless character since 1968 is a matter to which the court can, in these particular circumstances, attach considerable weight."
Mr Justice Males said he would sentence Dearlove, who was also convicted of three child-cruelty charges, later on Friday.
He thanked the jury for their hard work and the quality of some of the questions they asked during the trial.
Paul died in hospital on the same night Peter witnessed him being attacked.
He never regained consciousness after suffering a fractured skull and died within four hours.
A police inquiry was launched at the time after bruises and burns were found on the boy, but Dearlove was never prosecuted.
That changed in 2015 when Peter Booth, incensed after seeing a photo on Facebook of his little brother sitting on Dearlove's knee, went to the police.
It led to the former Imperial Chemical Industries-worker being arrested at home in Great Yarmouth, Norfolk, and being questioned in Middlesbrough.
Dearlove was 21 when he moved in with Carol Booth, now deceased, and her three children, and told the jury he liked them but did not love them.
She went on have a baby son by him, born three months after Paul died.
The couple split in 1970 and Dearlove never saw Mr Booth again, until he faced him in court and told the jury what he saw.
Mr Booth and his sister Stephanie also told the jury Dearlove had been physically abusive towards them when they were small children.
Paul had a series of injuries of different ages on his body when he died.
A month before, concerns were raised by his nursery about bruises on his body and police and childcare specialists made inquiries but did not take action against the couple.
At the time, Dearlove told the authorities those injuries were caused by Paul pulling a motorbike over in the back garden.
On the night Dearlove killed Paul, he was alone in the room with the child.
He claimed the toddler had collapsed and went with Carol Booth in the ambulance to the hospital, returning home some time later while the toddler remained critically ill.
He heard in a phone call that Paul was dead. An hour and a quarter after hearing the news, he told the jury, he went to bed.
Dearlove showed little emotion when he was cross-examined by Richard Wright QC, prosecuting, about that night.
Mr Wright asked: "The child you say you cared about and liked, a baby, had died in your home that night ... it must have been terrible."
Dearlove said: "I cannot remember what my feelings were."
Mr Wright said: "Think back, this happy little baby you had been tossing up and down by the fire earlier in the evening, you found him with a fatal injury, and the woman you loved – Carol – had just lost her son. Was that a bit upsetting?"
Dearlove replied: "It was probably upsetting, yes, but I cannot remember."
In graphic evidence, a baby doll was marked up with the different injury sites and shown to the jury.
UK news in pictures

Show all 51
Home Office pathologist Dr Mark Egan then hit the doll's head on a hard surface to show how the skull fracture could have been caused.
Dearlove, who had no previous convictions, moved to London after his split with Booth, and started a new life.
He married, had two daughters and is now a grandfather.
PA