Chinese businessman Anxiang Du convicted of murdering family of four
Court hears how Du 'massacred' his former business partners Mr and Mrs Ding as well as their two teenage daughters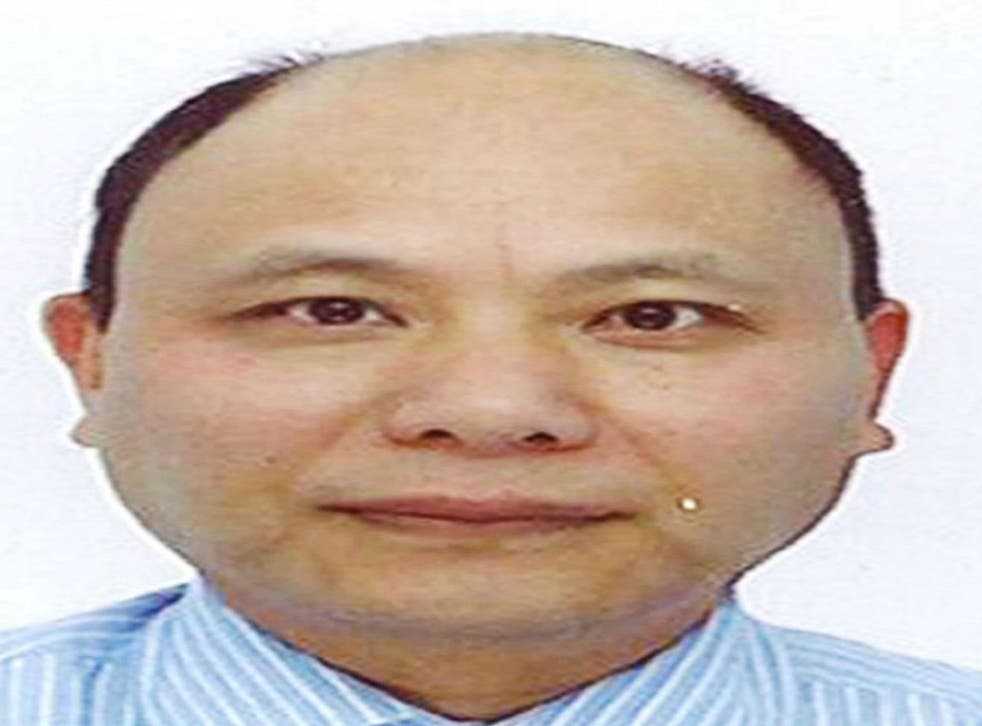 A businessman who stabbed a family of four to death has been found guilty of their murders.
Anxiang Du, 54, was convicted by a jury at Northampton Crown Court of murdering Manchester Metropolitan University lecturer Jifeng Ding, his wife, Helen, and their two daughters, Nancy, 18, and Alice, 12, on 29 April, 2011.
Jurors rejected the claim that Du, from Coventry, should be convicted of manslaughter on the basis of either diminished responsibility or loss of control.
Judge Mr Justice Flaux said: "Anxiang Du, you have been found guilty of four counts of murder.
"No doubt your counsel will have explained that there is only one sentence I can pass for this and I will sentence you tomorrow."
The judge, addressing members of the Ding family, said: "I have observed the dignified way in which you have conducted yourselves throughout a trial which must have truly horrendous for you.
"I know nothing I can say can assuage the pain of the deaths of your sister and daughter but I just hope at least the fact that the man responsible for the deaths has been brought to justice will provide you with some comfort."
During the trial, the jury heard how Du "massacred" his former business partners Mr and Mrs Ding in revenge after he lost a 10-year legal battle over a Chinese herbal medicine business.
Du and his wife Can Chen had set up the business with their friends the Dings but civil proceedings commenced after that relationship "turned sour".
Losing the case left Du "angry, humiliated and facing financial ruin" as he owed some £88,000 in court costs, jurors were told.
Du made a plan and "carried it out with ruthless efficiency", the court heard.
On 29 April, Du left his home and went to his shop in Birmingham where he wrote a farewell note to his wife in Mandarin.
The note read: "Best wishes/Eternal Blessing. Qian Qian (pet name for their son) will care about Mum forever! Everyone has to say farewell one day!"
Armed with a knife, a quantity of cash and his passport, he travelled to the home of the Dings in Wootton, Northamptonshire, "like a man on a mission", to exact revenge.
He knived Mr and Mrs Ding multiple times, leaving them for dead in the kitchen, then, with their blood on his hands, he went upstairs and slaughtered their two daughters Alice, 12, and Nancy, 18, who he found cowering in a bedroom.
Post mortem tests showed that Mr Ding had been stabbed 23 times, Mrs Ding 13 times, Nancy had 11 stab wounds, and Alice had four.
Opening his case, prosecutor William Harbage QC told jurors: "This was a considered act of revenge executed in an unbelievably calm and cold-blooded manner.
"He planned to kill, he intended to kill; he did kill - four times. This is murder nothing less."
Du elected not to give evidence during the trial but his barrister claimed he should only be convicted of manslaughter on the basis of either diminished responsibility or loss of control.
It was claimed that Du had been suffering a severe depressive illness at the time of the killings.
Mr Harbage dismissed the claims and told jurors the killings had been a "premeditated plan" formed overnight.
The bodies were only discovered after a concerned neighbour contacted police to say he had seen a body laid on the floor through a back window.
A psychiatrist who visited Du in prison earlier this year told the court the businessman had given him a version of events that took place on the day of the killings.
Professor Nigel Eastman, a forensic psychiatrist, told jurors Du had told him he had gone to the Dings to get money back from them.
He admitted to the psychiatrist that he had thought about harming the Dings and told Mr Eastman: "If the Dings had apologised to me I probably would not have done that (harmed them). Throughout they never apologised."
He told Mr Eastman he stabbed Mr and Mrs Ding before going upstairs and killing their two children.
"I also killed them (the children), I don't know why," Du told him.
Mr Eastman asked him whether he had any hatred for the two children. Du replied: "I did not hate them at all. I don't know why. I am so sorry."
He said Du then told him he "lay down and slept" before waking up and stealing the Dings' car.
Following the verdict, Steve Chappell, chief crown prosecutor, CPS East Midlands, said: "This was a brutal, shocking crime. Anxiang Du travelled to the Dings' home armed with a knife and killed the whole family in their own home.
"The evidence was clear that this was an act of pre-meditated revenge and Du knew what he was doing.
"The jury had the option to consider a verdict of manslaughter, but has delivered a verdict that he was fully responsible for his actions and is guilty of murder.
"The Ding family were honest, hard-working and well-liked people. It is a tragedy that their lives were cut short in this way. Our thoughts and condolences are with their family and friends."
Speaking after the verdicts, Helen Ding's father, Zuyao Cui, said on behalf of the family: "Anxiang Du cold-bloodedly killed the whole of the Ding family and took away four lives. During the whole trial we listened with deep sorrow and pain.
"Finally today the verdict is murder. Anxiang Du deserves what he receives, justice has been served."
PA
Register for free to continue reading
Registration is a free and easy way to support our truly independent journalism
By registering, you will also enjoy limited access to Premium articles, exclusive newsletters, commenting, and virtual events with our leading journalists
Already have an account? sign in
Register for free to continue reading
Registration is a free and easy way to support our truly independent journalism
By registering, you will also enjoy limited access to Premium articles, exclusive newsletters, commenting, and virtual events with our leading journalists
Already have an account? sign in