Manchester attack: Homeless 'hero' Chris Parker admits stealing purse and mobile phones from bomb victims
Man stole from injured woman as her granddaughter lay dying metres away
Lizzie Dearden
Home Affairs Correspondent
Wednesday 03 January 2018 13:41 GMT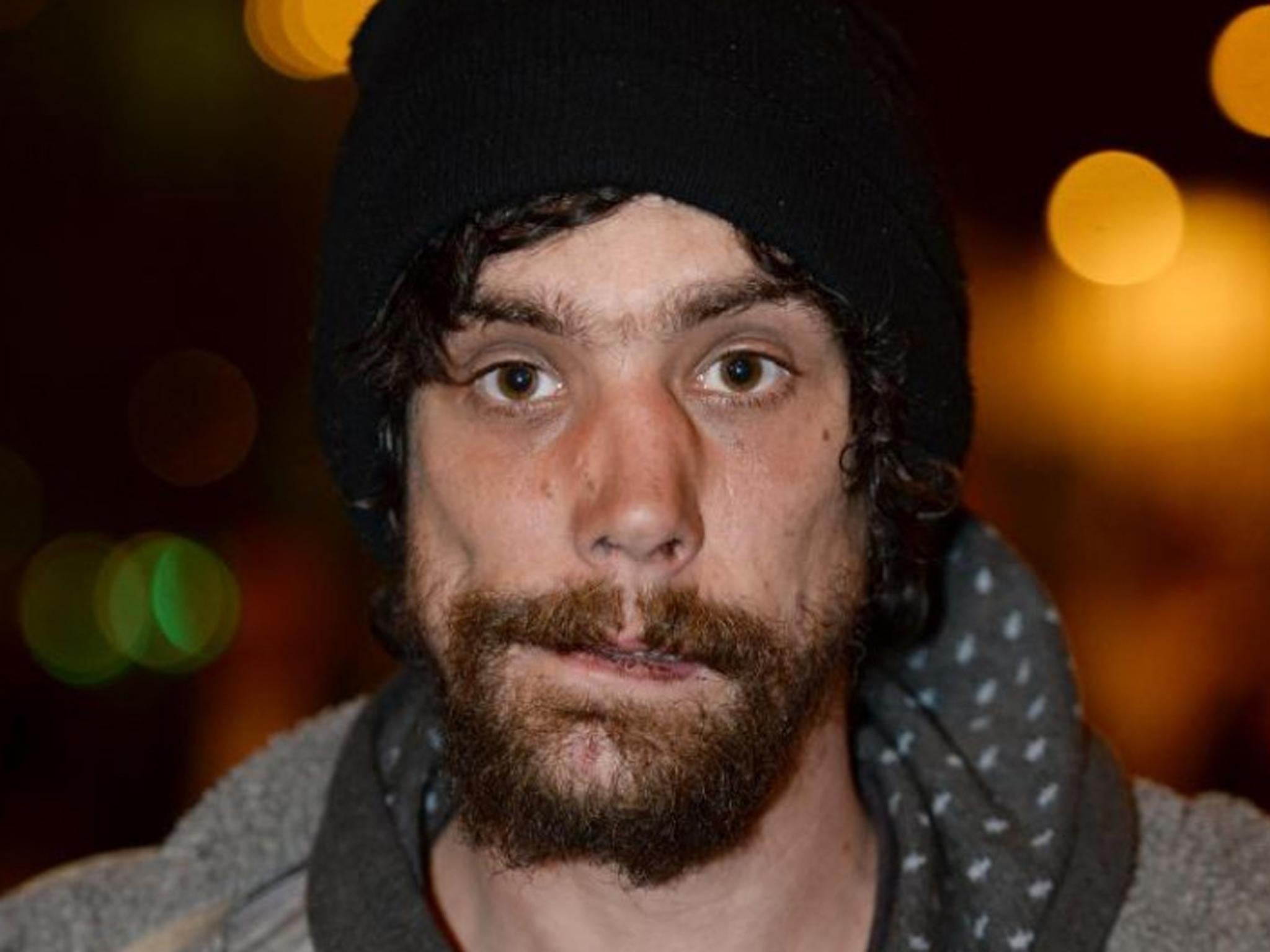 A homeless man who was hailed as a "hero" for helping victims of the Manchester attack has admitted stealing a purse and mobile phone at the scene of the bombing.
Chris Parker was in the foyer of Manchester Arena when an Isis supporter detonated his homemade bomb, amid crowds pouring out of an Ariana Grande concert on 22 May.
He gave emotional media interviews claiming to have helped the injured, sparking a crowdfunding campaign that raised more than £50,000, but disturbing CCTV footage played in court showed him preying on victims as they bled on the floor.
Parker could be seen repeatedly returning to injured victim Pauline Healey, whose granddaughter was killed in the blast, before leaning over her to reach into her handbag.
He also stole a mobile phone belonging to a teenage girl who cannot be named because of her age.
The 33-year-old, now living in Halifax in West Yorkshire, admitted two counts of theft and one of fraud on the first day of his trial at Manchester Crown Court.
But he denied attempting to steal a person's coat and three other counts of fraud. Prosecutors said they would not pursue the charges in light of his other guilty pleas.
Louise Brandon, representing the Crown Prosecution Service (CPS), said: "By his pleas he's admitted stealing items belonging to victims of the attack on the arena and using a bank card thereafter. I do not seek a trial on the remaining counts."
John Broadley, defending, asked for pre-sentence reports on Parker, who has a string of previous convictions dating from 2000 to February of last year, including the theft of a woman's purse and numerous shoplifting and burglary offences.
"He's tendered these pleas and all he can do in the circumstances is first of all plead guilty, and apologise for his appalling behaviour that evening," he added.
Judge David Hernandez remanded Parker in custody for sentence on 30 January, telling him a custodial sentence was "most likely".
The hearing had been due to take place on Tuesday but Parker violated his bail conditions by failing to attend court, sparking a police operation to track him down.
The court heard that he was found hiding in the loft of a house in Halifax in the early hours of Wednesday morning, arrested and brought to the hearing.
After his initial arrest, Parker had been remanded in custody at HMP Manchester but was unable to leave his cell because of death threats from fellow inmates.
He admitted using one of the grandmother's debit cards in McDonalds, but denied allegations he also used her bank cards in Tesco and on transport.
Mrs Healey, her granddaughter and her mother Samantha Leczkowski had been in the foyer to meet loved ones who attended the concert.
Mrs Healey underwent 15 hours of surgery to remove shrapnel from her body and also suffered multiple compound fractures to her arms and legs, while Ms Leczkowski was also seriously injured.
Home Secretary Amber Rudd makes statement on Government report on Manchester attack
Her granddaughter Sorrell, a pupil at Allerton High School in Leeds, was hoping to be an architect and wanted to study at Columbia University in New York.
Parker appeared agitated in CCTV footage from the scene, which shows crowds fleeing the blast before some members of the public return to the smoke-filled foyer to help, as well as bodies, human remains and blood filling the area.
Parker, carrying a rucksack and wearing a distinctive woolly hat, could be seen wandering around using his phone before appearing to go to the aid of one woman before the emergency services arrived.
He was also recorded speaking to one young girl, whose mother is believed to have been killed, and comforting her alongside a police officer.
Armed officers then arrived, along with arena staff and paramedics, and Parker briefly left the foyer.
CCTV showed him returning to Mrs Healey, with two bodies on the floor beside her, and reaching over her to take her bag as paramedics and police attempted to resuscitate nearby victims.
Parker was also filmed on a stairwell coming across a coat, picking it up and giving it a shake to check the pockets.
But he later gave a moving account of the aftermath of Salman Abedi's attack, which killed 22 people, in several media interviews.
"It knocked me to the floor and then I got up and instead of running away, my gut instinct was to run back and try and help," Parker said at the time.
Manchester explosion in pictures
Show all 37
"There was people lying on the floor everywhere. I saw a little girl... she had no legs.
"I wrapped her in one of the merchandise T-shirts and I said 'Where is your mum and daddy?' She said, 'My dad is at work, my mum is up there.'"
Parker said he also tended to a woman who suffered serious head and leg injuries in the blast, adding: "She passed away in my arms. I haven't stopped crying."
Prosecutors said that although Parker provided "some limited assistance" to victims, he "equally" took the opportunity to commit the thefts.
He was praised around the world for his efforts to help the injured, with news reports sparking a crowdfunding campaign that raised more than £52,000.
Michael Johns, a member of the public who set up the page, said all money would be returned to almost 3,800 donors in light of Parker's guilty pleas.
"I do this without any personal judgement on Chris and with complete respect to the ongoing court proceedings," he added.
"I would like to extend my sympathies to his victims that night and also apologise to them for any distress this campaign may have caused them whilst they continue to recover and grieve.
"Regardless of the outcome, this was still a fine example of what can be achieved when we refuse to be cowed by those who seek to divide."
There were calls for the donations to be passed instead to victims of the Manchester attack or a homeless charity, but the transfer is not possible under GoFundMe's rules.
The company told The Independent it was "in full control of the funds", which had not reached Parker.
Additional reporting by PA