Anti-vaccine conspiracy theorist guilty of plotting to destroy 5G masts
Christine Grayson, who believed the 5G masts were linked to the Covid-19 vaccine, has been convicted at Leeds Crown Court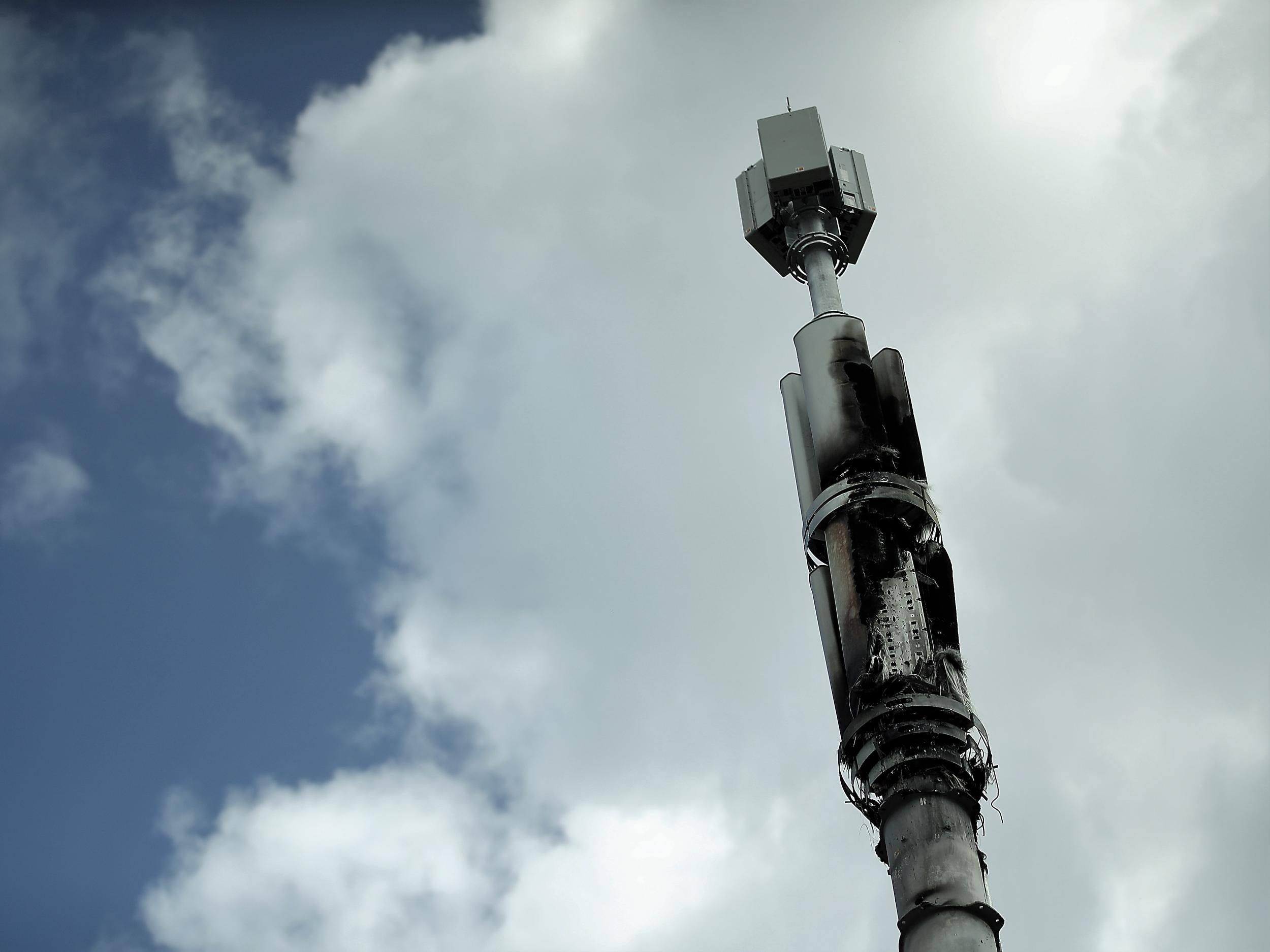 An anti-vaccine conspiracy theorist has been found guilty of plotting to destroy 5G masts after subscribing to an ideology that they were linked to the Covid-19 vaccine.
Christine Grayson discussed "getting rid" of the mobile phone masts with expanding foam and angle grinders during regular discussions online, a court heard.
The 59-year-old was found guilty of conspiracy to commit criminal damage by a jury at Leeds Crown Court.
Her co-defendant Darren Reynolds, 60, was cleared of the same charge but convicted of eight terrorist offences.
Jurors found him guilty of encouraging terrorism with online comments including calling for MPs to be killed.
Reynolds was also convicted of disseminating a terrorist publication by sharing a link to the neo-Nazi White Alexandria's Library.
He was found guilty of six offences of possessing material likely to be useful to a person committing an act of terrorism, including a manual on how to build a .50 Browning calibre single shot rifle, and a document called How To Become An Assassin.
Opening the case to jurors in April, prosecutor Tom Storey said the defendants knew each other through the social media platform Telegram, which both were regular users of between 2020 and 2022.
They subscribed to an antiauthoritarian ideology which involved conspiracy theories, jurors heard.
Reynolds discussed armed uprisings and advocated violence towards people he called "traitors", also "going further" and posting extreme right-wing, antisemitic and racist views, Mr Storey said.
When police searched their addresses they found a crossbow and a number of crossbow bolts at Grayson's home, while at Reynolds' they discovered two replica assault rifles.
The police also found copies of documents about how to use assault rifles or manufacture explosive devices on some of Reynolds' electronic devices.
The court heard both defendants were strongly opposed to the rollout of the 5G network, and regarded 5G masts as pieces of "enemy infrastructure".
Grayson said she needed a "sabotage team" to "get rid of these 5G bloody near me" in a Telegram exchange on August 7 2021.
Jurors were told Reynolds openly discussed the use of violence against people he labelled "traitors", particularly Members of Parliament.
On June 29 2021 he posted: "Storm parliament and the Lords, drag them ALL outside and hang them ALL on the spot for treason, sedition insurgency, attempted genocide and crimes against the peoples of Great Britain," the court heard.
Reynolds described murdered MP Sir David Amess as a "traitor" and reacted with approval to another user's view that Thomas Mair had "rightly executed the murdered MP Jo Cox because of her alleged treason".
The court heard that in one police interview, Reynolds asked officers: "Do I look like a terrorist to you?"
He then said that terrorists were "usually Arabs, or Irish from the 70s".
Grayson, of Boothwood Road, York, was convicted of one offence of conspiracy to commit criminal damage and cleared of one charge of encouraging terrorism.
Reynolds, of Newbould Crescent, Sheffield, was found guilty of one count of encouraging terrorism, one of disseminating a terrorist publication and six of possessing material likely to be useful to a person committing an act of terrorism.
He was cleared of conspiracy to commit criminal damage and two counts of disseminating a terrorist publication.
Judge Guy Kearl KC remanded both into custody to be sentenced at the same court on June 5.