Christopher Tappin brands his extradition a 'disgrace'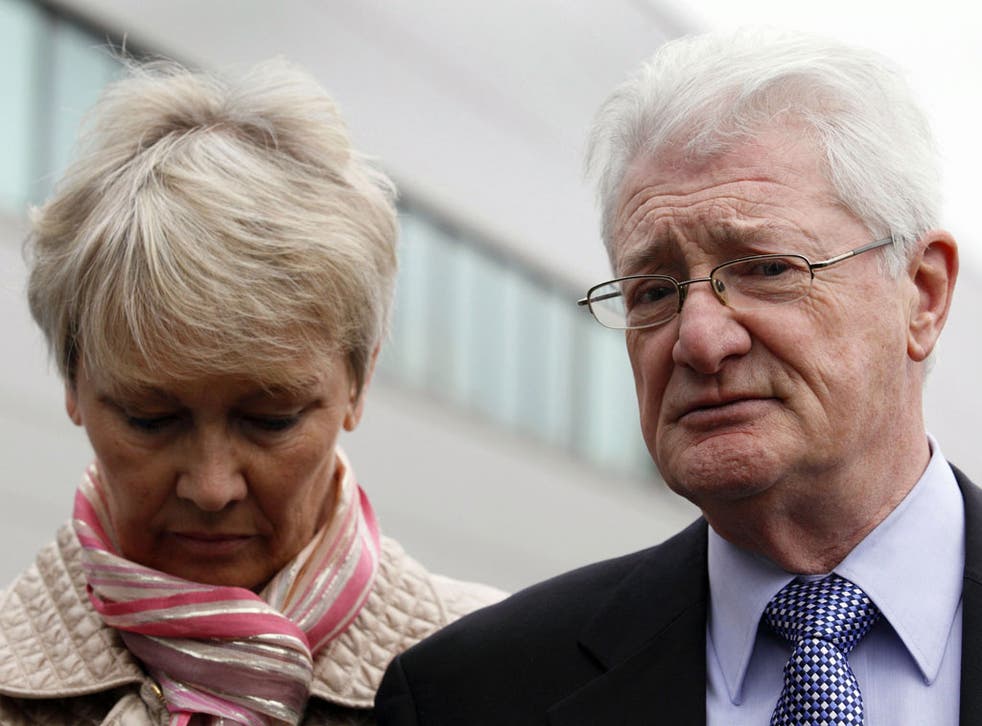 A retired businessman said it was a "disgrace" that a radical cleric who poses a threat to the UK's national security has more rights than he has as he was extradited to the United States today.
Christopher Tappin, who lost his two-year battle against extradition last week, said Abu Qatada had been allowed to stay in the UK while he was being forced to leave.
The extradition of the 65-year-old Briton under the controversial UK-US treaty will increase pressure on David Cameron's Government to review the arrangements.
Mr Tappin, who faces up to 35 years in jail if convicted of arms dealing charges, said: "I look to Mr Cameron to look after my rights and he has failed to do so.
"I have no rights. Abu Qatada is walking the streets of London today and we cannot extradite him. He has more rights than I have.
"If I was a terrorist, I would not be going to America. I think it's a shame, a disgrace.
"The Conservative Government, while in opposition, promised to reform the law and they failed to do so and they've let me down, they've let you down, they've let the whole country down."
The Government has been blocked in its attempts to deport Qatada to Jordan, where he faces terror charges, after the European Court of Human Rights ruled that further assurances that evidence gained through torture would not be used against him were needed before he could be sent back.
But the Prime Minister's official spokesman said: "They are completely different cases."
Mr Tappin, whose tearful wife Elaine was at his side, said he was full of trepidation and was "not sure what's going to happen", but added that he was keen to prove his innocence.
Mr Tappin, who has been caring for his wife who has chronic Churg-Strauss Syndrome, said he was "not very confident at all" about his case, mainly because his UK-based witnesses will not travel to the US and the American authorities do not allow video interrogation.
Speaking outside Heathrow police station shortly before he was handcuffed and seated between two US marshals on a plane to America, he said it seemed "ridiculous and a disgrace to our country" that the US was allowed to extradite people "by virtue of an accusation".
He also revealed he had packed some "personal stuff" including books by TV presenter Jeremy Clarkson and golfer Seve Ballesteros.
His lawyer Karen Todner said Mr Tappin, the former president of the Kent Golf Union, would arrive in El Paso, Texas, around 4pm local time (about 10pm GMT), where he will be remanded in a local jail until Monday, pending a bail hearing at the US district court in the western district of Texas.
She added that it was "the procedure for the Americans to require three days adjournment to consider the bail application so the earliest he can consider obtaining bail is Thursday".
Ms Todner said: "He has been, I think, strong for his wife. He is quite calm but I think he is just dismayed by it.
"I think he can't really quite take it all in, he can't really quite comprehend what is happening to him.
"This whole procedure and situation is such an anathema to him and his life that I think he can't take it in."
She added on Twitter: "Was v distressing when he said goodbye. The extradition treaty is inhumane."
Mr Tappin's MP Jo Johnson has asked Home Secretary Theresa May to intervene to ensure the US authorities do not object to his bail on Monday, Ms Todner said.
Mr Tappin, from Orpington, south east London, denies attempting to sell batteries for surface-to-air missiles which were to be shipped from the US to Tehran via the Netherlands.
He has said that, for justice to be done, he should be tried by a jury of his peers in the UK, not a jury 3,000 miles away.
But magistrates and the High Court backed his extradition and he exhausted his appeal options earlier this month when a last-ditch plea to human rights judges was rejected.
Mr Cameron said on Wednesday that the Government would carry out a "proper, sober and thoughtful" review of the UK's extradition arrangements with the US.
But he added that it was important to remember that extradition treaties "show respect to each other's judicial processes and make sure that people who are accused of crimes are tried for those crimes".
"Britain can benefit from that as well," he said.
An independent review of the UK's extradition arrangements by retired Court of Appeal judge Sir Scott Baker last year found that the current treaty between the US and the UK was both balanced and fair.
But critics claim it is one-sided, with MPs, peers and campaigners all calling for reform.
Ukip leader Nigel Farage, who has known Mr Tappin for nearly 40 years, said: "The time has come to stand up for Chris and other UK nationals and tell the USA that we wish to amend this one-sided treaty.
"His treatment is disgraceful and it seems that our Government would rather protect the rights of those that wish us harm, such as Abu Qatada, than one of their own people."
PA
Register for free to continue reading
Registration is a free and easy way to support our truly independent journalism
By registering, you will also enjoy limited access to Premium articles, exclusive newsletters, commenting, and virtual events with our leading journalists
Already have an account? sign in