City lawyer questioned over alleged police bribery
Ian Timlin held over claims he hired private eyes to buy information from the Met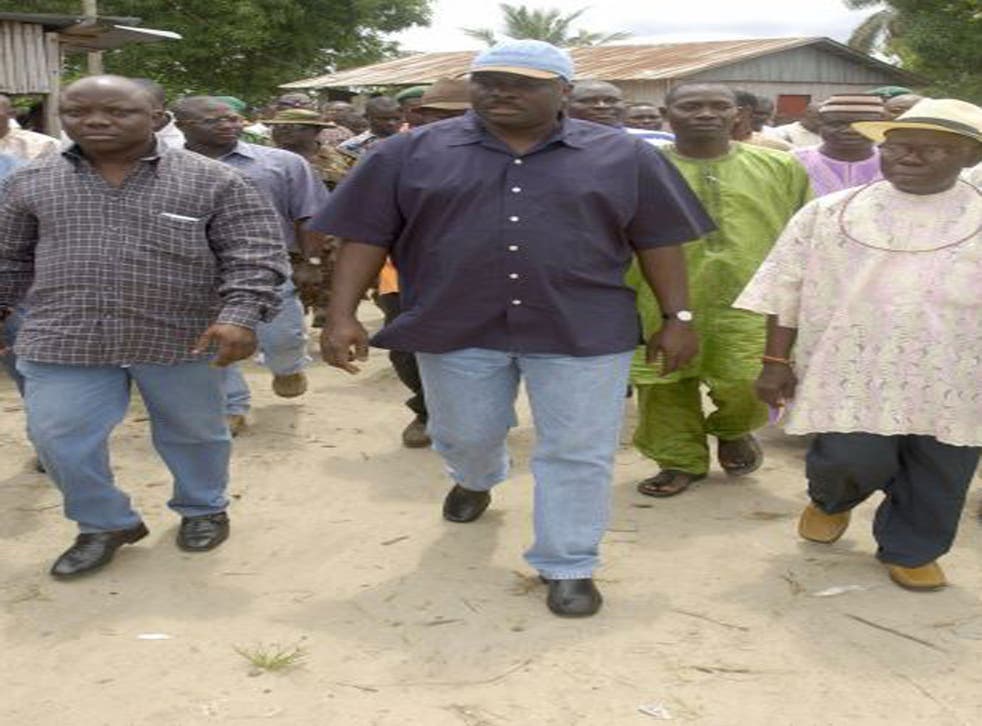 A leading tax lawyer has been arrested over his involvement with a controversial private investigations agency, The Independent has learnt.
Ian Timlin, a former litigation partner at City law firm Speechly Bircham, was held by Met anti-corruption detectives investigating the alleged bribery of police officers. The senior lawyer was arrested at his home in Kent on suspicion of conspiracy to corrupt a police officer, perverting the course of justice and money-laundering offences.
The investigation relates to his work for James Ibori, the ex-governor of Delta State in Nigeria who was jailed last year for embezzlement. Mr Ibori admitted stealing almost £50m, although the true amount may have been many times greater.
During a long-running Scotland Yard investigation into his business affairs, Mr Ibori hired the law firm Speechly Bircham, which specialises in tax advice for non-domiciled people living in the UK. Mr Timlin, who until 2010 was a partner at Speechly Bircham, then hired RISC Management, a controversial private detective agency embroiled in the scandal that erupted after the murder of the former Russian spy Alexander Litvinenko.
Leaked documents seen by The Independent suggest RISC, run by former Met Police officers, gained inside information into the ongoing investigation into Mr Ibori. It is alleged the agency paid serving detectives £20,000 for intelligence that helped the Nigerian politician's defence lawyers. One £5,000 payment was allegedly made to a source for information relating to "forthcoming interviewing strategy to be deployed by police".
The news comes after it emerged that the legal world is by far the largest blue-chip employer of corrupt private investigators, according to a secret list passed to MPs by the Serious Organised Crime Agency (Soca). Twenty-two law firms feature in the historic evidence released following weeks of damaging revelations in The Independent. It is not known whether Speechly Bircham is on the list.
James Clappison, a senior Conservative MP on the Home Affairs Select Committee, said: "This is a disturbing development. In light of all we now know about law firms and private investigators, we need to have a wide-ranging debate over how that relationship is governed in future."
Mr Timlin was arrested in April and it is understood police have retrieved internal documents from the law firm. Keith Hunter, the boss of RISC Management, has also been arrested as part of the investigation, which was triggered in May 2012 when newspapers revealed the Met had done nothing since a whistleblower passed police leaked documents revealing the alleged payments to officers many months before.
Like all current investigations into damaging allegations of police corruption, the long-running inquiry has inched its way tortuously forward, which prevents the media from reporting the full details. Both Mr Hunter and Mr Timlin deny the allegations and are on bail.
Mr Timlin qualified as a solicitor in 1991 and was a partner for 15 years in a number of London law firms before he left Speechly Bircham in 2010. He is now legal director of the Long Port Group, a property development company in the tax haven of Guernsey and has been involved in the construction of a sports resort in Brazil.
RISC, which is also used by law firm Mischon de Reya, has links to Russian oligarchs in London. It was first established as ISC Global in October 2000 by a lawyer called Stephen Curtis. He died in a helicopter accident in 2004, a crash that his family claimed was highly suspicious.
Mr Curtis acted for a group of billionaire Russians led by Mikhail Khodorkovsky and Leonid Nevzlin, who controlled Yukos, Russia's privatised energy giant. The two men have fought a high-profile battle over many years against the Russian President, Vladimir Putin.
Mr Khodorkovsky is serving a 14-year jail term after being found guilty of stealing more than £15bn worth of oil from three subsidiaries of Yukos. Mr Nevzlin was found guilty of murder in a Russian court and is now in exile in Israel. both oligarchs reportedly provided £3m to set up ISC. After Mr Curtis died, Mr Hunter took over ISC Global and renamed it RISC. The former Met Police officer worked on "high-profile investigations of national and international organised crime" at Scotland Yard before entering the private investigations industry in 1997, according to the company's website.
In 2006, it emerged the former Russian spy Alexander Litvinenko visited RISC's central London offices shortly before he died of polonium poisoning, and traces of the radioactive substance were found at the premises.
Earlier this week, Sir Ian Andrews stepped down as chairman of the Serious Organised Crime Agency after failing to disclose that he owns a consultancy with his wife, Moira, who works for a leading international investigations firm.
Soca is facing urgent questions over why it refused to name more than 100 blue-chip clients of corrupt investigators, who were involved in blagging, hacking and stealing private information. MPs on the Home Affairs Select Committee are urging Soca to review its decision to block the publication of the names.
A spokesperson for Speechly Bircham said: "Given an arrest was made some months ago and there has since been no charge, it would be inappropriate for us to comment. Suffice to say that we have assisted the police with their enquiries."
Mr Hunter said: "RISC management does not need to pay serving police officers for confidential information as we pride ourselves on our ability to provide positive solutions and accurate information legitimately." Mr Timlin and the Long Port Group did not respond to requests for comment.
Update: Ian Timlin, a former litigation partner at Speechly Bircham, has been told by police that he will face no further action.
The politician: Wickes cashier who did it all for himself
James Ibori spent part of his early life in London and once worked as a £15,000-a-year cashier at a Wickes DIY store in Ruislip. But after returning to Nigeria, the country of his birth, he quickly used extraordinary levels of deceit and cunning to become one of Nigeria's most influential and richest politicians.
After becoming governor of the oil-rich state of Delta in 1999, he spent the next eight years channelling state funds into his bank accounts to spend on luxury homes, top-of-the-range cars, five-star travel and fees at exclusive boarding schools. Under his tenure, the Nigerian people are thought to have lost out on £157m, which was laundered in London via offshore companies.
When he was jailed for 13 years at Southwark Crown Court last year, it emerged that he and his wife, Theresa, had been arrested for stealing from the Wickes store in 1990 and fined £300. A year later Ibori was convicted of handling a stolen credit card and fined £100 before he moved back to Nigeria and got a job as a "policy consultant" in President Sani Abacha's government.
Rising quickly through the ranks of the ruling People's Democratic Party, he was voted governor of Delta State in 1999 after using a false passport and date of birth to hide his previous convictions.
In power, Ibori systematically stole from the public purse, took kickbacks and inflated state contracts which he awarded to relatives.
At his sentencing, prosecutor Sasha Wass said: "From the moment he was elected he set about enriching himself at the expense of some of the poorest people in the world." She told the court he was "effectively a thief in government house".
Tom Harper