Confederate flag erected outside a black family's home in Belfast
The Confederate flag has been criticised as being a racist symbol, in light of the Charleston shootings in America last month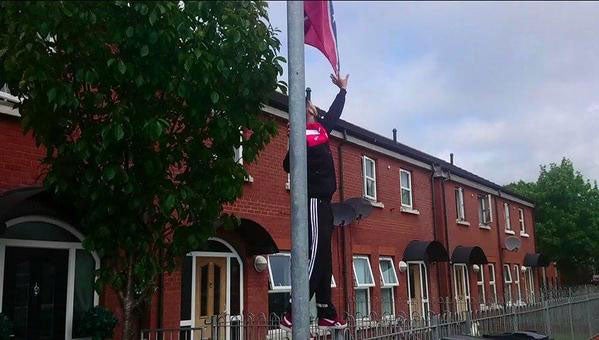 A Confederate flag has been erected outside a black family's home in Belfast.
The flag was reportedly put in place outside a residential home on the Dee Street area of East Belfast.
Ryan Ward, a football coach for local youths, says that he spotted the flag flying on a lamppost outside the home of a thirteen-year-old black boy within his team. He says that he was "disgusted" and removed it from the property.
East Belfast community football team uploaded on their Facebook page a video of Mr Ward climbing the lamppost to remove the flag. They described the erection of the flag as "a clear racial hate incident."
They wrote: "We could not be more disgusted that some waste of oxygen has went out of their way to target one of our boys and we stand fully behind and united with the young lad."
Local councillor Michael Long said that he had: "received a number of complaints about the erection of the Confederate Flag in East Belfast, a flag which is perceived to be racist.
"The flying of this flag is closely intertwined with historical slavery and racist tension, as can be seen by its glorification during recent racially-motivated attacks in the US."
The Confederate flag has been the subject of fierce debate in light of fatal shootings in Charleston last month. Nine black people were killed by a white supremacist shooter at a church in South Carolina. The flag represents the area which seceded from the Union in the nineteenth century in defense of slavery and is seen by some as representing racist ideology in the present day.
US President Barack Obama has said that he believes the Confederate flag "belongs in a museum" rather than on public display.
Northern Ireland has seen a recent increase racist attacks, with two such incidents being reported to police every day in the region on average.
The Independent has contacted the Police Service of Northern Ireland for comment.