Conman Mark Lancaster faces jail term over 'sex for tuition fees' scam
IT consultant exposed by The Independent admits human trafficking and voyeurism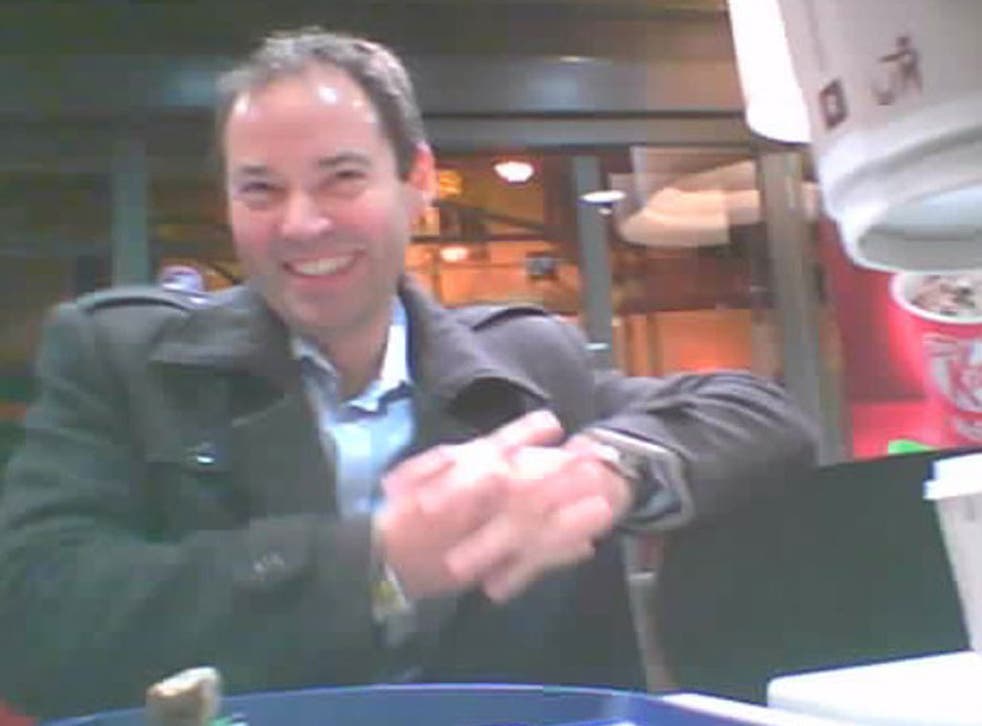 A computer consultant exposed by The Independent for seeking to trick female students into having sex with him by offering scam "scholarships" was today warned he faces jail after he pleaded guilty to criminal charges.
Mark Lancaster, 39, admitted trafficking and voyeurism in relation to his Sponsorascholar.co.uk website, which claimed to pay the university tuition fees of women who agreed to sleep with one of its clients up to four times a term.
The fictitious scheme, which was used by Lancaster to trick at least one woman into having sex with him, was exposed last year by The Independent after he was recorded telling an undercover reporter that she would have to undergo a "practical" test with him before earning any money.
Scotland Yard said it believed more than 40 women had contacted the site and appealed for any further victims of Lancaster, a freelance IT specialist who has worked on projects for the Ministry of Defence, to come forward.
The father-of-two, from Horndean, Hampshire, was told by a judge at Southwark Crown Court that it was "highly likely" he faces prison when he is sentenced next month.
He pleaded guilty to a charge of voyeurism after placing hidden video cameras in the bedroom and toilet of a flat he rented in Milton Keynes to conduct "interviews" of applicants. The cameras were used to record him having sex with one victim.
He also admitted a charge of trafficking a person within the United Kingdom, which carries a maximum sentence of 14 years' imprisonment.
Detectives underlined the "sophistication" of Lancaster's scheme, which falsely used the name of a prominent academic and used a number of aliases to trick women into believing that the site was genuine. Officers said the elaborate nature of the scam suggested it was a long-term plan to "identify and abuse vulnerable victims".
Anyone contacting the website received an email back from a woman named "Emma Forester", which was in reality another name used by Lancaster to put potential victims at their ease.
An Independent reporter contacted Lancaster via the website posing as a potential client and an interview was arranged at a branch of McDonald's in south east London, during which he asked her to leave with him and carry out a "practical" examination.
When he was later confronted by this newspaper at his detached new-build home in an affluent Hampshire village, he refused to comment. The Independent passed its information on Lancaster to the Metropolitan Police.
Detective Inspector Kevin Hyland, of the Yard's human trafficking unit, said: "Mark Lancaster targeted vulnerable students in an elaborate and sophisticated scam. He covertly filmed sexual acts without the knowledge of the victim and continued to maintain the pretence that his business was legitimate.
"We would like to take this opportunity to thank the victim for her bravery and resilience and appeal for any victims of this or similar crimes to come forward. We hope that the victim takes some comfort from today's guilty plea."
Register for free to continue reading
Registration is a free and easy way to support our truly independent journalism
By registering, you will also enjoy limited access to Premium articles, exclusive newsletters, commenting, and virtual events with our leading journalists
Already have an account? sign in