Rabies risk as corrupt vets 'help to smuggle farmed puppies into UK'
Shoppers are buying puppies online that may have entered the UK illegally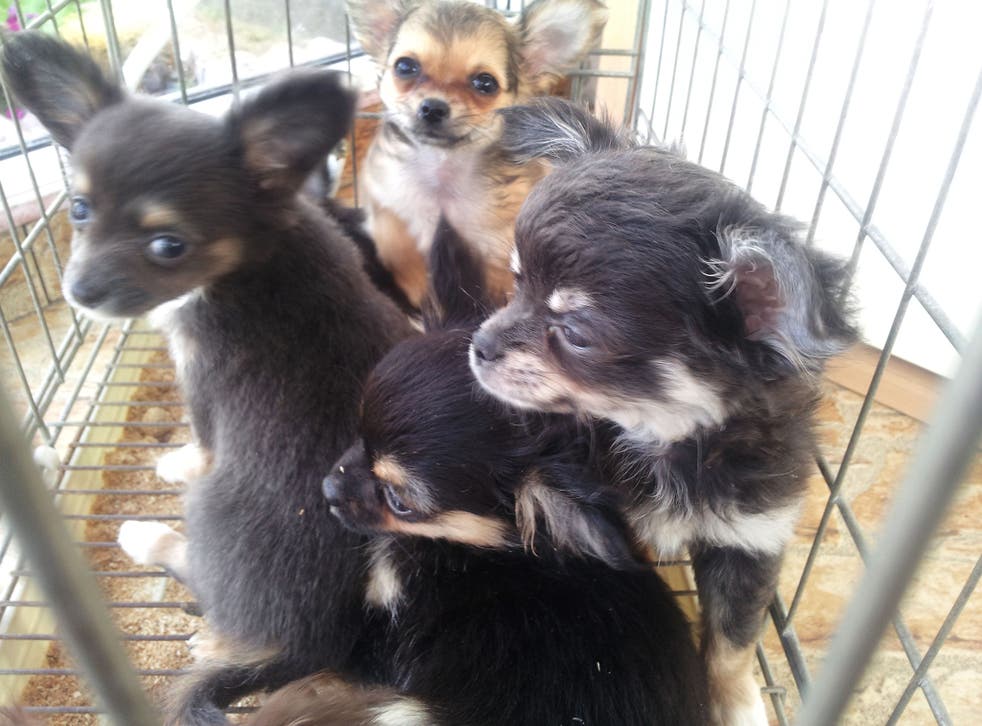 Illegal puppy breeders from eastern Europe are collaborating with corrupt vets to make fake passports and vaccination records to smuggle dogs into Britain, an investigation has revealed.
As the pre-Christmas puppy rush begins, the Dogs Trust charity has exposed a "high level of corruption" and "shocking" animal welfare levels after a six-month undercover investigation into the illicit trading chain from eastern Europe to the UK.
The trust has uncovered evidence that criminal breeders, vets and "transporters" in Hungary and Lithuania are abusing the Pet Travel Scheme, which was amended in 2012 to allow pet dogs, cats and ferrets to enter Britain without a six-month quarantine. Puppies smuggled in could have diseases and behavioural problems that the new owner would be unaware of.
The quarantine law, which was changed to bring the UK into line with the rest of the EU, has reduced the minimum age at which a foreign puppy can enter the UK to 15 weeks. Puppy imports have surged because pet owners prefer younger, cuter, puppies; and animals from overseas can now "compete" more equally with UK puppies, which can be legally sold at eight weeks.
The number of puppies officially entering the UK from Lithuania has soared nearly eight-fold since the quarantine laws were changed, while those from Hungary have jumped by 663 per cent, the trust says.
However, many of those puppies are travelling illegally, with falsified documents which claim they are at least 15 weeks old – and so perfectly legal – when in fact they are closer to 10 weeks.
The charity has caught vets on camera creating false pet passports and rabies vaccination records. It also found that some puppies were forced to make journeys of more than 1,000 miles in appalling conditions without suitable treatments or vaccinations, increasing the risk that they could spread diseases such as rabies in the UK.
P&O Ferries said: "Our staff are in an invidious situation as they see suspiciously high numbers of young dogs being presented for travel within the rules of the [Pet Travel Scheme], with what appears to be the correct documentation," a spokesman said.
The best way to solve the problem is to increase the minimum age at which a puppy can enter the UK to about six months, making them less attractive to pet owners, the trust says.
"Unsuspecting British shoppers will continue to buy puppies online which may have been brought into the country illegally, [so] the risk of unknowingly bringing a puppy from eastern Europe with diseases and behavioural problems into the home is very real," said Paula Boyden, director of the Dogs Trust.
Ms Boyden has accused the Department for Environment, Food and Rural Affairs of putting its "head in the sand" over the problem.
A Defra spokesman said: "Responsibility for stopping the illegal movement of puppies begins in the country where they are born, and we are writing to the authorities in Lithuania and Hungary to remind them of their duty to ensure passports are correct and the welfare of pets intended for sale is safeguarded."
Register for free to continue reading
Registration is a free and easy way to support our truly independent journalism
By registering, you will also enjoy limited access to Premium articles, exclusive newsletters, commenting, and virtual events with our leading journalists
Already have an account? sign in