Counter-terror police investigate 'nail bomb' near Tipton mosque hours after Woolwich soldier Lee Rigby's funeral
No injuries have been reported but a cordon has been set up after nails and other debris discovered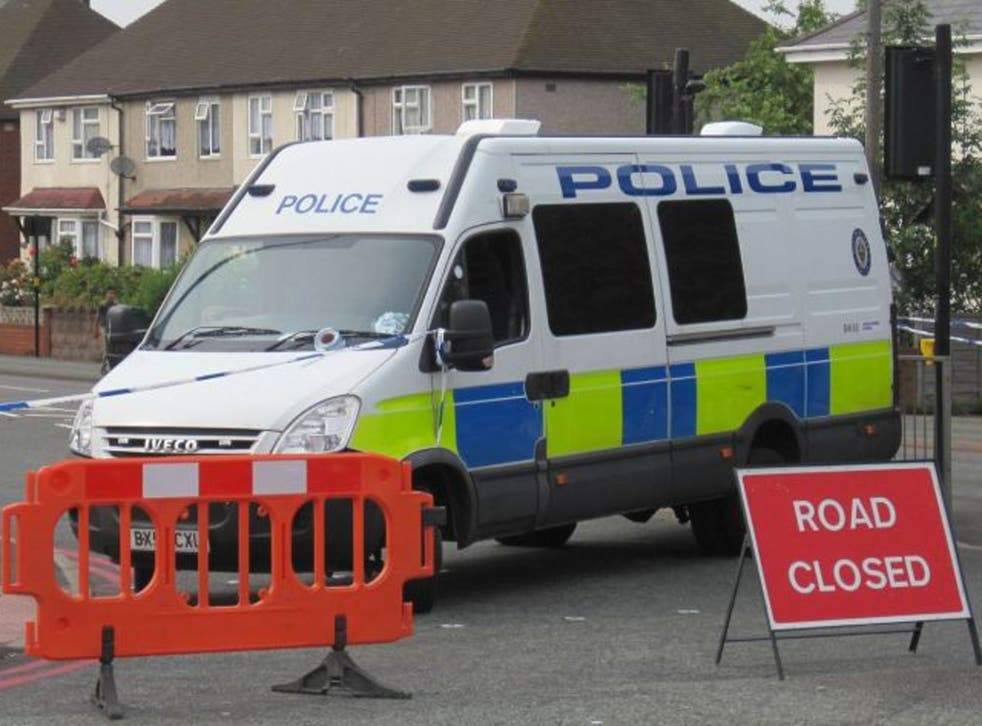 A suspected nail bombing of a mosque in the West Midlands on the first Friday of Ramadan is being treated by police as a terrorist attack.
Nails and other debris were discovered after residents close to the Kanz-ul-Iman Muslim Welfare Association Central Jamia Mosque in Binfield Street, Tipton, reported hearing an explosion.
The bombing, on the day of Fusilier Lee Rigby's funeral in Bury, came less than three weeks after a home-made device exploded in an alley close to the Aisha Mosque and Islamic Centre in Walsall on June 22.
Several streets were closed off in Tipton yesterday and residents were evacuated while police scoured the area for evidence and to make sure there were no other devices.
Police responded to reports of "a loud explosion" and a spokesman for the West Midlands force said: "Some residents have reported finding debris in the area and finding nails. This is being investigated by counter terrorism detectives and forensic officers at the scene. There are no reports of any injuries to anyone at this time.
"An investigation is being led by the West Midlands Counter Terrorism Unit and it is being treated as a terrorist incident."
Muslim leaders condemned the attack but said it must not be allowed to divide the community. Mohammed Shafiq, chief executive of the Ramadhan Foundation, said: "Today has been a difficult day for our country with the funeral of Fusilier Lee Rigby taking place in Bury and this attack against Muslims and our mosques.
"We will not let terrorism divide us when Lee Rigby was killed, we will not allow these thugs and terrorists to divide Muslims from wider society."
He urged mosques to step up security during the month of Ramadan, which started on Wednesday, and insisted: "We will not be frightened by these terrorists from whatever background they come from, they will be defeated."
Syeda Amina Khatun, a Tipton Green councillor, said: "The explosion has gone off on the disused railway line behind the mosque. People are surprised that something like this has happened."
Tipton has previously been associated with three men, Ruhel Ahmed, Shafiq Rasul and Asif Iqbal, who were dubbed the "Tipton Taleban" and the "Tipton Three" after being arrested in Afghanistan in 2002. They were released without charge from captivity in Guantanamo Bay in 2004.
Earlier in the day 800 people crowded into Bury Parish Church for the funeral of Fusilier Rigby, 25, who was killed close to Woolwich Barracks on May 22. Many more mourners stood outside the church in tribute to the soldier.
The soldier's two-year-old son Jack, clutching his mother Rebecca's hand and wearing a t-shirt emblazoned with the words "My Daddy My Hero", was among the family members in church to remember a "gentle soul" and "larger-than-life character". Prime Minister David Cameron and Mayor of London Boris Johnson were also at the service, while Nick Griffin, leader of the British National Party, was among the onlookers outside.
The soldiers' commanding officer, Lieutenant Colonel Jim Taylor, said in a eulogy: "Lee proved himself to be dedicated, professional and incredibly brave."
Leaders of the Kanz Ul Iman Masjid mosque said in a statement: "We express our deep shock and utter dismay regarding the incident that has occurred this afternoon. We jointly on behalf of the local community condemn this senseless and mindless act. It's a blessing from God that thankfully no one was injured in the blast.
"We call for calm and strongly urge the community not to let this incident divide us and cause disharmony. We stand united, stand together in the aftermath of this mindless act. We have worked hard to build good community relations and will not allow this incident to divide us or undermine cohesion in the borough."
Register for free to continue reading
Registration is a free and easy way to support our truly independent journalism
By registering, you will also enjoy limited access to Premium articles, exclusive newsletters, commenting, and virtual events with our leading journalists
Already have an account? sign in
Register for free to continue reading
Registration is a free and easy way to support our truly independent journalism
By registering, you will also enjoy limited access to Premium articles, exclusive newsletters, commenting, and virtual events with our leading journalists
Already have an account? sign in