Almost 2,000 Covid-related attacks on emergency services in six months
Assaults among 6,500 coronavirus-related crimes prosecuted between April and September
Lizzie Dearden
Home Affairs Correspondent
Thursday 21 January 2021 16:40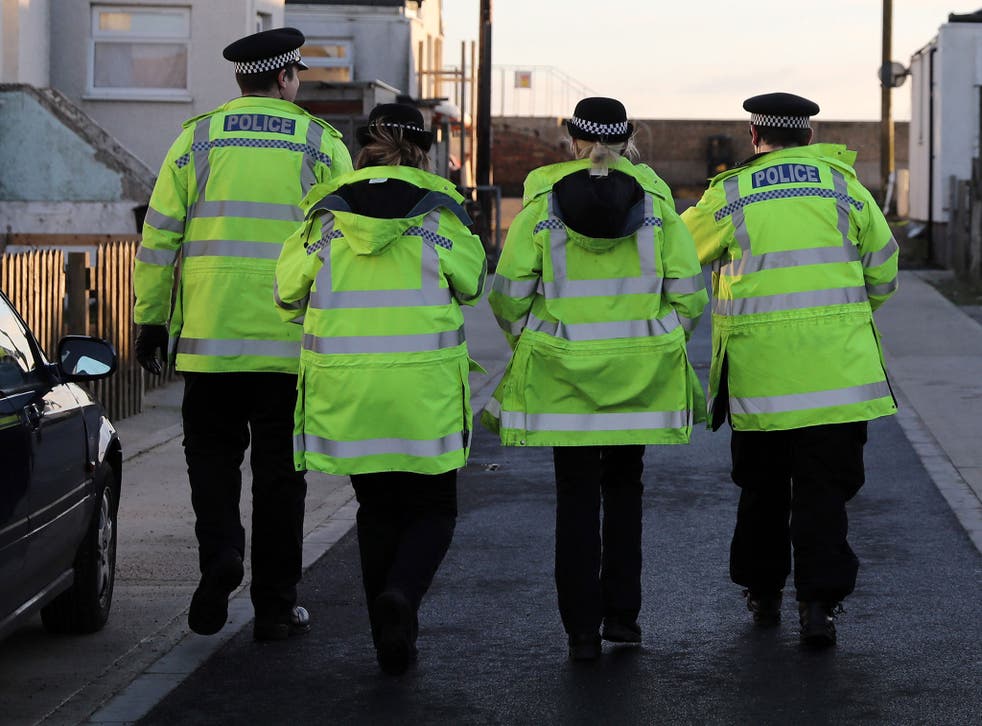 Almost 2,000 assaults on emergency workers were prosecuted in the six months following the UK's first national lockdown, new figures show.
The Crown Prosecution Service (CPS) said the attacks, often seeing police officers coughed and spat on, were the most common coronavirus-related crime between 1 April and 30 September.
The 1,688 offences also include incidents where officers were kicked, bitten and hit with heavy objects after stopping people suspected of breaking restrictions.
Max Hill QC, the Director of Public Prosecutions, said the figures were "appalling" and that attacks were still taking place.
"I will continue to do everything in my power to protect those who so selflessly keep us safe during this crisis," he added.
"We are also determined to see wider criminality during lockdown periods reflected in court, which is evident in the charges seen in this data."
Martin Hewitt, chair of the National Police Chiefs' Council, said: "Assaults on emergency workers who do crucial work to keep the public safe are deplorable. This is an offence and those caught will be prosecuted. Workers are out in communities, working in very challenging circumstances, and I am grateful for their continued hard work."
The Police Federation of England and Wales, which represents rank-and-file officers, called spitting and coughing "disgusting, dangerous and inhumane".
Chair John Apter said: "Police officers on the frontline are increasingly facing abuse from a small minority who think nothing of deliberately weaponising the virus, and these people are the lowest of the low.
"The frustration we have in dealing with these individuals involves sentencing, as it's inconsistent and often leaves victims feeling completely let down by the criminal justice system.
"Those who commit these attacks must spend time in prison, as without this there is no deterrent and emergency workers will continue to feel let down by the criminal justice system. "
UK news in pictures

Show all 50
In one recent incident, a police officer believes he was infected with Covid by a suspect who spat on him while being arrested in Bournemouth on 6 January.
The 47-year-old officer, who had been wearing a mask, said he developed symptoms two days later and has since tested positive for coronavirus.
"You can't get control of somebody without necessarily getting hands-on on with them - especially when they are not compliant, you have to contact them physically," he added.
"Covid has changed things … you have to enter into that sort of zone of transmission. There is no way of avoiding that. We can use all the PPE and hand sanitiser in the world ultimately we are at higher."
The police officer said he and his colleagues should be "much nearer the front of the queue for vaccines".
Another officer has been admitted to hospital after policing an anti-lockdown protest in Bournemouth earlier this month, Dorset Police said this week.
Senior police leaders have lobbied the government for frontline officers to be prioritised when the vaccine roll-out moves beyond the current four vulnerable groups.
'Don't blow it now,' Hancock warns as four million now have vaccine
The Joint Committee on Vaccination and Immunisation (JCVI) has said it would consider exposure risk and occupation in the next phase, and on Wednesday Boris Johnson told MPs he wanted police, emergency service workers and teachers to be vaccinated "as soon as possible".
The CPS recorded 6,469 offences flagged for a link to coronavirus between April and September, involving 2,106 defendants. Ninety per cent of them were convicted.
The total included almost 1,200 prosecutions under the Health Protection Regulations, which initially enforced the national lockdown and have been adapted for different levels of restrictions, local lockdowns, mask wearing and other Covid laws.
The CPS said the cases included a man caught travelling illegally between different areas of Wales to find a prostitute, and a Manchester man who tried to claim attendees at a house party were his support bubble.
Some of the lockdown charges were against people prosecuted for other crimes , such as criminal damage and public order offences, and were breaking Covid laws at the same time.
Other coronavirus-flagged crimes were 480 public order offences, 466 criminal damage incidents, 464 common assaults and 2,234 other offences.
They included people threatening to "infect" victims with coronavirus, the theft of essential items during shortages early in the pandemic, and fraudsters taking advantage of the crisis.
Register for free to continue reading
Registration is a free and easy way to support our truly independent journalism
By registering, you will also enjoy limited access to Premium articles, exclusive newsletters, commenting, and virtual events with our leading journalists
Already have an account? sign in