Police 'hamstrung' by outdated technology in fight against crime, Cressida Dick warns
Metropolitan Police chief denies officers are 'losing battle' against violence 
Lizzie Dearden
Home Affairs Correspondent
Saturday 10 November 2018 12:38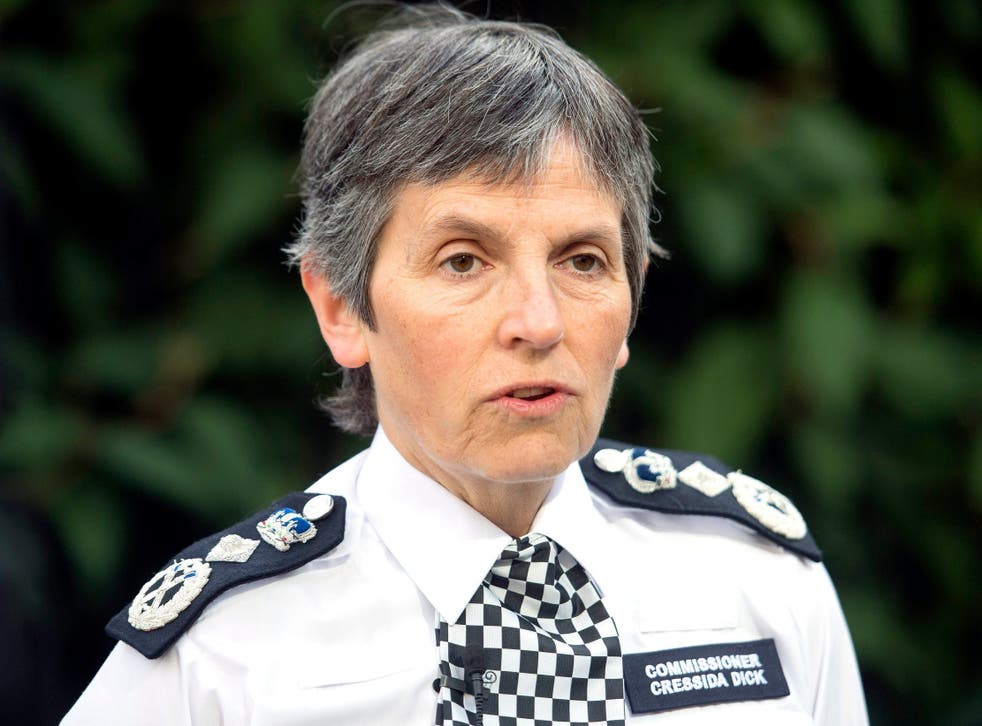 Britain's most senior police officer has said officers are "hamstrung" by outdated technology while the "bad guys" race ahead.
Cressida Dick, commissioner of London's Metropolitan Police, said the government had repeatedly called on the police service to transform itself and make use of new technology, but failed to provide the national leadership needed to do it.
The void has left the 43 forces in England and Wales purchasing new technology ad hoc and at significant expense.
New systems that are introduced do not always "talk" to those in neighbouring forces, and work to combine existing databases into the new "Law Enforcement Data Service" is delayed.
The Metropolitan Police is among forces facing a legal challenge over its trials of controversial facial recognition technology, which compares live or still images of people to those of wanted suspects.
"We are finding ourselves quite hamstrung by a quite complex regulatory system, a quite complex legal framework," Ms Dick told The Telegraph. While police fall behind, she said "bad guys" are "filling their boots with this technology as we speak".
She added: "I am very keen that the law keeps up with technology and I don't feel that we are working in a tremendously enabling environment at the moment."
Police are trailling controversial facial recognition technology in Stratford
Ms Dick made the comments amid a fierce national debate about police funding in the wake of a spate of fatal stabbings.
She denied that police were "losing a battle" but said there was a link between the loss of 20,000 police officers since 2010 and rising violent crime.
"If I had more officers I would put them out on the street and I would put them against violent criminals, and I think it would have an impact," she added.
Last week, home secretary Sajid Javid provoked fury among officers by telling the Metropolitan Police to "step up" its response to knife crime following five murders in under a week.
Senior officers have described "wild west" violence spreading across the UK, as knife crime stands at a record level and crimes including murder and robbery rise.
Ken Marsh, chair of the Metropolitan Police Federation, told The Independent: "We are not the cause of all these deaths, we are doing our utmost to deter them. Violence can't be tackled purely by police – we turn up when someone has been killed or seriously injured and there's an awful lot that happens before that point."
MPs have warned of "dire consequences for public safety" if the government does not increase funding for policing, which has been cut by a fifth since 2010, sparking the loss of 50,000 officers and staff.
UK news in pictures

Show all 49
Ministers have been warned that national officer numbers could hit a record low if forces are made to plug a £600m funding shortfall caused by proposed pension changes.
Senior police officers have also pointed to the impact of government cuts to other services, including youth centres, social services and mental health.
Only counterterror policing was awarded additional funding in the most recent budget, but Mr Javid has vowed to fight for extra money for police in an upcoming financial settlement and government-wide spending review.
Ms Dick's comments came as government named the new recipients of £18m from an early intervention youth fund.
The Home Office said the 29 projects, to be supported over two years, will focus on work with children and young people at risk of criminal involvement and exploitation.
Mr Javid said: "As well as taking immediate action to curb knife crime, we need a longer term approach to prevent our young people from getting drawn into a life of crime in the first place."
The fund is part of the government's serious violence strategy, which was criticised after it emerged that a Home Office document saying police cuts may have worsened crime and "encouraged" offenders was omitted.
It named changes in drug dealing and incitement on social media among the drivers of serious violence.
Following a successful programme in Scotland, the government is now recommending a "public health" approach and is reviewing drug misuse to tackle demand.