Police officer numbers hit record low as reported crime rises by 14% in England and Wales
'The simple reality is that the result of cutting police officers and funding is a rise in crime,' union says
Lizzie Dearden
Home Affairs Correspondent
Thursday 25 January 2018 23:12 GMT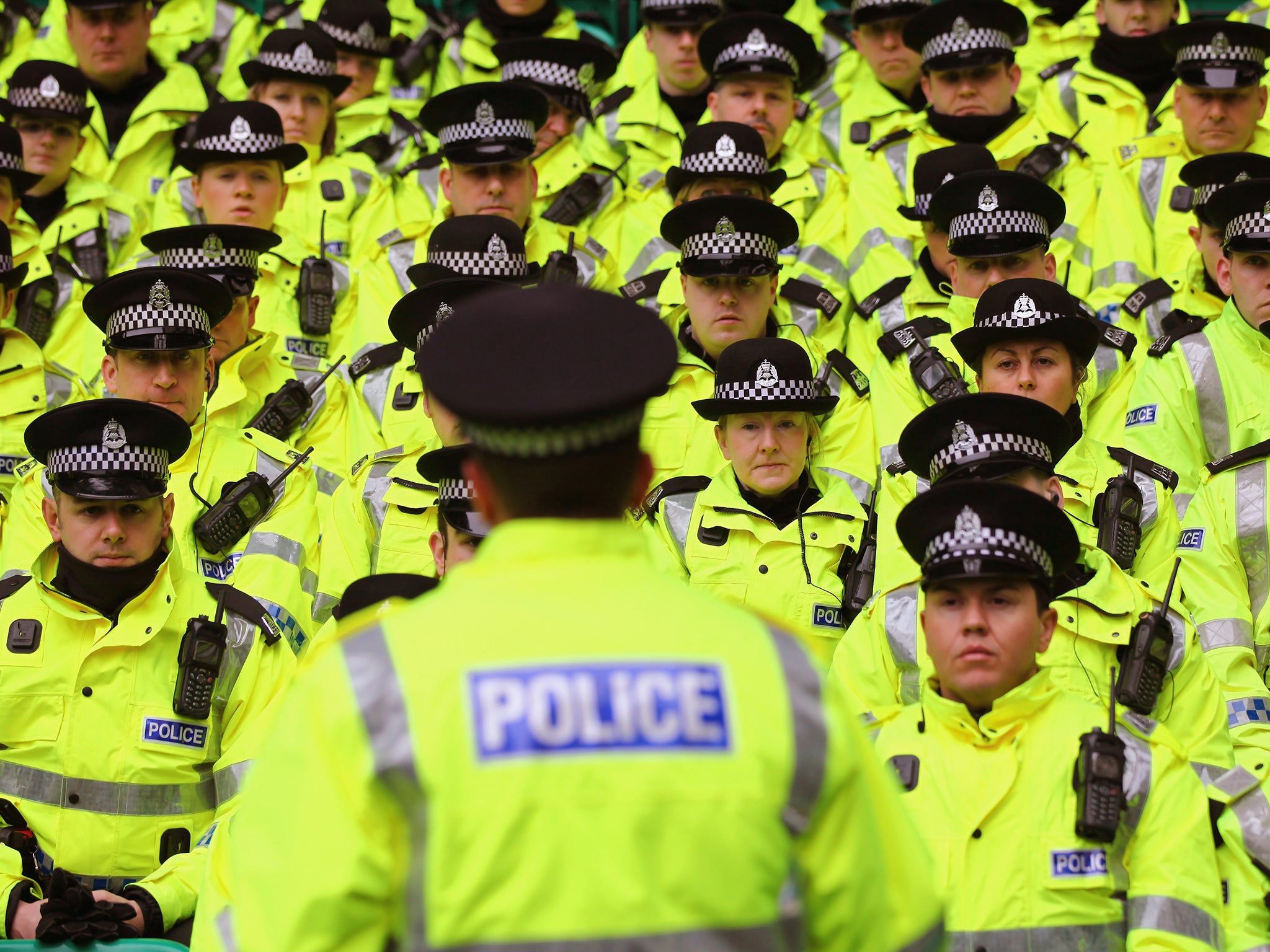 The Government has been accused of "losing control in the fight against crime" as figures show that recorded offences rose by 14 per cent while the number of police officers plummeted to a record low.
Surges in knife and gun attacks drove an increase to 5.3 million crimes across England and Wales in the year to September 2017 – the largest rise since the introduction of a national recording regime in 2002.
There was also more reported burglary, sexual offences, car theft and robbery, all coming alongside the mounting terror threat facing Britain.
But in the same period, the number of police officers fell to 121,929, the lowest figure since comparable records began 22 years ago.
Figures released by the Home Office showed small increases in the number of police staff but further decreases for Police Community Support Officers (PCSOs) – down 5 per cent – and volunteer Special Constables, down 15 per cent.
"These shocking figures reveal that the Tories have lost control in the fight against crime," said shadow policing minister Louise Haigh.
"Police numbers have hit a historic low, recorded crime is rising faster than ever before and more and more criminals are walking free. It just shows you simply cannot trust the Tories to keep our communities safe."
Four held after five injured in Sheffield stabbings
Labour has pledged to recruit another 10,000 new police officers and increase police resources but Conservative ministers have emphasised funding for efficiency drives and new technology.
The Government announced new funding for specific programmes, including counter-terror policing, in December while directing elected Police and Crime Commissioners (PCC) to increase the amount of money taken from council tax to fund local forces.
But the Association of Police and Crime Commissioners said falling police officer numbers were a particular concern as recorded crime levels rise.
Ron Hogg, the lead for workforce planning, said: "The reduction in the number of PCSOs may also have serious implications for the future of neighbourhood policing.
"Whilst the enhanced flexibility on precept given to PCCs will obviously inject more cash into the system, the reality for many forces is that it will have a negligible impact on police officer numbers."
Neighbourhood policing has been identified as a crucial part of counter-terror efforts, with local officers able to spot the signs of radicalisation early and gain the trust of residents.
It is also a priority for the public after a survey showed around half of British people have not seen officers patrolling their area for a year or more.
Concern has been mounting over a rise in terrorism and violent crime, including stabbings, acid attacks and moped robberies.
But the Government's preferred measure – the Crime Survey of England and Wales – shows a decrease of 10 per cent in crime in the same period.
The Police Federation of England and Wales said recorded offences "represent the reality of what members deal with day to day".
General Secretary Andy Fittes claimed the "simple reality is that the result of cutting police officers and funding is a rise in crime".
"Frontline officers are under increasing pressure and dealing with larger caseloads than ever before. This worrying rise in crime will only add to this pressure," he added.
"The reality is there are around 21,000 fewer officers than there were in 2010 and they are having to deal with an ever-increasing number of crimes. This is on top of the numerous other roles they undertake as they serve the public."
Mr Fittes pointed out that areas of police work including counter-terrorism, managing sex offenders, preventing child sexual exploitation, searching for missing people, mental health incidents and security around public events were not reflected in the statistics.
The National Police Chiefs' Council lead for crime recording, Chief Constable Bill Skelly, said officers were dealing with "more complex crime" and an expanding role to protect vulnerable people.
"Our response involves good proactive policing in communities, developing specialist capabilities for more complex crime and working with government and our other partners to find effective ways of intervening early to prevent crime and harm," he added.
The Office for National Statistics (ONS) said police can only record crimes that are brought to their attention and for many types of offence the data cannot provide a reliable measure of levels or trends.
While experts attribute much of the rise in the police data to changes in recording and improvements in victims' confidence in coming forward, there is also evidence that increases in some categories are "genuine".
ONS statistician Mark Bangs said: "These latest figures indicate that levels of crime have continued to fall compared with the previous year, but this picture varied across different types of crime and not all offence types showed falls.
"While overall levels of violent crime were not increasing, there is evidence of rises having occurred in some of the low incidence but more harmful categories such as knife and gun crime."
Police recorded 37,443 offences involving a knife or sharp instrument in the year ending September 2017 – a 21 per cent increase compared with the previous year – and gun-related crime also went up by a fifth in the year.
There were a total 1.3 million "violence against the person offences" from October 2016 to September 2017, again up 20 per cent, including murder, assault, harassment and stalking. Referring to the Crime Survey of England Wales, the policing minister Nick Hurd said the ONS "is clear that overall traditional crime is continuing to fall, and is now down by almost 40 per cent since 2010".
But he acknowledged that "some of the increase in police-recorded violent offences is genuine".
Mr Hurd said the Government was taking "urgent action", pointing to tough new laws to crack down on acid attacks and knife crime and a new strategy to tackle serious violence.
"We know the nature of crime is changing, and I've spoken to every police force in the country to understand the demands they are facing," he added.
"I welcome the fact that the majority of Police and Crime Commissioners are now consulting their communities on plans for next year's council tax to either protect or increase frontline policing."