Damning report on child restraint to be made public
Campaigners condemn three-year cover-up of evidence of the dangers to children in custody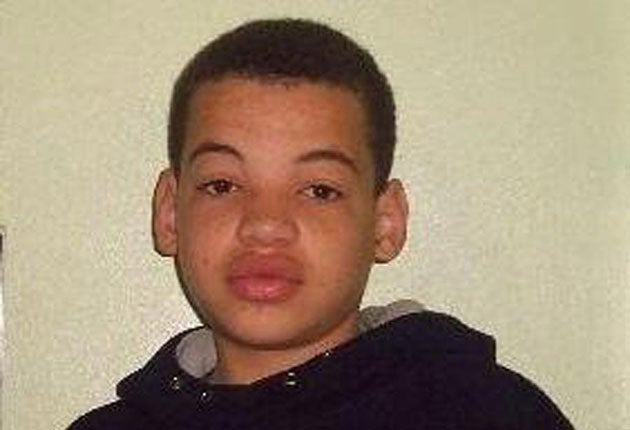 A damning report warning of the dangers of restraint techniques used on children in custody will be made public for the first time this week, after what campaigners say has been a cover-up by the Government.
The document, dated May 2008, is a risk assessment of restraint techniques used to control children. It was undertaken by an expert panel from the British Institute for Learning Disabilities (Bild) for the Youth Justice Board (YJB).
The findings will be disclosed as part of evidence presented at a public hearing on restraint held by Lord Carlile QC in the House of Lords on Wednesday. They highlight the dangers of several forms of restraint – almost all of which remain in use.
Experts looked at seven forms of restraint used commonly in young offender institutions and found that all carried risks of injury or suffocation if used regularly.
Citing "significant concerns on the grounds of safety", the panel recommended "the immediate discontinuation" of the "double embrace lift", and nose and rib "distractions".
But only one has been banned – the "nose distraction", effectively a karate chop to the underside of the nose. Although the experts warned it is "almost sure" to risk injury nine times out of 10, and risks "restricting breathing" in two in 10 cases, it was only officially banned in young offender institutions in January.
Other methods remain in force, such as the "tantrum hold" – assessed as being "almost sure" of risking injury in nine out of 10 cases. Yet it is still employed to prevent self-harm, and was used 110 times in three secure training centres (STCs) between 2006 and 2010.
It was also one of the restraint techniques used on 14-year-old Adam Rickwood the day he committed suicide at Hassockfield STC on 9 August 2004. Months earlier, 15 year-old Gareth Myatt died of asphyxiation after being restrained at Rainsbrook STC.
Experts also assessed the "double embrace lift and escalation", describing it as "unfit for purpose" and "almost sure" of risking injury in nine in 10 cases. The "rib distraction" – a sharp dig in the ribs – is "certain" to risk injury to children 99 times out of 100.
The report was obtained through a freedom of information request by the Children's Rights Alliance for England (Crae).
Campaigners are calling for a ban on painful restraint and legal reforms to protect children's rights in custody.
Carolyne Willow, Crae's national co-ordinator, said: "In the absence of any other explanation, it would appear the YJB chose to bury this report because the assessments of independent experts didn't fit government policy." She added: "What's being done to these children behind locked doors is truly appalling."
And according to the Liberal Democrat peer Lord Carlile, who conducted an independent inquiry into restraint five years ago: "The... use of pain compliant methods of restraint on children should be viewed as a failure."
YJB figures show there were nearly 7,000 restraints in 2009/10 – and more than 250 injuries to children, some requiring hospital treatment. And the proportion of children restrained at least once rose to 12 per cent in 2010, up from 11 per cent the year before.
In a statement, a Ministry of Justice spokesperson said: "Children in custody are some of the most vulnerable young people... and their safety is our highest priority. Restraint should only ever be used against young people as a last resort." The statement added that the Government's review of restraint "noted but did not endorse the findings of this Bild risk assessment".
Bild did not respond to a request for comment on the report.