Mark Duggan's family pledge to fight jury's decision of lawful killing
Carole Duggan says the family will not give peace to the authorities until they get justice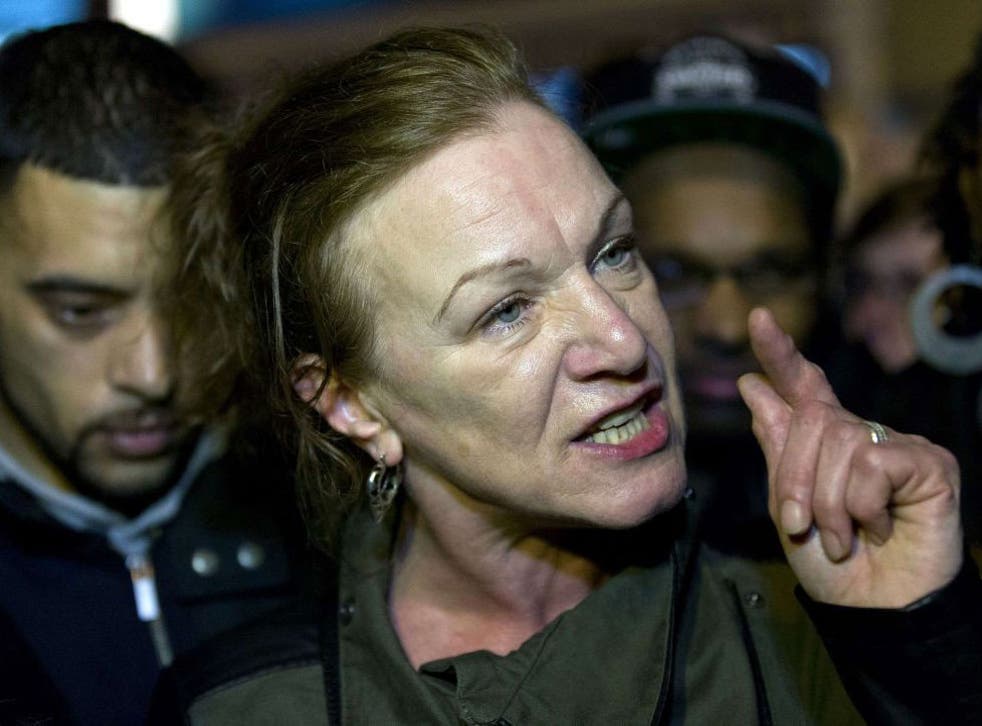 Mark Duggan's family has pledged to fight the jury's decision of lawful killing at the inquest into the 29-year-old's death "through the courts" and said they "will not give peace to the authorities until we get justice".
Carole Duggan, whose nephew died after being shot by armed police in Tottenham, north London in August 2011 leading to riots across the UK, appealed for calm on Thursday less than 24 hours after relatives reacted with fury towards the seven women and three men of the jury once they had decided on their verdict by a majority of eight to two at the end of the four-month inquest.
Mr Duggan's aunt Carole said she wanted "no more demonstrations, no more violence" but that the "struggle" would go on for answers. She said the family were in "turmoil" and not yet ready to meet Metropolitan Police Commissioner Sir Bernard Hogan-Howe.
She also claimed the IPCC had been "incompetent in their investigation from the beginning" and that there was a need for a thorough investigation.
"We do need to go back to the IPCC. We have a lot of questions for them. We really do need a thorough investigation. It's clear the IPCC didn't do that in the beginning. If they had done that, the jury may have come to a different conclusion."
She added: "No more demonstrations, no more violence. But we will not give peace to the authorities until we get justice. We will still be here for as long as it takes."
Mr Duggan's mother Pamela said she wants to overturn a High Court decision which prevented her seeking a judicial review of guidance intended to stop police officers conferring before giving statements. She is fighting for a review of Association of Chief Police Officers (Acpo) policy and her application for permission to take her case to the appeal court is expected to be heard on 7 March.
Mrs Duggan argued in the High Court that Acpo policy did not include "appropriate measures" to reduce the risk that officers directly involved in a fatal shooting conferred with each other before producing accounts. In June last year at London's High Court, Lord Justice Laws and Mr Justice Wilkie blocked her bid to seek a review, ruling that she did not have an "arguable" case.
David Cameron also appealed for a calm response to the inquest verdict that Mark Duggan was lawfully killed by a police marksman despite being unarmed. The Prime Minister said he hoped people would respect the "proper judicial process" and welcomed the stance taken by Carole Duggan.
The Prime Minister said: "I very much respect Mark Duggan's aunt for saying they want to pursue their case through the courts rather than on the streets, I think that's absolutely right.
"These issues raise very strong emotions but I hope people can react calmly and recognise that we have proper judicial processes in this country and they are the ones that must be followed and respected."
Sir Bernard said: "My sympathy is with Mr Duggan's family at the loss of their loved one, and with the communities affected by the consequences of his death.
"I welcome the verdict of a jury that our officers acted lawfully when they confronted an armed criminal who they believed posed a threat to them and to the public. But I recognise that some in the community are still angry at Mr Duggan's death. I know that we have much work to do with black Londoners to build trust and confidence in the Metropolitan Police.
"We know that the arguments will continue about what happened in this case. So we appeal for a balanced debate about the risks to the public from gun crime."
The Duggan family plan to hold a vigil in Tottenham on Saturday afternoon and there are concerns that the event could spark unrest in a repeat of what happened immediately after he was killed in 2011. A Met spokesman said there were no specific plans in place yet other than a "proportionate police force" for when the vigil takes place.
The inconsistencies that remain
1. The gun: The jury decided by 9-1 majority that Duggan threw clear the gun he had with him in the taxi when the vehicle was stopped by armed police officers. Two police officers gave evidence that they had seen one, including V53, who fired the two shots that killed Duggan. V53 said he saw Duggan holding and levelling a gun hidden in a sock towards him when he pulled the trigger. Forensic evidence did not support this and other expert evidence suggested key parts of the police account were incorrect.
2. Shots fired: All 11 officers involved in stopping the taxi wrote in their initial accounts that "several" shots were fired. Most admitted in the inquest they heard only two.
3. The gun's location: Police say they found the gun three to six metres (10-20ft) from where Duggan had fallen, on the other side of a fence. None of the armed officers surrounding Duggan saw it flying in the air just after 6pm on a summer's evening. The sergeant in charge of the stop wrote in all of his statements that he told three armed response PCs to secure the weapon on the grass as soon as they arrived but the officer, known as V59, could not have been sure there was a gun, let alone its location, until later. Judge Keith Cutler, the coroner, described this discrepancy as "a stark problem".
Video: Duggan verdict questioned
Register for free to continue reading
Registration is a free and easy way to support our truly independent journalism
By registering, you will also enjoy limited access to Premium articles, exclusive newsletters, commenting, and virtual events with our leading journalists
Already have an account? sign in