D-Day approaches fast for Huhne as speeding emails passed to police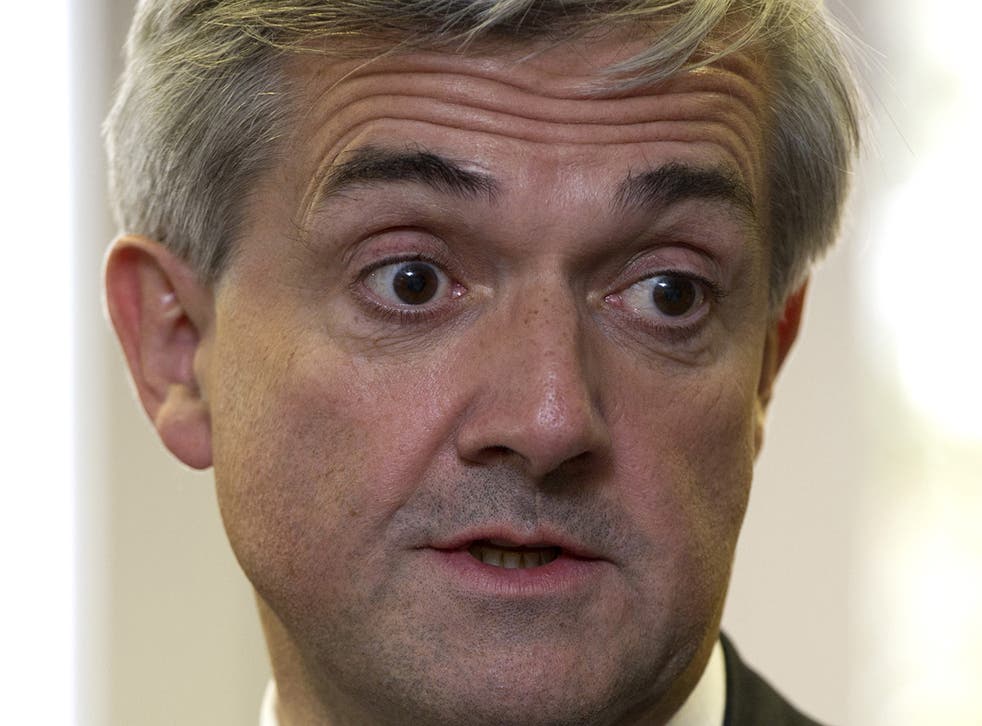 The Cabinet minister Chris Huhne has suffered a major setback in his fight to clear his name over allegations he dodged a speeding fine, as police won the right to obtain emails about the affair from his ex-wife.
After a long police investigation, the Crown Prosecution Service (CPS) could now only be days from a decision on whether to bring charges against Mr Huhne, who strongly denies the claims. The emails are understood to be the final piece of evidence Essex Police is waiting to examine before making its final recommendation to the CPS.
The Sunday Times dropped its refusal to comply with a demand from the force to hand over emails between his former wife, Vicky Pryce, and a journalist at the paper. The Liberal Democrat minister has been accused of asking Ms Pryce to accept penalty points on her licence when a car he was driving was caught on a speed camera.
The Energy and Climate Change Secretary would almost certainly be forced to step down if he was charged, precipitating the third Cabinet reshuffle since the election. A Downing Street spokeswoman said yesterday that David Cameron had confidence in Mr Huhne and refused to speculate over whether he could remain in his post if charged.
However, ministers are on alert for a possible mini-reshuffle as early as next week. The front-runners for elevation to the Cabinet are Lib Dem ministers Ed Davey and Jeremy Browne. Some are also pressing for the return of David Laws, who was forced to quit the Cabinet over his expenses claims days after the election.
The speeding offence is alleged to have occurred in 2003 when Mr Huhne, then a Euro-MP, was driving home from Stansted after arriving at the airport on a flight from Strasbourg. Police began investigating after Ms Pryce claimed in The Sunday Times that Mr Huhne asked "someone" to take points on his behalf to avoid losing his licence. It was subsequently alleged the "someone" was her.
Essex Police have already obtained an affidavit she signed for the newspaper, as well as a taped phone conversation between the couple, who divorced after Mr Huhne left his wife for another woman. They have each been interviewed twice by detectives – on the details of the speeding case and on allegations of trying to pervert the course of justice.
Three months ago, the force was granted permission in court to seize the emails, but the newspaper chose to seek a judicial review of the order. However, it backed off in the High Court yesterday. Andrew Edis QC, appearing for Essex Police and the CPS, said: "It'll now be possible to move the proceedings on towards a charging decision." A CPS spokesman said: "As soon as we've received the evidence we will consider it carefully and will reach a decision as soon as possible."
Mr Huhne said last month he was confident of being exonerated. Asked about the case yesterday, Downing Street said ministers were expected to abide by the ministerial code and "uphold the highest standards of propriety".
Bumps in the road: Case against Huhne
March 2003 Chris Huhne allegedly caught on speed camera on M11 between Stansted airport and London.
May 2005 Elected MP for Eastleigh.
May 2010 Appointed Energy and Climate Change Secretary.
June 2010 Separates from Vicky Pryce after details emerge of affair with former aide Carina Trimingham.
May 2011 Allegations surface that Huhne persuaded his ex-wife to accept the penalty points to prevent him losing his licence. He is interviewed by Essex Police.
June 2011 Police send papers to Crown Prosecution Service.
July 2011 Huhne interviewed again.
August 2011 CPS asks police to continue investigation. Police re-submit papers.
October 2011 Police again told by CPS to gather more information. Sunday Times instructed in court to hand over emails from Ms Pryce.
November 2011 Director of Public Prosecutions, Keir Starmer, says CPS is "very close" to deciding whether to prosecute. The only remaining issue is the Sunday Times evidence, he says.
December 2011 Reports that police have advised the CPS that Huhne and Pryce should be charged. Huhne again insists he will be cleared.
January 2012 Sunday Times agrees to surrender Pryce's emails.