Differences over riot response continue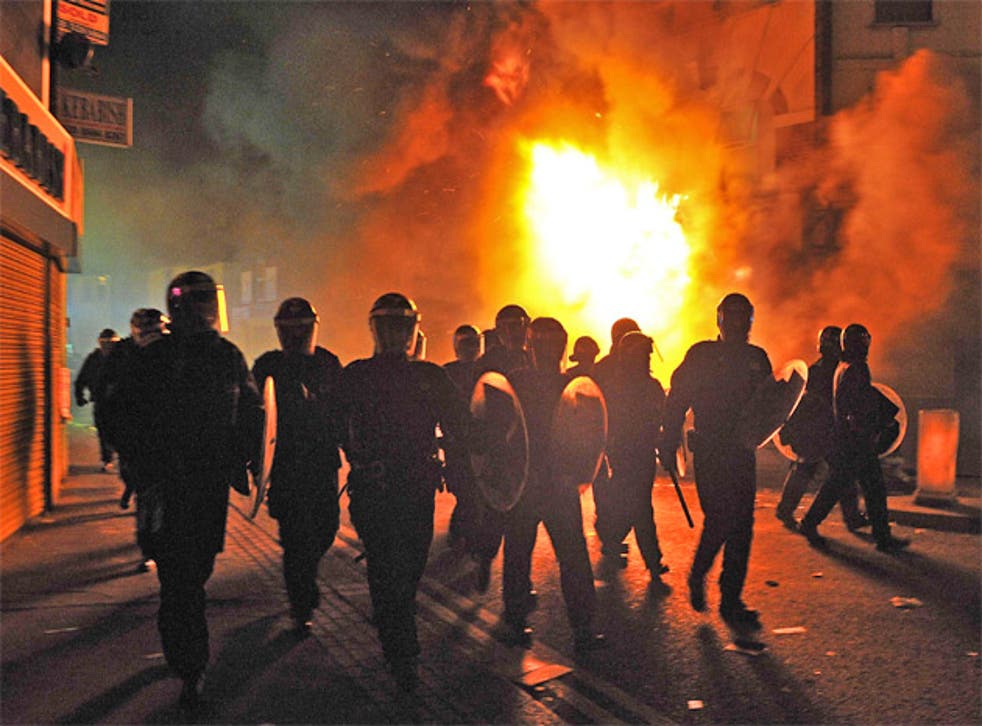 Police and politicians were embroiled in a bitter war of words today over the handling of the devastating riots that swept England.
David Cameron was forced to play down tensions after senior officers hit back at criticism of their response to the crisis.
Acting Metropolitan Police Commissioner Tim Godwin complained of negative comments from people who "weren't there" when the violence began - an apparent jibe at politicians, such as the Prime Minister, who were on holiday.
And Sir Hugh Orde, president of the Association of Chief Police Officers, dismissed the idea that ministers deserved credit for quelling the disturbances.
The differences emerged with police across the country still on high alert despite relative calm over the past couple of days. The "surge" on the streets of London is expected to be maintained until at least next week.
Courts are working through the weekend to clear a huge backlog of cases involving those suspected of looting and other offences. Some 1,600 people have now been arrested, with around 800 already having appeared before magistrates.
According to government figures, two-thirds of those charged have been remanded into custody rather than bailed while they wait for cases to be heard.
Only 122 of the individuals who have gone to court so far are under 18 - despite speculation that children were behind much of the trouble.
In other developments:
:: A 22-year-old man was arrested over the murder of pensioner Richard Mannington Bowes, who was attacked as he tried to stamp out a fire in Ealing on Monday.
Mr Bowes, 68, became the fifth victim of the riots when he died in hospital just before midnight on Thursday.
:: Wandsworth Council became the first local authority to serve an eviction notice on a tenant, whose son has been charged in connection with riots. Mr Cameron has indicated his support for such moves.
:: An inquest into the deaths of three men in Birmingham who were run down by a car while guarding shops from looters was told that police are seeking further suspects, having already arrested four people.
The hearing into the deaths of Haroon Jahan and brothers Shazad Ali and Abdul Musavir, was adjourned with coroner Aidan Cotter ordering that their bodies should be released for burial next Wednesday.
In an emergency session in the House of Commons on Thursday, Mr Cameron said "far too few" officers had been deployed when the trouble first started. Police initially treated the violence "too much as a public order issue" rather than as criminality.
But asked about the criticism of Scotland Yard yesterday, Mr Godwin replied: "I think after any event like this, people will always make comments who weren't there."
He said the public should be "proud" of the way police chiefs had reacted to the rioting.
"We were able to nip this in the bud after a few days," Mr Godwin said. "I think the issue around the numbers, the issue around the tactics - they are all police decisions and they are all made by my police commanders and myself."
Referring to political intervention, Sir Hugh said: "Let's be very clear on one thing - a vital distinction between police and politics remains.
"The police service will make the tactical decisions and quite rightly and robustly we should and must be held to account. If not the system fails."
Mr Cameron insisted that he had not questioned the bravery of the police officers who faced down the rioters.
"They were brave on Saturday, Sunday, Monday, Tuesday. They are brave every day of every year when they put their lives on the line for us. I have huge respect for our police," he said.
"But clearly we needed to act this week to get control of the streets, to get them back for the law-abiding. The police did that, they did change their tactics, they did increase police numbers, that was the right thing to do.
"And through Cobra (the Government's emergency committee) they had the political support of the Government, the Prime Minister and the whole of Parliament to get on and do that."
Speaking on a visit to a fire station in riot-hit Salford, the Prime Minister added: "Clearly there was a need for more on the street, there was a need to change tactics.
"And I think it's right that police took those decisions and changed those tactics, and increased the number of police officers.
"Where I think the Government and the police worked well together was through the Cobra emergency planning committee.
"What I think that does is it helps the police by showing that there was political backing for the changes they wanted to make."
However, Mr Cameron risked inflaming tensions further yesterday by telephoning former New York police chief Bill Bratton.
A Downing Street spokeswoman said: "The Prime Minister spoke to Bill Bratton to thank him for agreeing to make himself available for a series of meetings in the UK in the autumn to share his experience of tackling gangs while police chief in Boston, New York and Los Angeles.
"As the Prime Minister said in his statement to Parliament yesterday, he is keen for the Government to draw on experience and expertise developed in other countries as well as in the UK.
"Bill Bratton, who has long-standing links with British policing, will be providing this advice in a personal capacity and on an unpaid basis."
The former policeman told Associated Press: "This is a Prime Minister who has a clear idea of what he wants to do.
"He sees this crisis as a way to bring change. The police force there can be a catalyst for that. I'm very optimistic."
The American had been tipped as a potential next Scotland Yard commissioner, but Home Secretary Theresa May is believed to have insisted candidates should be British.
Meanwhile, a poll carried out in the aftermath of the riots suggested the public is not happy with their leaders' performance during the crisis.
The survey by YouGov for Channel 4 News found that 84% believed the police had not been "tough enough" and 71% thought politicians had handled the crisis badly.
Reassuringly for Mr Cameron, though, it seems blame for the unrest is not being pinned on Government austerity policies.
More than a fifth (21%) said it was purely criminal behaviour and another 13% pointed the finger at gang culture, while only 7% cited social inequality and 5% cuts.
An online ComRes poll of 2,008 adults for The Independent showed strong backing for the reversal of coalition cuts to police budgets - 71% - and for automatic jail sentences for even the most minor of riot-related offences (78%).
Scotland Yard later said 1210 people had been arrested in connection with violence, disorder and looting in the capital, with 698 charged.
Chancellor George Osborne backed Mr Bratton's analysis and said deep-seated social issues, not the impact of planned police budget cuts, should be the focus for debate.
"We are committed to the plan we have set out for police reform. And it is about reform, about improving the presence of the police in our communities, making the police more visible," he told the BBC Radio 4 Today programme.
"There are very deep-seated social problems which we need to tackle. There are communities that have just been left behind by the rest of the country, there are communities cut off from the economic lifeblood of the rest of the country.
"I don't think the debate should be reduced to whether there should be x-thousand numbers of police officers or x-thousand-plus-one numbers of police officers in our society.
"We want an effective police service. They have done an amazing job this week. We want to use the advice of people like Bill Bratton to really tackle some of the deep-seated social issues like gang culture.
"But this is not just about police budgets; this is about a far bigger challenge for our society, which is dealing with people who we have ignored for too long and helping them feel they have a stake in society."
More criticism of the Government came from John Tully, vice chairman of the Metropolitan Police Federation, which represents rank-and-file officers in the capital.
He said the "omens are not good" that Mr Cameron will back up his tough approach towards dealing with rioters and looters with "a new, robust attitude on the part of the Government to crime and punishment".
"The first question mark, obviously, is their determination to keep cutting the size of the police force - a police force which has been working hard and successfully on behalf of the public putting record numbers of criminals in prison," Mr Tully said in a statement.
"While in Opposition, Nick Clegg called for 3,000 extra police officers. As Deputy Prime Minister, he is now content to say there are sufficient officers and support the 20% cuts.
"Despite what Government politicians say, this cut to police budgets will impact on service delivery and we will see fewer officers on the streets."
He also warned that more prisoners could be released early unless extra prison places were built.
"If the Government really means what it says about protecting the innocent, it must give a guarantee now that there will in future be sufficient prison places to hold those who deserve to be in them and to keep them there. Your call, Mr Cameron," Mr Tully concluded.
Register for free to continue reading
Registration is a free and easy way to support our truly independent journalism
By registering, you will also enjoy limited access to Premium articles, exclusive newsletters, commenting, and virtual events with our leading journalists
Already have an account? sign in
Register for free to continue reading
Registration is a free and easy way to support our truly independent journalism
By registering, you will also enjoy limited access to Premium articles, exclusive newsletters, commenting, and virtual events with our leading journalists
Already have an account? sign in