Drones to patrol the skies above Olympic Stadium
Scotland Yard ready to use radio controlled 'eyes in the sky' to boost surveillance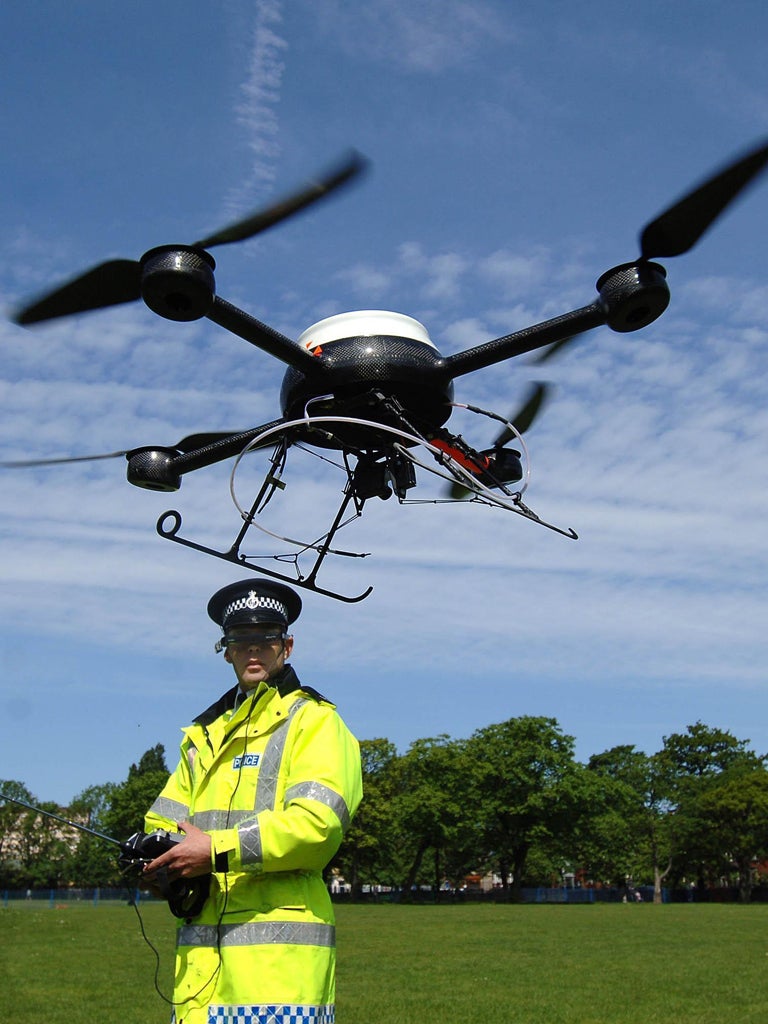 Unmanned drones equipped with surveillance cameras will be flown across the skies of London during next year's Olympic Games, The Independent has learnt.
It is understood that the Metropolitan Police has taken part in discussions with the Civil Aviation Authority over whether they can use small radio controlled devices in heavily built-up areas, as part of efforts to increase their number of "eyes in the sky".
Next year's Olympics will be the largest security operation the Met has ever had to run, as tens of thousands of athletes and millions of spectators flock to the games in Stratford.
The force's Air Support Unit already has three Eurocopter EC145 helicopters based at Lippitts Hill in Loughton, Essex. The aircraft are fitted with an array of high definition cameras and thermal imaging equipment, but officers believe small drones will give them the extra capacity to monitor multiple major events if needed.
The use of surveillance drones by Britain's police forces has had mixed results. At least four constabularies – Staffordshire, Essex, Merseyside and British Transport Police – are known to have used or trialled drones, which are usually little more than a remote controlled mini-helicopter equipped with cameras. But only one, Staffordshire, still uses one.
A spokesperson for Essex Police told The Independent that its drone has been languishing in a warehouse for much of the year after the force decided it wasn't worth the money. The British Transport Police conducted a short drone trial but decided not to purchase one.
Merseyside Police used a £13,000 helicopter drone fitted with surveillance cameras for four years. Officers hailed the craft as instrumental in a number of arrests, but last month it emerged that the helicopter had suffered a malfunction and landed in the river Mersey.
"Despite the conditions a search of the area was undertaken but unfortunately the unit was not found," a spokesperson said. "The force has since received compensation from its insurers to cover the cost of the vehicle." It has since decided not to purchase a new unit because of "operational issues including staff training costs and the inability to use the UAV [unmanned aerial vehicle] in all weather conditions."
Those in charge of running security at the Olympics are reluctant to comment publicly on which extra surveillance devices and defence weapons will be available to them for the event. Last week, the Defence Secretary, Philip Hammond, suggested in Parliament that surface-to-air missiles could be deployed. It has also been reported that RAF snipers will keep watch over events in Lynx helicopters.
Any police force that wishes to fly a drone in a built-up area needs to seek permission from the Civil Aviation Authority. A spokesperson for the Metropolitan Police said they could "neither confirm nor deny" the use of drones during the Olympics. But sources said officers had recently held discussions about how the drones could be used without compromising air safety.
"Any force that wants to use drones inside a danger area have to get permission," the source said. "That means built-up areas, places where people gather en masse like a stadium, or anywhere near flight paths."
A police source with knowledge of aerial surveillance techniques said opinion had largely turned against drones once the go-ahead was given for a National Police Air Service, which will provide helicopters to any police force that needs them. "Surveillance drones are not very high up on our priority list," they said. "They tend to be quite pricey and require a huge amount of training."
Weapon of choice: the RAF reapers
For 10 years they have rained down death from the skies. But as the debate rages over unmanned aerial vehicles, Britain shows no signs of slowing its own drone ambitions.
The Ministry of Defence is spending £135m to increase its current fleet of six Reaper MQ-9 drones to 10, in what military chiefs hope will allow Britain to field at least three machines flying simultaneously at any one time.
As early as next summer we will have a capacity to fly drone missions over Afghanistan from British soil for the first time. Our current fleet of hunter drones are still flown from Creech, a US Air Force base in Nevada, by 39 Squadron. But a tender process is underway to build a new headquarters at RAF Waddington in Lincolnshire.
Former Tornado pilots from 13 Squadron are now retraining to fly what is fast becoming a staple of Britain's air arsenal. Britain's Reaper drones first began flying combat missions in October 2007. Unlike the US, which has rapidly expanded its clandestine drone programme to strike at violent Islamists around the world, Britain has only used drones in Afghanistan.
In September it was quietly announced that British Reapers had discharged their weapons for the 200th time – an indication of how often they are called upon to attack Taliban positions or come to the defence of forces under fire.
Predator that beheaded al-Qa'ida
The CIA's drone attacks in Pakistan have been so successful that al-Qa'ida now has just two senior leaders in the country, US security officials believe.
If Ayman al-Zawahiri and his deputy, Abu Yahya al-Libi, are also killed, al-Qa'ida will be non-existent as an effective terrorist organisation, in a region once regarded as its greatest stronghold.
Predator drone strikes may be controversial, owing to the threat of "collateral damage" and the fact that their use by the US is perceived as an affront to Pakistan's sovereignty. But they are also highly effective.
In the past year Barack Obama's administration has presided over the assassination of Osama bin Laden and almost all his closest associates based in Pakistan, including Atiyah Abd al-Rahman, al-Qa'ida's chief of operations; Atiyah Abd al-Rahman, its deputy leader; and Abu Hafs al-Shahi, its leader in Pakistan.
Quoting unnamed intelligence sources, the Washington Post reported that the losses have forced al-Qa'ida to consider relocating. But they are yet to find a potential new stronghold that would be sufficiently safe.
As well as searching for its two remaining targets, the CIA is now largely using drones to keep an eye on lower-level al-Qa'ida operatives along with other, less influential insurgent groups that are still operating within the country's tribal region.
Guy Adams