Police officers who restrained epileptic man before he died will keep jobs after they are cleared of gross misconduct
Misconduct panel clears officers of violating professional standards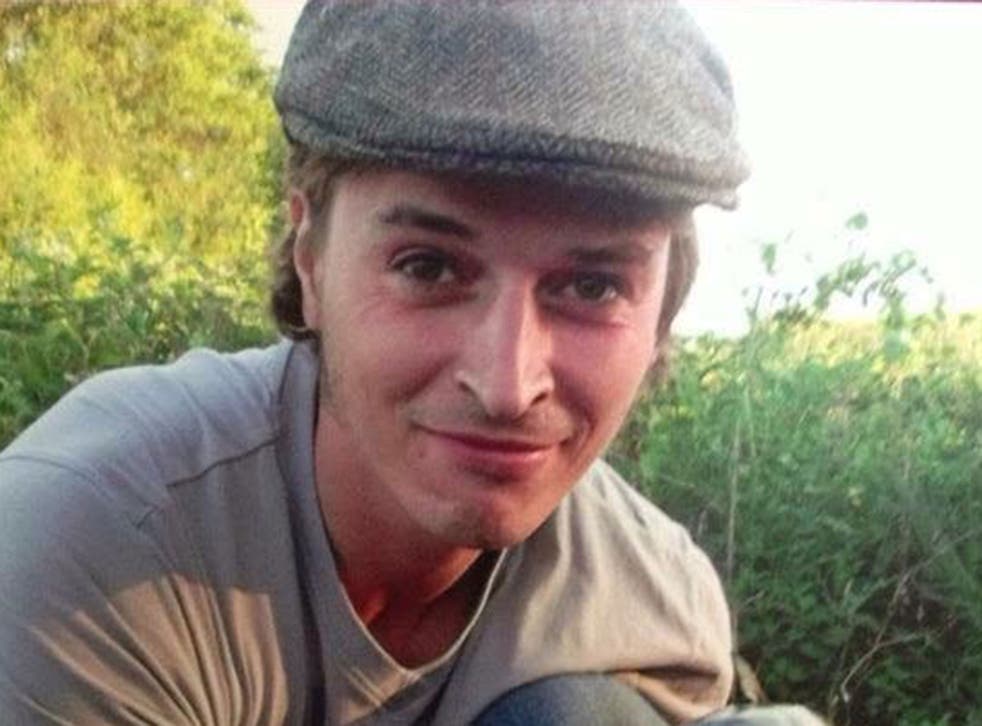 The family of an epileptic man who died after being restrained face down in a police van have said they are "very disappointed" three officers have been cleared of gross misconduct.
Duncan Tomlin's partner warned officers he may be having a seizure when they arrived at her home on 26 July 2014, but they sprayed him with incapacitant, bound his hands and legs and restrained him face-down.
The 32-year-old was restrained for more than seven minutes before officers became concerned for his health, taking him out of their van and administering CPR in Haywards Heath, West Sussex.
But he never regained consciousness and died in hospital two days later, with pathologists finding "positional asphyxia" played apart with his death alongside the methadone and cocaine found in his system.
Sergeant Christopher Glasspool and police constables Jamie Jackson and Daniel Jewell denied gross misconduct after being accused of "inexplicable" delays in removing restraints when they realised there was a medical emergency.
They will not be prosecuted or dismissed from their jobs after they were cleared.
Mr Tomlin's family said in a statement that they were "very disappointed" with a misconduct panel's decision to clear the officers at the end of a four-day hearing.
"However, it is clearly Sussex Police's view that the officers did not follow their training, the policies and guidance in relation to their actions towards Duncan," they added. "We have never sought revenge for the officers involved, we just wanted an honest account of what happened to Duncan that night.
"The forthcoming inquest will clearly need to explore the actions of all of the officers involved with Duncan's restraint, and a wider range of issues than those before this panel."
Mr Tomlin's partner and relatives were also dismayed by the Crown Prosecution Service's previous decision not to charge officers with manslaughter because it found there was no "realistic prospect of conviction".
The hearing at the Sussex Police and Crime Commissioner's office in Lewes, heard that a member of the public had called 999 to report neighbours fighting.
After officers arrived at his Haywards Heath home, they found him outside, but he ran off.
His partner, Ann-Marie Botting, warned officers he was having or about to have a seizure due to his epilepsy but the officers gave chase, the panel heard.
UK news in pictures

Show all 50
When an officer caught up with him in a nearby road, Mr Tomlin punched one, who was not investigated for misconduct, and the pair fell to the floor in a violent struggle.
Mr Tomlin was sprayed in the face with an incapacitant and arrested for assaulting a police officer, Sussex Police's barrister Mark Ley-Morgan said.
Sgt Glasspool, PC Jackson, PC Jewell and two other officers - who are not the subject of misconduct proceedings – then arrived when a call was made for back-up.
Mr Tomlin was restrained on the floor face-down, being handcuffed and placed in leg and thigh restraints while "groaning and shouting", Mr Ley-Morgan said.
He was carried into a police van with his legs curled up behind him, the hearing was told. CCTV footage from inside the van showed the officers kneeling on Mr Tomlin's back and legs while he lay on his front.
His last visible body movement - apart from the rise and fall of his chest – was when he moved his hand, a minute and 33 seconds after being carried into the van, Mr Ley-Morgan said, but restraints were not moved for another four minutes.
Mr Tomlin was in the van for seven minutes and 31 seconds before being carried out, placed on the ground and given CPR, the panel heard.
When a doctor arrived at the scene, he was told Mr Tomlin may have taken drugs but not about a possible seizure or epilepsy, the panel heard.
PC Watson said he told Sgt Glasspool what he heard about Mr Tomlin's epilepsy but explained he did not think he was showing signs of a seizure.
Sgt Glasspool said he did "everything he could" to save Mr Tomlin's life but claimed he was never told about the possible seizure until after paramedics arrived.
The officer of 17 years, who accepted he was responsible for supervising the situation, said he could hear Mr Tomlin "screaming and shouting incoherently" when he arrived to help other officers already on the scene.
Relatives began to cry as he told the hearing he began to "panic" when Mr Tomlin "suddenly" stopped shouting when inside the van.
When asked why he took so long to move Mr Tomlin on his side even though there were seven officers present to assist, he said it was a "dangerous manoeuvre".
Sgt Glasspool made no mention of epilepsy or a possible seizure in his written statement on the incident and refused to answer questions until the hearing, the panel was told.
Deborah Coles, the director of the charity, Inquest, said the misconduct panel's conclusion was hard to reconcile with the "harrowing evidence" heard during the hearing.
"We await the inquest and hope it will bring further scrutiny on the actions leading to the restraint related death of this vulnerable man," she added.
Inquest said the past year has seen the highest number of deaths in and following police custody in more than a decade and a rise in deaths after restraint.
Ms Coles said: "Without accountability, both at an individual and corporate level, these deaths will continue. Police leaders must take urgent action to drive the necessary change in culture and policy to prevent more needless loss of life."
Sussex Police Assistant Chief Constable Steve Barry expressed regret for Mr Tomlin's "tragic and unexpected" death and passed his wishes to his family for their loss.
"The circumstances of Mr Tomlin's death have been fully and independently investigated," he added. "Four years after his death the independently-chaired misconduct hearing has concluded that the officers acted appropriately in the situation they faced and that they did meet the standards of behaviour that the public should expect from the police. This investigation has demonstrated the difficult judgements that officers have to make, day in and day out, as part of their routine duties."
The Independent Office for Police Conduct, which found the officers had a case to answer for gross misconduct, said it would pass its report to the coroner for the upcoming inquest into Mr Tomlin's death.
Regional director Sarah Green added: "This was a tragic case in which a young man lost his life and my thoughts are with Duncan's family and friends and all those affected by his untimely death."
Additional reporting by PA
Register for free to continue reading
Registration is a free and easy way to support our truly independent journalism
By registering, you will also enjoy limited access to Premium articles, exclusive newsletters, commenting, and virtual events with our leading journalists
Already have an account? sign in
Register for free to continue reading
Registration is a free and easy way to support our truly independent journalism
By registering, you will also enjoy limited access to Premium articles, exclusive newsletters, commenting, and virtual events with our leading journalists
Already have an account? sign in