Editor 'forced to watch Sheridan confession in his underwear'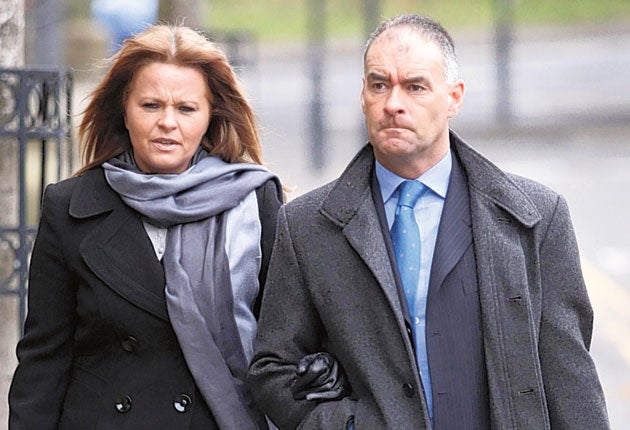 The editor of the Scottish News of the World was ordered to strip to his underpants by Tommy Sheridan's best man before being shown a secretly filmed video which allegedly proved the politician lied in court during his successful libel trial against the newspaper, Glasgow High Court was told yesterday.
Journalist Bob Bird described how he was summoned to an address in Pollok, Glasgow, in a series of "cloak and dagger" instructions by an anonymous caller who claimed to have vital information on Sheridan, the former leader of the Scottish Socialist Party.
The court heard that when he arrived at the address, Mr Bird, 54, was offered the tape in return for £250,000 and ordered to undress to make sure that he was not carrying a concealed "wire".
The meeting followed Mr Sheridan's 2006 libel victory against the News of the World, in which he was awarded £200,000 over claims that he had affairs and visited sex clubs. The film, made in 2004, is alleged to contain footage of Mr Sheridan admitting the claims.
"I took a phone call the week after the defamation trial ended," Mr Bird told the jury. "I didn't know who that call was from. The man on the end of the phone had something that could help prove that Tommy Sheridan had lied in court."
Mr Bird said the caller was George McNeilage, who was a close friend and associate of the Sheridans'. He continued: "He held up various signs telling me not to talk, he told me that he wanted to check if I was wired up. He asked me to remove my clothes, which I did."
He added: "I went into the toilet and put them in a bag. I kept my underwear on. He said, 'I'm Tommy's best man', at which point my blood ran cold as I thought Tommy Sheridan was going to burst into the room with a video camera. To my relief he then said, 'I'm going to show you a tape', so I sat on a sofa in my underwear and we watched the tape."
Mr Sheridan, who is representing himself, challenged Mr Bird over why he believed it to have been in the public interest to publish the details of the tape, for which Mr McNeilage was eventually paid £200,000.
The editor said: "In the public interest it proved that you had stood in court and lied, and it proved to my mind that 18 people who had given evidence on our behalf and been wrongly labelled as liars, it proved that they had been telling the truth."
Mr Sheridan and his wife, Gail, both 46, both deny perjury during the libel trial. The case continues.