Driver chased moped rider after wing mirror broken, ran him down then beat him as he lay dying
'As Soban Khan lay virtually motionless, totally defenceless and fatally injured, such was this defendant's rage that he went over to him and beat him'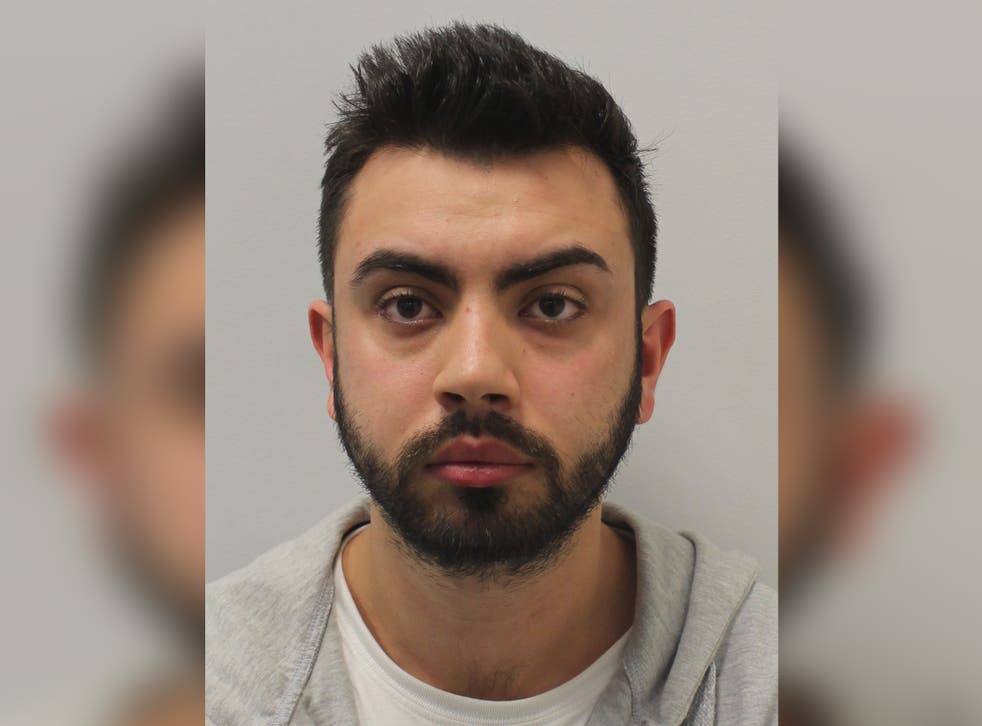 A motorist led a "brutal" and "unrelenting" pursuit of a teenager before mowing him down and killing him, a court heard.
Bradley Clifford, 24, flew into a rage when his "prized" red Ford Mustang muscle car was hit with a bottle and began a "relentless" chase of a moped carrying Soban Khan and his friend Jahshua Francis, London's Old Bailey was told.
Mr Francis weaved into oncoming traffic and tried to mount the pavement in a bid to escape, but he and Mr Khan, riding pillion, were thrown into the air when Clifford crashed into them in the early hours of 5 August last year.
As Mr Khan lay dying in the road, Clifford then leapt out of his car and beat him, London's Metropolitan Police said.
The attack in Enfield, north London, followed a confrontation between two groups of young people outside a bar shortly after 3am that morning, the court heard.
A fight was proposed at a nearby car park but instead the chase ensued.
"The moped was no match for the might of the Mustang," Prosecutor Aftab Jafferjee QC said. "It was rapid, it was brutal and it was unrelenting. He pursued the moped down a straight stretch of road at speed. Not to apprehend the two people on it, but to mow them down for daring to damage his prized vehicle.
"As Soban Khan lay virtually motionless, totally defenceless and fatally injured, such was this defendant's rage that he went over to him and beat him."
Mr Francis escaped "somewhat miraculously" with minor injuries, he added.
Mr Khan was pronounced dead at the scene around an-hour-and-a-half after the crash. A post-mortem concluded that he had died of multiple injuries.
Mr Francis was taken to hospital and has since recovered from his wounds, police said.
Clifford was initially arrested on suspicion of causing death by dangerous driving but on 17 October was later charged with murder by London's Metropolitan Police.
He denied the charge, but the jury convicted him of both murder and attempting to inflict grievous bodily harm by a majority of 10 to two. He is due to be sentenced on Friday, 4 May.
"It quickly became apparent that Clifford had targeted the moped and even continued to assault Soban Khan after the collision," said Detective Sergeant Harbir Kooner.
"There is no judicial outcome that can bring Soban back to his family, but I hope, that in some small way, today's sentencing gives them a measure of closure and comfort."
In a statement, Mr Khan's family said: "Soban was taken from us at the tender age of 18 years old, he was known as a great son, great brother and a key family member
UK news in pictures

Show all 50
"Unfortunately with boundless pain, we will never see him become anything more. Not a husband, not a father, not the successful man he wanted to be and most of all the end of a generation. His death has left the whole family with an empty state of mind and an empty hole in their heart. We will never recover from the grief and loss of such a loving, strong, enthusiastic and talented young man."
They added: "His absence is felt every single day, we were not only grieving yesterday or today, but we will continue to grieve for the rest of our lives. No amount of justice will ease the suffering, the sorrow and the tears we have been put through as a family. We will never see, speak or hear from Soban again and this pain will never end for the rest of our lives."
Additional reporting by agencies
Register for free to continue reading
Registration is a free and easy way to support our truly independent journalism
By registering, you will also enjoy limited access to Premium articles, exclusive newsletters, commenting, and virtual events with our leading journalists
Already have an account? sign in
Register for free to continue reading
Registration is a free and easy way to support our truly independent journalism
By registering, you will also enjoy limited access to Premium articles, exclusive newsletters, commenting, and virtual events with our leading journalists
Already have an account? sign in