England fan extradited to Portugal to serve jail term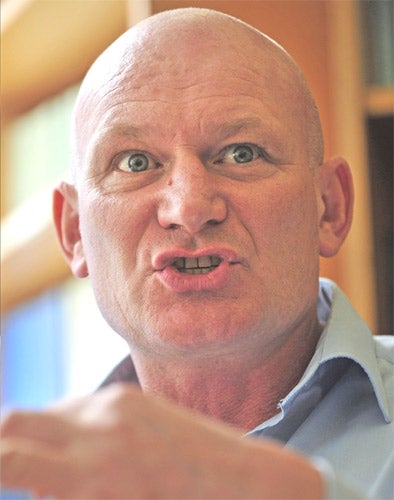 An England football fan who was convicted after a riot during the Euro 2004 tournament will be extradited to Portugal today to serve a two-year jail sentence.
Garry Mann, 52, claims he has never received a fair trial, but last week his lawyers failed in a last-ditch attempt to secure a judicial review at the High Court. Yesterday his representatives confirmed he will travel from Heathrow to Lisbon at 4.20pm and then be transferred to prison.
Mann said he had been caught up in extradition laws intended for terrorists. "I have been let down by the politicians that agreed to the UK's rigid extradition laws and the European Arrest Warrant and by the judges who no longer seem willing to stand up for justice," he said.
"This was supposed to have been for terrorists implemented after the 9/11 attack but, for some reason, I have been caught in its net. I am not the first victim of this system and, until it's reformed, I won't be the last."
Jago Russell, of Fair Trials International, said Mann's trial was a "travesty of justice" and that the decision to extradite him was an "outrage".
He said: "Politicians in the UK and Europe must now wake up to the injustice being caused under Europe's fast-track extradition system and reform it before countless others suffer the same fate as Garry."
Mann, a former fireman and father of six from Faversham, Kent, claims he has been the victim of a "witch-hunt" by the Portuguese authorities.
A Birmingham City supporter, he says he was drinking with friends in a bar in Albufeira when a riot broke out in a nearby street. Mann was arrested, tried and convicted within 48 hours.
His lawyers said he was only granted five minutes with a lawyer before trial, could not understand the proceedings and did not know what charge he faced until after he was convicted.
After the trial, Mann consented to his deportation to the UK after reportedly being told by the Portuguese authorities that the sentence would not be carried out if he agreed to voluntary deportation.
When he was back in the UK, a police chief applied for a worldwide football banning order preventing him from travelling abroad to attend matches. Justice Stephen Day refused because, he said, the trial in Portugal had been "so unfair as to be incompatible with the respondent's right to a fair trial".
But in October 2008, British police arrested him, acting on a European Arrest Warrant issued by their Portuguese counterparts. Portugal has sought his extradition because Mann did not serve his sentence in the UK after being deported.
Last month the European Court of Human Rights rejected his application to halt his extradition while he mounted a legal challenge. The Serious Organised Crime Agency has maintained that it has no power to halt extradition.