Essex lorry deaths: Police launch manhunt for brothers wanted on suspicion of manslaughter and human trafficking
Ronan and Christopher Hughes are believed to be in Northern Ireland 
Lizzie Dearden
Home Affairs Correspondent
Tuesday 29 October 2019 14:54 GMT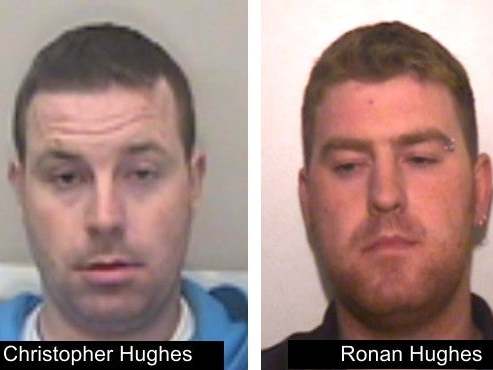 Update: Essex police have confirmed that no further action will be taken against Christopher Hughes
Police are hunting two more suspects over the deaths of 39 migrants whose bodies were found in a lorry in Essex.
Ronan Hughes, 40, from Armagh in Northern Ireland and his 34-year-old brother Christopher Hughes are wanted on suspicion of manslaughter and human trafficking.
Investigators said speaking to the pair, who have links to both Northern Ireland and the Republic, was "crucial" to their investigation.
Ronan, who also goes by the name Rowan, and his brother are currently believed to be in Northern Ireland and police are appealing for anyone with information to come forward.
Detective Chief Superintendent Stuart Hooper said: "If you know where they are or have any information about their whereabouts, I need you to call my team.
39 bodies found in lorry container in Essex
Show all 15
"This is a case where 39 men and women have tragically died and support from the community is going to be vital to help bring those responsible to justice.
"You may think the piece of information might be insignificant but even the smallest detail could be vital so please contact my officers."
Three other people arrested in connection with the investigation, two men aged 46 and 38, and a 38-year-old woman, have been released on bail until next month.
Maurice Robinson, 25, of Craigavon in Northern Ireland, has been charged with 39 counts of manslaughter, conspiracy to traffic people, conspiracy to assist unlawful immigration, and money laundering. He is next due to appear at the Old Bailey on 25 November.
A magistrates' court hearing on Monday heard that the lorry driver was part of a "global ring" of smugglers.
The bodies of eight women and 31 men were found in a refrigerated trailer attached to a lorry in an industrial park in Grays in the early hours of last Wednesday.
Efforts are underway to formally identify the victims after several were named by concerned relatives as young Vietnamese people who paid smugglers to reach the UK for work.
One woman feared to be among the dead, 26-year-old Pham Tra My, sent a text on the night of 22 October saying she was suffocating.
"I am really, really sorry, mum and dad, my trip to a foreign land has failed," she wrote. "I am dying, I can't breathe. I love you very much."
Her father, Pham Van Thin, said smugglers had claimed the route to Britain was safe and involved travel by planes and cars.
Fourth person arrested in connection with 39 bodies found in Essex container
The VietHome organisation has sent photos of almost 20 missing Vietnamese citizens to investigators.
Essex Police said it was working to "achieve justice for each of these victims and their loved ones" in the largest identification process of its kind in the force's history.
Officials are compiling evidence according to international standards, including DNA, dental records, tattoos and scars, as quickly as possible so victims can be identified and repatriated.
Investigators are inspecting belongings from each of the victims, including phones and clothes, but said very few documents were recovered.
Police are also looking at a "wider conspiracy" after claims surfaced that the lorry could have been part of a convoy of three carrying around 100 people.
Vietnam's prime minister Nguyen Xuan Phuc has ordered investigations into alleged human trafficking in Vietnam, following years of warnings by British authorities over the use of Vietnamese modern slaves in UK cannabis farms and nail bars.
The Vietnamese embassy in London has started a hotline while the ambassador to the UK, Tran Ngoc An, spoke to Priti Patel on Friday night before meeting investigators from the National Crime Agency and Essex Police.
It is not yet known when the victims entered the trailer, where temperatures can be as low as minus 25C if the fridge is activated, or the exact route it travelled.
In Belgium, police are hunting the driver who delivered the trailer to the port of Zeebrugge, where it stopped on Tuesday afternoon before driving onwards towards Britain.
The trailer arrived at Purfleet at around 12.30am on Wednesday, and was picked up by the cab, which arrived from Northern Ireland via Holyhead in North Wales on Sunday.
The lorry left the port at Purfleet shortly after 1.05am before police were called to the Waterglade Industrial Park on Eastern Avenue in Grays at 1.40am.
Anyone with information is asked to contact police on 101, online or contact Crimestoppers anonymously on 0800 555 111.