Essex lorry deaths: Two people smugglers found guilty for deaths of 39 Vietnamese migrants
The migrants, aged between 15 and 44, were found in the back of a trailer in Essex on October 23 last year.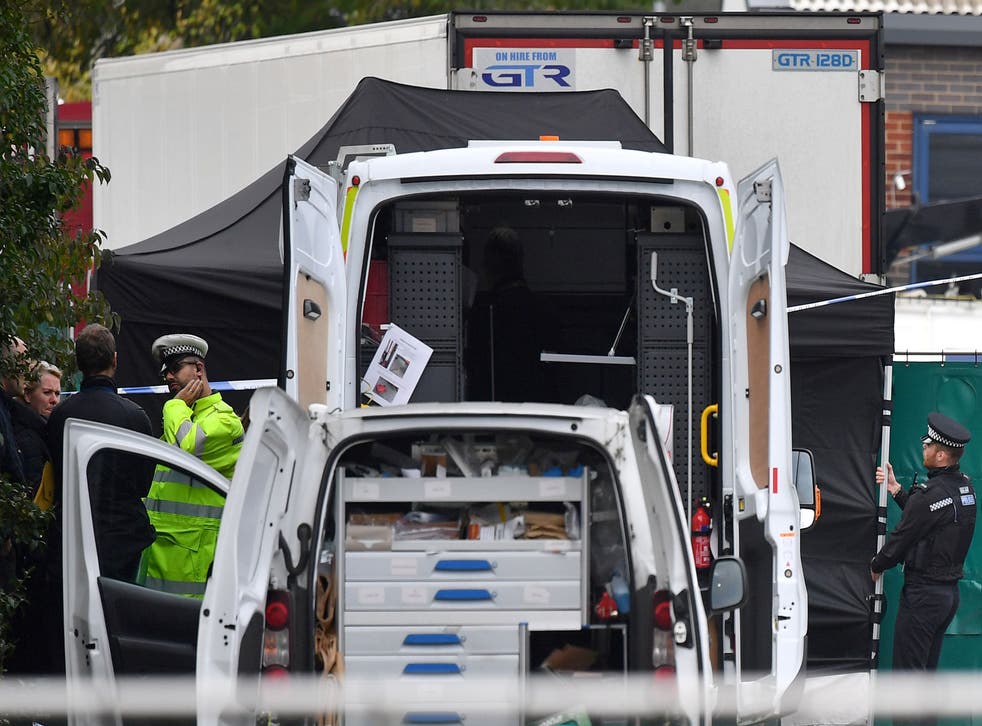 Two members of a people-smuggling ring are facing life in jail after being found guilty of the manslaughter of 39 Vietnamese migrants.
Romanian ringleader Gheorghe Nica, 43, and lorry driver Eamonn Harrison, 24, were convicted of 39 counts of manslaughter on Monday following a 10-week trial.
Their victims, aged between 15 and 44, suffocated in a sealed refrigeration container being transported from Zeebrugge to Purfleet. They were found in the back of a trailer in Essex on 23 October last year.
The court heard the gang behind the shipment were motivated by greed and had raked in profits of more than £1m on the operation for that month alone.
Nica, of Basildon, Essex, and Harrison, of Mayobridge in Northern Ireland, were also convicted of breaching immigration laws alongside Christopher Kennedy, 24, of County Armagh, and Valentin Calota, 38, of Birmingham.
Detective Chief Inspector Daniel Stoten, of Essex Police, said the gang were "greedy" but "complacent".
He said: "You would not transport animals in that way but they were quite happy to do that and put them at significant risk."
The latest verdicts bring the total number of people convicted in Britain to eight, including haulage boss Ronan Hughes and lorry driver Maurice "Mo" Robinson.
The Old Bailey heard how the gang offered a "VIP" service to Vietnamese migrants, who gathered in Belgium and France.
They charged about £13,000 a head to transport the migrants in a trailer, through the Channel tunnel or by boat, to Essex.
The network, led by Nica and Hughes, had been operating for at least 18 months, despite repeatedly coming to the attention of authorities.
On the morning of 22 October, Harrison picked up the 39 migrants from Bierne in France.
His trailer was loaded on to the Clementine ship which departed from Zeebrugge at about 4pm, docking at Purfleet shortly after midnight.
Robinson, who collected the trailer at 1.08am, was instructed by Hughes via Snapchat to "give them air quickly, don't let them out".
When he opened the doors, a plume of vapour escaped and Robinson stood for 90 seconds.
In the 23 minutes before he dialled 999, Robinson exchanged panicked calls with his boss Hughes and Nica, who had been waiting for him in Orsett with his drivers.
The first police officer on the scene described finding half-naked bodies "closely packed" together lying in the trailer, some "frothing at the mouth".
Mobile phones recovered from the victims showed how they had tried to raise the alarm and left goodbye messages for loved ones as they ran out of air.
Others had used a metal pole to try to punch a hole through the roof or attract attention, the court heard.
Kennedy, Harrison and Calota, who picked up migrants at Orsett on 18 October, claimed they had thought they were transporting cigarettes, alcohol and stolen lorry parts.
Nica admitted being roped in by convicted cigarette smuggler Hughes for earlier runs, but said he thought Robinson had a load of cigarettes when he showed him where he could unload in Orsett the night before the tragedy.
But prosecutor Bill Emlyn Jones told jurors the operation required "meticulous" planning and each defendant had to be "in the know".
Anti-Slavery International's chief executiveJasmine O'Connor said: "Today's guilty verdicts can't bring back the 39 people who suffocated in an airless trailer last year. This whole sorry case has exposed the abject failure of the government's immigration policy.
"People are going to continue to seek a better life here in the UK. Hard borders and the 'hostile environment' will drive some to take the least worst option available to them; this could draw them into the hands of criminals on either side of the Channel, and leave them at risk of trafficking, modern slavery or worse.
"It's time for the government to change course and offer safe routes for people to enter the UK, and serious options for them to escape from exploitation. If it fails, this kind of tragedy is sadly likely to recur."
Mr Justice Sweeney adjourned sentencing of all the defendants until January 7, 8 and 11.
Register for free to continue reading
Registration is a free and easy way to support our truly independent journalism
By registering, you will also enjoy limited access to Premium articles, exclusive newsletters, commenting, and virtual events with our leading journalists
Already have an account? sign in