Finsbury Park attack: Imam tells court how he stopped angry crowd taking 'vengeance' on Darren Osborne
'I said he should answer for his crime in a court like he is doing now, not in a court in the streets'
Lizzie Dearden
Home Affairs Correspondent
Wednesday 24 January 2018 19:42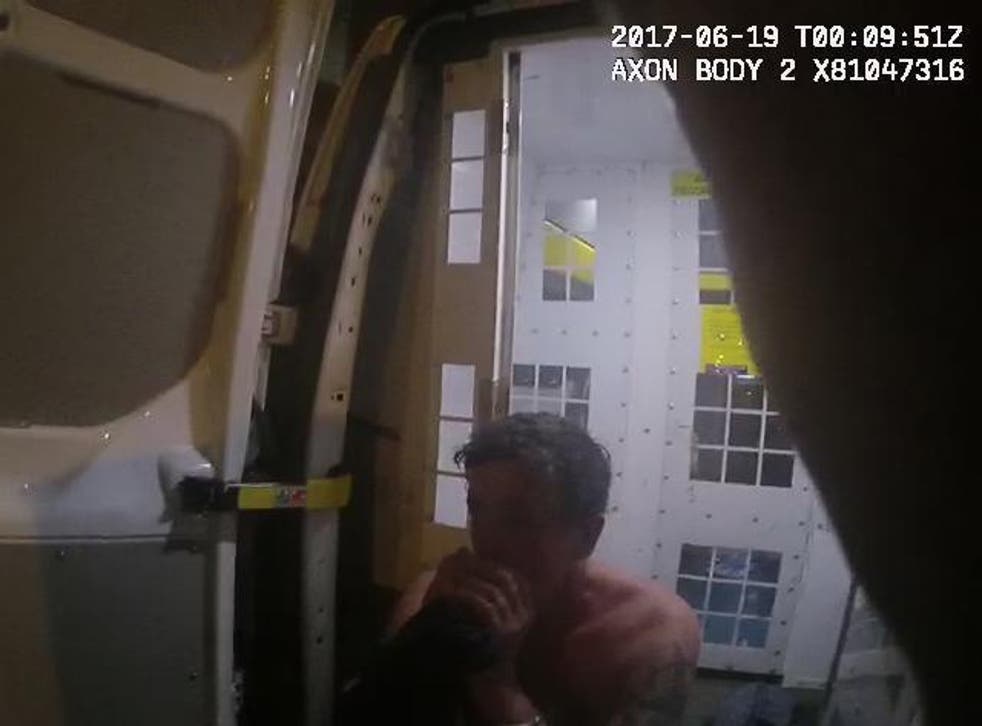 An imam has told how he protected the alleged Finsbury Park attacker from an angry crowd after he ploughed a van into Muslim worshippers.
Woolwich Crown Court heard Darren Osborne deliberately drove the vehicle into a crowd that had gathered to help Makram Ali after the 51-year-old collapsed on leaving Ramadan prayers.
Ibrahim Benaounda, who saw the grandfather fall to the ground, heard some of his last words as he lay on the pavement.
"He said he just wanted to go home and tried to get up," he said. "I reassured him, I told him I would get some water."
Waleed Salim, who was himself injured, said he thought Ali "would have been fine if the ambulance had arrived before what happened next".
Witnesses told the court they heard the van accelerating and saw its lights before it struck, leaving victims "splattered all over the place".
A chilling 999 call that captured the moment of the attack was played to the court, showing survivor Adnan Mohamud relaying Ali's condition to the operator before his voice was cut off.
Shouting and screaming can be heard in the background, with people calling their loved ones' names, before Mr Mohamud comes back on to the phone to say: "Someone just came in a big white van and ran over a lot of people… people are dead, he just ran over everyone."
Ali died of his injuries and nine other people were seriously wounded. Mr Benaounda said he could "feel my bones breaking" when the vehicle hit.
Among the victims whose accounts were heard were a disabled man who was knocked out of his wheelchair, a deaf man, a victim who suffered a fractured skull and one whose artificial leg was run over in the attack.
Another man was trapped under the van, with his cousin. Around 50 other members of the public battled to lift if off him and pull him free.
Witnesses told the jury Mr Osborne crashed the vehicle into a bollard and got out attempting to flee, but found himself at a dead end and was forced to run back towards the scene.
The court heard men attempted to "grab" the defendant, but they struggled to bring him to the ground as he punched them and "hit out" while trying to escape.
Survivors claimed that he was "constantly smiling" as he was restrained by the crowd, telling them: "I've done my job, you can kill me now."
The 48-year-old sat silently in the dock as the prosecution evidence was heard, sometimes resting his head in his hands or fiddling with his nails.
Mohammed Mahmoud, the imam of the nearby Muslim Welfare House, said a member of his congregation ran into the mosque and said there had been an attack shortly after the incident on 19 June.
"As soon as I arrived, I saw bodies left and right," he told the court. "I saw Mr Ali on the floor having CPR and I saw the attacker on the floor, face down with two or three people on top of him."
Mr Mahmoud told the jury around a dozen people were trying to kick and punch Mr Osborne until he approached and told them to get back and call the police, leaving him "unscathed".
"He was immobilised, he wasn't a threat anymore," the imam added. "I said he should answer for his crime in a court like he is doing now, not in a court in the streets."
Mr Mahmoud described the atmosphere as "incredibly heated" and told the court he was concerned Mr Osborne would be injured.
"There's a rule of law that must be respected and we shouldn't let our emotions and our desire to see vengeance dictate our decisions," he said.
Finsbury Park attack

Show all 14
The imam was one of several people who then flagged down a passing police van.
"There was a crowd forming around him and I couldn't hold them back," he said, adding that he told officers "that they should take him now".
The officers who had been driving past on a routine patrol described scenes of "complete pandemonium" involving at least 100 people, who at first gave conflicting accounts of what had happened.
Finding Mr Osborne pinned to the ground, they handcuffed him and took him to their van, where Finsbury Park resident Susan Can said she saw the defendant "blow a kiss to the crowd".
Police told the court they conducted a roadside breath test after hearing some members of the public claim he was a drink-driver, but it indicated that there was no alcohol in his breath.
PC David Jones said that after Mr Osborne had been arrested and searched in the police van, he started to speak without prompting.
Clips of body-worn camera footage played to the court showed the defendant launching into expletive-filled rants about Muslims, accusing them of "hunting" and raping white women across the UK and making a series of racist comments.
While repeatedly referring to Rotherham and grooming, Mr Osborne is also heard attacking Jeremy Corbyn, Lily Allen, the Iraq War and the Labour Party, sarcastically repeating the phrase "don't look back in anger" and claiming: "Someone has got to rise up."
"Sadiq Khan, what's he up to tomorrow, eh?'' he said, before bursting into laughter.
Another police officer who took Mr Osborne to hospital to be checked over at 2am said he was being examined by a doctor when he said: "I accelerated a big van by about 20ft into a lot of people and then I got out, there was an altercation and I was held."
Mr Osborne made no comment while being arrested for murder after Ali was pronounced dead, the court heard.
The defendant, of Glyn Rhosyn in Cardiff, denies charges of murder and attempted murder.
The trial continues.
Register for free to continue reading
Registration is a free and easy way to support our truly independent journalism
By registering, you will also enjoy limited access to Premium articles, exclusive newsletters, commenting, and virtual events with our leading journalists
Already have an account? sign in