Finsbury Park Mosque: Jeremy Corbyn cheered as he speaks to witnesses and emergency services at scene
MP and opposition leader described incident as 'horrific and cruel attack'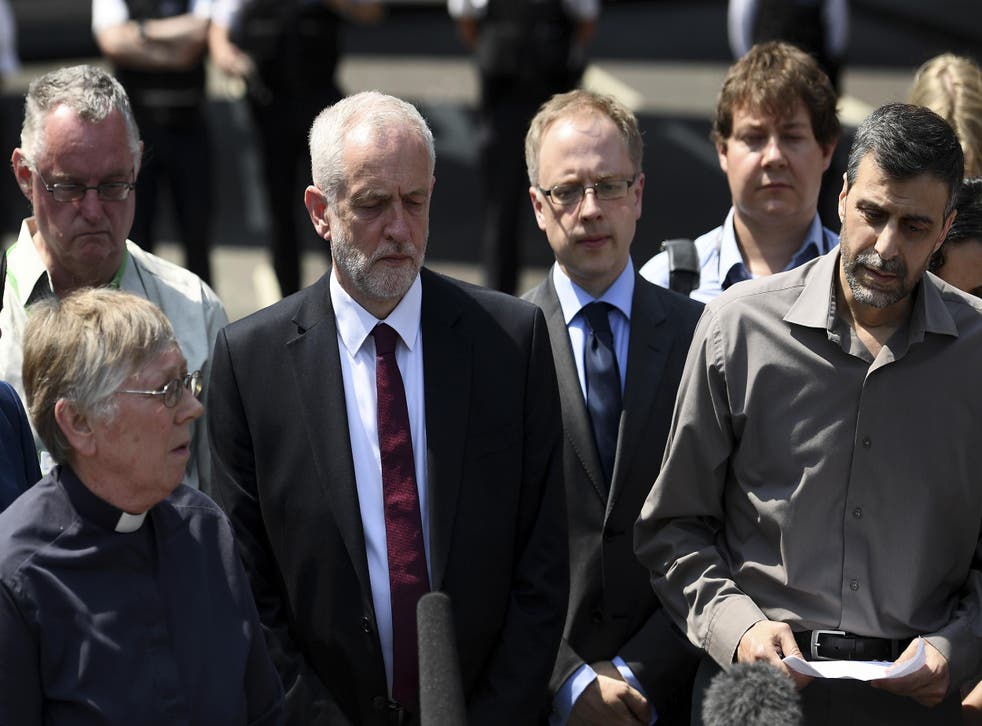 Jeremy Corbyn has joined community leaders at a Finsbury Park mosque to show his support after a man ploughed a van into Muslims leaving late night prayers, killing one person and injuring eight.
The Labour leader said he was "shocked by this horrific and cruel attack" in his own constituency which is being treated as a terrorist incident by the Metropolitan Police.
He spoke with emergency services in the early hours of Monday morning shortly after the attack, and returned to the scene later on Monday morning to speak with witnesses.
"An attack on a mosque, an attack on a synagogue, an attack on a church is actually an attack on all of us," he said from the scene.
"We have to protect each other's faith, each other's way of life, and that's what makes us a strong society and community."
He said that he knew local Muslim leaders "extremely well" and that people were "scared" that another attack would take place.
At the scene of the incident, he stood beside community and religious leaders, including Mohammed Kozbar, chairman of Finsbury Park Mosque, in support of the Muslim community.
As he walked inside the mosque he was applauded by members of the public, while two men shouted: "We love you, Corbyn" and "A man for the people", prompting cheers.
"As the local MP, I have met with Muslim community leaders at the Muslim Welfare House alongside Islington Council Leader Richard Watts, the council's Chief Executive Lesley Seary and the Metropolitan Police," he said in a statement issued after the attack.
"Richard and I will attend prayers at Finsbury Park mosque later today."
He also called on "everyone to stand together against those who seek to divide us."
In pictures: Van hits pedestrians near Finsbury Park mosques

Show all 6
Shadow home secretary Diane Abbott, whose north London constituency is close to the mosque, said the police "must urgently review security for all mosques".
Home secretary Amber Rudd condemned the attack and said it was being investigated by Counter Terrorism Command.
"Yesterday, like so many others around the country, I took part in the Great Get Together to celebrate the values of Jo Cox," she said, referring to the Yorkshire MP who was killed last June by an extremist.
Finsbury Park attack

Show all 14
"It was powerful and moving to see the community come together in a show of solidarity. We must all continue to stand together, resolute, against all those who try to divide us and spread hate and fear."
Prime Minister Theresa May said: "Police have confirmed this is being treated as a potential terrorist attack.
"I will chair an emergency meeting later this morning.
"All my thoughts are with the victims, their families and the emergency services on the scene."
Ms May also arrived at the scene on Monday and was heckled by members of the public.
An anti-Islamophobia group, Tell Mama UK, had spoken to local Muslims at the mosque the day before the attack, warning that there was a lack of security procedure and congregations had not been advised how to enter and exit the building safely.
Tell Mama's founder, Fiyaz Mughal, said the security concern was not isolated to this mosque and that many other places of worship around the city were unprotected.
The attack was also condemned by the Archbishop of Canterbury, Justin Welby.
Finsbury Park attack - what we know so far
"This wanton and cruel act can produce no good and cannot be justified or excused," he said.
"In exactly the same way as previous recent attacks it is a crime against God and against humanity."
Around midnight on Saturday evening, a white man, 48, drove a van into the Muslim congregation on Seven Sisters Road.
The suspect was held down on the ground by worshippers and local people as he allegedly shouted about killing Muslims.
The suspect has been taken to hospital, as a "precaution", according to a police statement, and will undergo a mental health assessment.
The incident follows two recent attacks carried out by radical Islamic extremists in Manchester and London Bridge, killing 30 people.