Finsbury Park: Social media posts 'glorifying terrorism' reported to Government counter-extremism unit
Exclusive: Facebook posts call on people to 'strike back' after Isis atrocities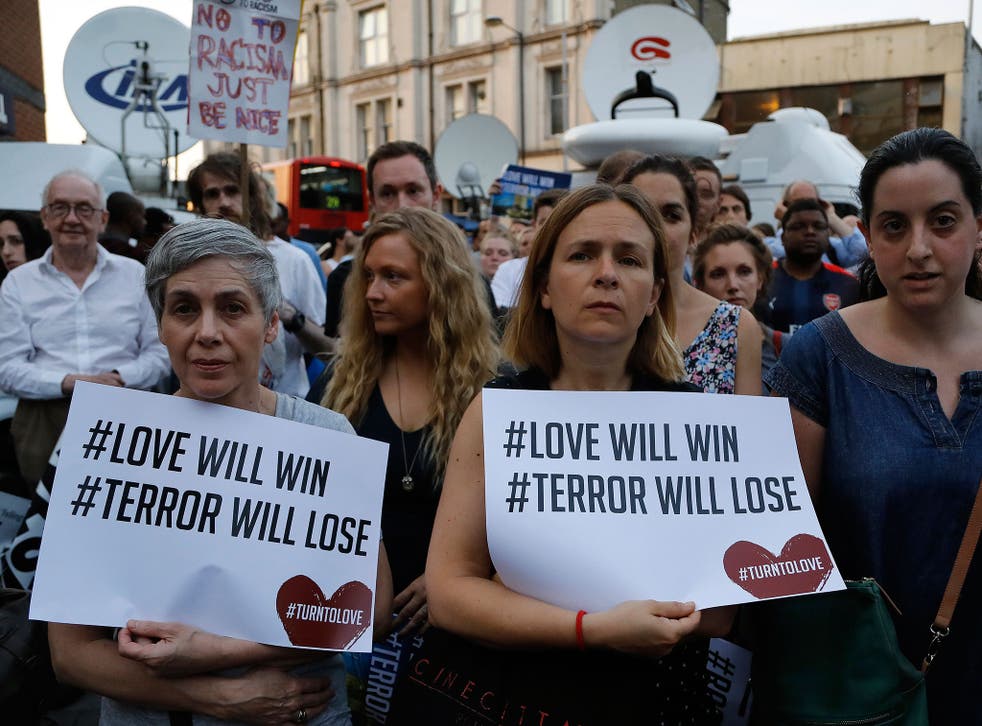 Comments "glorifying" the Finsbury Park terror attack have been reported to the Government's terror alert system amid fears of further atrocities.
A woman who wished to remain anonymous told The Independent she discovered a stream of vile responses to a post on Britain First's Facebook page.
The far-right group posted a link to its leader Paul Golding's blog, reporting that the man suspected of ramming a van into worshippers leaving prayers declared that he wanted to "kill Muslims".
The post on Monday afternoon was inundated with hundreds of comments from both supporters and opponents of Britain First, which is known for "invading" mosques and halal meat businesses.
Many of the responses attempted to justify the atrocity in Finsbury Park, which is being treated as a terror attack by authorities.
"About time, actually it's past time to start striking back," wrote one man. Another added: "The muslims are asking for it and your going to get it BIG TIME [sic]."
In many of the vile posts, threats were made clear. "This is war," a man wrote.
One commenter said: "A hero hope he starts a wave of retaliation against the evil within our country that's killed do many already [sic]."
Many praised a man arrested on suspicion of attempted murder and terror offences, who has been named as Darren Osborne from Cardiff.
Some posters described him as a "true hero" and "patriot". "Well done that man," said one comment. "Why didn't he use a bigger van?" another asked.
The comments have been reported to the Home Office through a website dedicated to reporting online material promoting terrorism or extremism.
The woman who reported the threats told The Independent she hoped authorities would "apply the same standards" seen in prosecutions over celebrating Islamist terror attacks.
"It seems a double standard if they're allowed to get away with that, because they're advocating for something terrible here," she said.
"I would have thought if the police would go after people after Islamist attacks they would apply the same standards after an attack on Muslims.
"It doesn't matter who the attackers are, they are glorifying extremism and violence.
"They shouldn't get away with it. The same standards should apply to anyone."
The woman said some of her Facebook friends share posts by Britain First, which does not moderate comments on its page.
"The group is careful about what it posts but if you look at many of the comments it's clear what its supporters believe," she added.
Facebook has been criticised for hosting extremist material and "fake news" but has outlined measures to crack down on extremist content, alongside other online firms.
Finsbury attack: Imam who protected van suspect and fought off crowd describes events
The comments could amount to a crime under the Terrorism Act 2006, which brought in the offence of "encouragement of terrorism".
Offenders can be punished by up to seven years in prison or a fine for publishing statements that "glorify terrorism" or constitute direct or indirect encouragement to commit an attack.
The Crown Prosecution Service said recent years have seen a rise in cases of far-right extremism in the UK, including "messages of hate-filled prejudice which can encourage radicalisation".
It named the banned National Action group among those guilty of promoting offensive, anti-Islamic messages that "run contrary to the values of respect and tolerance of different faiths and beliefs".
Thomas Mair was convicted of "terrorist murder" for killing Labour MP Jo Cox, almost exactly a year before the attack in Finsbury Park.
Police have been deployed at mosques as the holy month of Ramadan draws to a close amid fears of further attacks targeting the UK's Muslim community.
Finsbury Park attack

Show all 14
The number of suspected far-right extremists referred to the Government's key anti-terror programme soared by 30 per cent in the past year, The Independent revealed.
Just under a third of all people being monitored under the Channel programme in 2016/17– part of Prevent - believe in extreme right-wing ideologies and are vulnerable to radicalisation, according to unpublished Home Office figures.
"While all the rhetoric from the Conservative government has been about Islamic fundamentalism, it has largely ignored the rising threat from white extremists who are every bit as dangerous and depraved as any other terrorist," said Tim Farron, the outgoing Liberal Democrat leader.
Theresa May said the rampage in Finsbury Park was "every bit as sickening" as the recent atrocities carried out by Isis supporters in London and Manchester, while Jeremy Corbyn described it as an "attack on us all".
One man died at the scene, where he had collapsed before the van struck.
"Inquiries are continuing to establish whether there is any link between his death and the attack," said a statement from Scotland Yard.
Nine other people were injured and two more victims were treated for wounds at the scene.
To report online material promoting terrorism or extremism, visit the Home Office's site here