Finsbury Park terror trial: Darren Osborne 'wanted to kill Jeremy Corbyn and Sadiq Khan' ahead of attack, court hears
Darren Osborne tells murder trial he and two men he met in pub planned to attack Labour politicians at pro-Palestinian march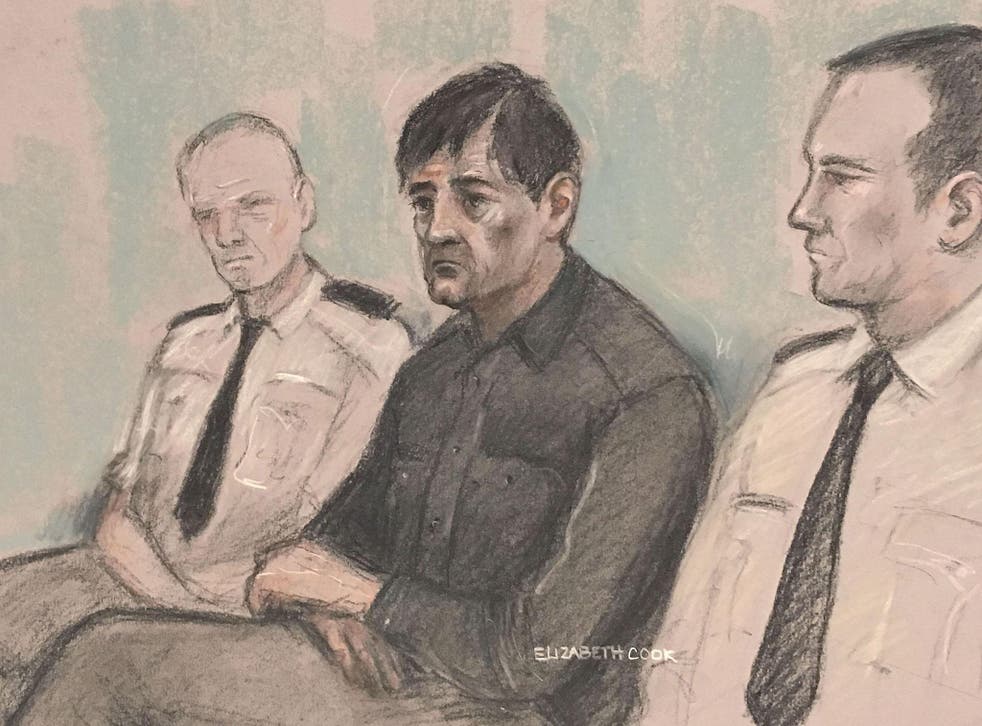 The alleged Finsbury Park attacker has claimed he originally wanted to kill Jeremy Corbyn and Sadiq Khan among victims at a pro-Palestinian march in London.
Darren Osborne, 48, took the stand at Woolwich Crown Court to claim he concocted the original plan at a Welsh pub with two men called Dave and Terry Jones.
He denies charges of murder and attempted murder after a van rammed Muslims leaving Ramadan prayers on 19 June, killing one man and injuring nine other victims.
Giving evidence for the first time, Mr Osborne claimed he was not behind the wheel of the vehicle when it struck shortly after midnight, accusing a "guy called Dave" of unexpectedly launching the attack as he changed his trousers.
Prosecutor Jonathan Rees QC accused the defendant of "fabricating" the account, which was not presented to lawyers until Friday, after hearing the evidence against him.
The defendant told the jury he met Dave and Terry in a pub in Treforest, but two managers from The Pick and Shovel previously described him as a "loner" who drank alone.
Mr Osborne claimed his alleged co-conspirators were still at large and that they would support further attacks, adding: "Something needs to be done."
He said the trio discussed terrorism and grooming gangs after watching a drama on sexual abuse in Rochdale early last year, intending to form a Welsh far-right group called the "Taffia".
The father of four said the original plan was to kill a Labour politician who allegedly wrote a reference for an abuser, but that "we just wanted more casualties".
Mr Osborne said the next target was the Al-Quds Day march that took place in central London on 18 June and admitted hiring the van to ram it into pro-Palestinian marchers.
"We were overwhelmed that this event was taking place so soon after [Isis-inspired terror attacks]," he added.
"Another reason for the Al-Quds march was that Jeremy Corbyn would be in attendance."
Asked whether he wanted to kill Mr Corbyn, who did not attend last year's event, Mr Osborne replied: "Oh, yeah. It would be one less terrorist on our streets... if Sadiq Khan had been there it would have been even better, it would have been like winning the lottery."
He said he was prepared to die in the planned atrocity and believed he "might get shot by police or lynched".
Mr Osborne admitted hiring the van in Wales and driving it alone to London, planning to "cause as much damage as possible" at the march.
He also confirmed he was the author of a letter written in a pub the night before the attack, which hit out at targets including Mr Corbyn, Mr Khan, the Labour Party, grooming gangs and Muslims.
He told the court he was due to meet his accomplices in London and kept in touch using an old Nokia 3210 that he "got rid of" at an unknown time and place.
Mr Osborne said road blocks and security "thwarted our plans" and that he met his co-conspirators near the rally to "chat" about new plans.
The defendant told the jury they decided to look for a nearby mosque "to protest, cause a bit of a stir or something maybe" and went their separate ways.
Mr Osborne claims they settled on Finsbury Park because it was inside Mr Corbyn's constituency and he drove the van alone to meet Terry and Dave there, without making a specific plan.
"I thought we were going to have a drink somewhere and then just abandon things for the time being," he said, claiming he had "no idea" there would be an attack in Finsbury Park.
Mr Osborne alleged that Dave "hopped" inside the van as it drove through a tunnel and switched into the driver's seat shortly before the ramming.
He claimed he moved into the passenger footwell to change his trousers, because he urinated on them "a little bit", adding: "All I remember is peering over the van as he turned left in the collision and I just remember the impact, it reminded me of a Hungry Hippo... and then the door opened and Dave was gone."
Asked where Terry was at the time of the deadly attack, Mr Osborne claimed he was "getting the drinks in" at an unknown pub.
While being cross-examined by Mr Rees, he said he could not explain how Dave disappeared without being caught on CCTV or seen by dozens of witnesses.
After reviewing footage and fingerprints, police found no evidence of anyone apart from Mr Osborne inside the van and said there was no point where it could have stopped in Finsbury Park to let another person get in.
Survivors told the court there was only one person inside the lorry during the attack, and saw only one man – Mr Osborne – flee the vehicle afterwards.
"I can say for certain that the man who got out of the driver's side after hitting us all in the road was the same person the police arrested," said Abdul Matin Chowdhury, a friend of victim Makram Ali.
"I can be sure [Mr Osborne] was the driver."
UK news in pictures

Show all 50
Footage previously played to the court showed Mr Osborne telling police he was the van's driver after being arrested.
In another interview later that night, he allegedly said there was no one else involved in the plot and added: "I'm flying solo, mate."
A financial investigator from the Metropolitan Police found no evidence of Mr Osborne buying the Nokia phone, which the defendant said he bought with cash in Cardiff.
The jury has not previously been presented with any evidence of the phone's existence, reviewing activity from two iPhones and an iPad that allegedly showed Mr Osborne reading posts by Tommy Robinson and far-right group Britain First.
Mr Osborne claimed he decided to abruptly submit the defence statement on Friday after "a lot of soul-searching".
He could not explain several inconsistencies between that statement, which said he supported Dave in his plan to attack Muslims in Finsbury Park, and his testimony in court.
Mr Rees told him: "I suggest that Dave and Terry's participation in these events is a total fabrication – it's a fabrication that came about when you saw the prosecution could prove the case against you."
The prosecutor dismissed Mr Osborne's account as "absurd", adding: "It's all nonsense."
The defendant repeated the phrase "I have no explanation" during questioning, occasionally smiling and laughing.
The trial continues.
Register for free to continue reading
Registration is a free and easy way to support our truly independent journalism
By registering, you will also enjoy limited access to Premium articles, exclusive newsletters, commenting, and virtual events with our leading journalists
Already have an account? sign in
Register for free to continue reading
Registration is a free and easy way to support our truly independent journalism
By registering, you will also enjoy limited access to Premium articles, exclusive newsletters, commenting, and virtual events with our leading journalists
Already have an account? sign in