Finsbury Park terror trial: Darren Osborne only targeted mosque after planned attack on Jeremy Corbyn failed, court hears
Forty-eight-year-old admits hiring van in Wales and driving it on the journey to London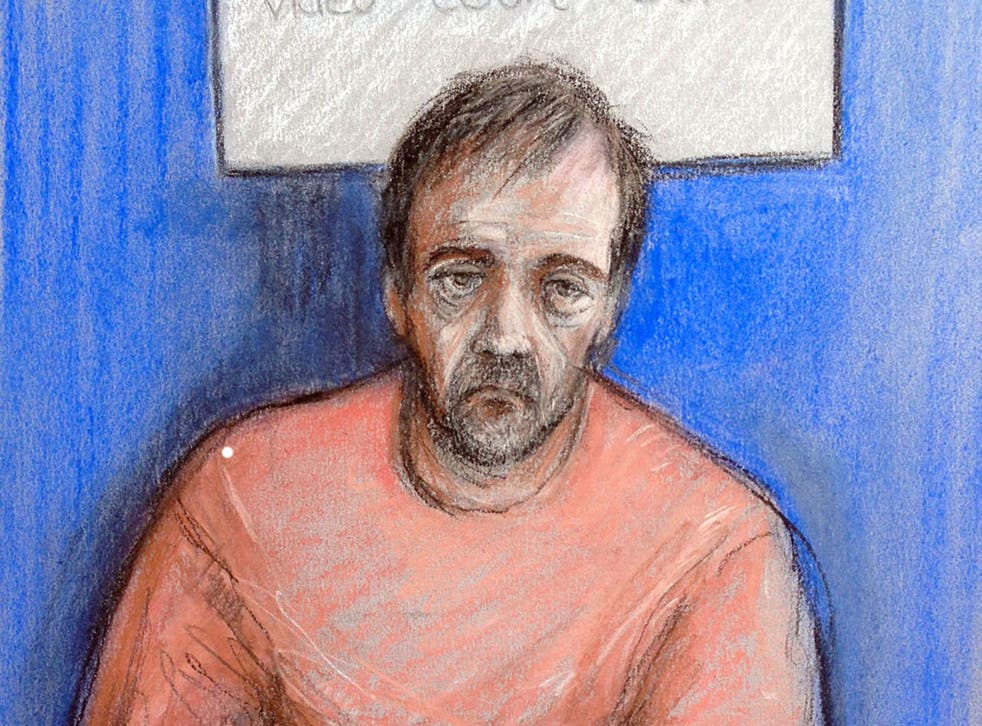 The alleged Finsbury Park attacker has claimed he wanted to kill Jeremy Corbyn and Sadiq Khan among victims at a pro-Palestinian march in London.
Darren Osborne, 48, took the stand at Woolwich Crown Court to claim he concocted the original plan at a Welsh pub with two men called Dave and Terry Jones.
He told the jury their original plan had been to kill a Labour politician who had written a reference for a grooming gang member, but that "we just wanted more casualties".
Mr Osborne said the next target was the Al-Quds Day march that took place in central London on 18 June and admitted hiring the van to ram it into marchers.
"We were overwhelmed that this event was taking place so soon after what was happening [terror attacks]." He added: "Another reason for the Al-Quds march was that Jeremy Corbyn would be in attendance, he was a regular at that event."
Mr Osborne said road blocks and security "thwarted our plans", adding: "There was something more unusual, Jeremy Corbyn wasn't in attendance…if Sadiq Khan had been there it would have been even better, it would have been like winning the lottery."
Mr Osborne admitted hiring the van in Wales and driving it on the journey to London, claiming he, Terry and Dave planned to "cause as much damage as possible" at the Al-Quds Day march.
He told the court he was due to meet them in London and kept in touch using an old Nokia 3210 that he "got rid of".
Mr Osborne said he met the conspirators in Grosvenor Square, where the rally was taking place, and they then had a "chat".
The defendant told the jury they were going to look for a nearby mosque near "to protest, cause a bit of a stir or something maybe".
Mr Osborne claims they settled on Finsbury Park because it was inside Mr Corbyn's constituency and he drove the van alone to meet Terry and Dave there, without making a specific plan.
"I thought we were going to have a drink somewhere and then just abandon things for the time being," he said, claiming that Dave "hopped" inside the van as it drove through a tunnel in Finsbury Park.
He claimed he was in the passenger footwell because he was changing his trousers, because he had urinated on them "a little bit" shortly before while relieving himself next to the van as it was stopped.
Mr Osborne told the jury he "put the vehicle in neutral and quickly changed over while the vehicle was in motion", leaving Dave driving shortly before the ramming.
He added: "All I remember is peering over the van as he turned left in the collision and I just remember the impact, it reminded me of a Hungry Hippo...and then the door opened and Dave was gone."
UK news in pictures

Show all 50
While being cross-examined by prosecutor Jonathan Rees QC, he said he could not explain how Dave disappeared without being caught on CCTV or seen by dozens of witnesses.
Mr Osborne claimed he had changed his account of events to abruptly insert the defence statement on Friday after "a lot of soul-searching".
But he could not explain several inconsistencies between that statement and his testimony in court.
Mr Rees told him: "I suggest that Dave and Terry's participation in these events is a total fabrication, isn't it, that it's a fabrication that came about when you saw the prosecution could prove the case against you."
The trial continues.
Register for free to continue reading
Registration is a free and easy way to support our truly independent journalism
By registering, you will also enjoy limited access to Premium articles, exclusive newsletters, commenting, and virtual events with our leading journalists
Already have an account? sign in