Five Rwandans arrested by Met police over 1994 genocide
Move over men from across England comes after a request from prosecutors in the central African nation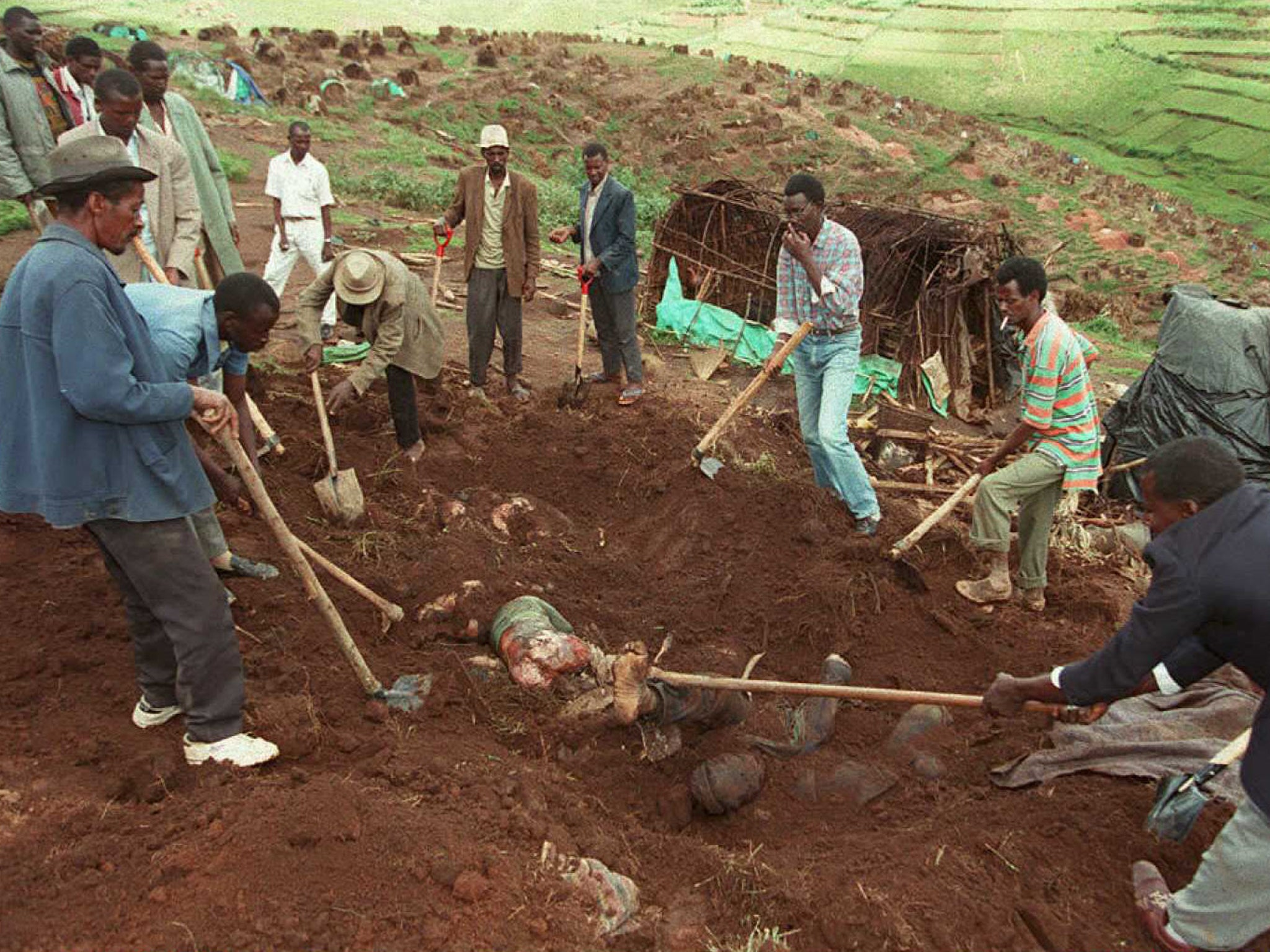 Five Rwandans living in Britain for more than a decade were today arrested on an extradition warrant by the Metropolitan Police on suspicion of involvement in their native country's 1994 genocide.
Four of the men were the subject of a previous failed extradition attempt by Rwandan prosecutors which collapsed in 2009 after the High Court ruled that they could not be returned to face trial for mass murder because of a "real risk they would suffer a flagrant denial of justice".
The men, who have been living freely in Britain since at least the early 2000s, were detained by officers from Scotland Yard's specialist extradition unit at around 6.30am following a fresh application by the Rwandan authorities.
They are accused of playing prominent roles in the chain of events which saw a genocide unleashed against ethnic Tutsis and moderate Hutus in 1994 during which some 800,000 people were murdered.
The High Court found that the men had a case to answer on the basis of evidence put forward by prosecutors but attempts to send them for trial foundered because of concerns that Rwanda's courts could not offer a fair trial.
In a statement, Rwandan prosecutors said the country's judicial system had made significant progress, pointing to recent extradition decisions by the European Court of Human Rights and Norway in favour of Rwanda as proof that international bodies are now sending alleged fugitives for trial.
In a statement, Martin Ngoga, prosecutor general, said: "We welcome the arrests this morning and we believe all five of those arrested have a case to answer, which is why Rwanda requested their extradition to face trial. They are all suspects of genocide against Tutsi and crimes against humanity committed in Rwanda in 1994.
"We will wait now for the British courts to go through their procedures and recognise their independence and hope those procedures of court can be completed quickly so that those accused of genocide can face justice."
The arrested men named by Rwandan prosecutors included Vincent Bajinya, 52, a London-based doctor who is rated as a "category one" offender by the authorities in the Rwandan capital, Kigali. He is accused by the Rwandans of organising the Interahamwe militias responsible for carrying out the massacres of ethnic Tutsis and moderate Hutus.
The other men were named as Celestin Ugirashebuja, 60, a careworker from Walton-on-the-Naze, Essex; Charles Munyaneza, 55, from Bedford, and Emmanuel Nteziryayo, 60, from Manchester. During previous extradition proceedings all four men denied any wrongdoing.
The fifth man, who it is understood has not been previously arrested in the UK, was named as Celestin Mutabaruka, 57, from Ashford, Kent.
Human rights groups welcomed the arrests as the start of a process that may lead to justice for the men's alleged victims but criticised the amount of time that had been allowed to elapse, pointing out that Britain itself now has legislation which allows genocide to be tried in British courts but no proceedings had been brought.
Tara O'Leary, of Redress, which campaigns for survivors of torture, said: "It is imperative that these suspects no longer enjoy impunity. Nowhere, including the UK, ought to be a safe haven for those accused of genocide and related international crimes.
"A denial of justice can exacerbate the horrors which survivors have endured and even more so when suspects have been identified and can be held accountable, but are seen to be going about their lives with impunity."
The men will appear before Westminster Magistrates' Court next Wednesday following a preliminary hearing today.